This Is the Weed You Should Be Smoking Right Now (Or, Like, After Work)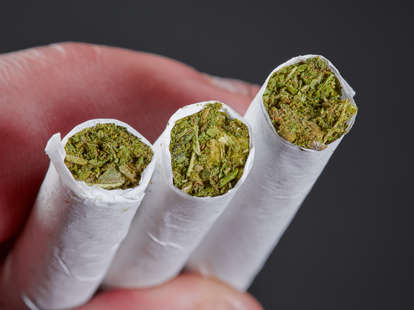 MWesselPhoto/Shutterstock
This article is cont­ributed by Leafly, the world's largest cannabis information resource. For more information please visit Leafly.
Every year we like to look back and recognize the rising stars of the cannabis world. Last year, Gorilla Glue #4, Critical Kush, Candyland, and ACDC were among the fastest-trending strains according to Leafly user strain reviews, but which strains stood out from the crowd?
To eliminate outliers that might skew the results, Leafly restricted its search to the top-200-ranking strains of 2016. These strains tend to be more available in dispensaries nationwide. Not sure where to look? Use the Leafly dispensary finder to track down locations near you, then check the menu on the dispensary page.
We all know that customers swarm around anything containing the word "Cookies," thanks to the Girl Scout Cookie hype. But what makes Blue Cookies stand out from the many, many other Cookie crosses? The addition of Blueberry indica genetics, of course.
Another decadent Girl Scout Cookie cross, Birthday Cake Kush also pulls in genetics from Cherry Pie to achieve a dessert-like taste that's not altogether unlike cake itself. It may not be your birthday, but the luxurious and relaxing qualities of this potent hybrid are certainly something to celebrate.
The citrus-loaded sativa strain Tangie can't possibly be improved. Or can it? DNA Genetics has done it again, spinning its Tangie masterpiece with the help of East Coast Sour Diesel genetics. Sour Tangie improves the fuel-like taste of Sour Diesel without compromising Sour D's high-flying creative effects, making this sativa a must-have for flavor enthusiasts and artists alike.
Purple Candy blossomed in British Columbia, Canada. Believed to be a cross between BC Sweet Tooth and Mendocino Purps, it's as sticky and sweet as grape hard candy. But you won't feel a sugar rush with this indica; instead, expect the heavy hitter to prime you for bedtime or a solid nap.
A good sativa can lend a positive spark to an otherwise dreary day of chores, so it's no wonder that Quantum Kush tipped the charts in 2016 as one of the fastest-trending sativa strains. While some sativas bring on the buzz with a bit too much gusto, resulting in anxiety and paranoia, Quantum Kush manages to deliver creative, talkative, giggly qualities without what we like to call "The Fear."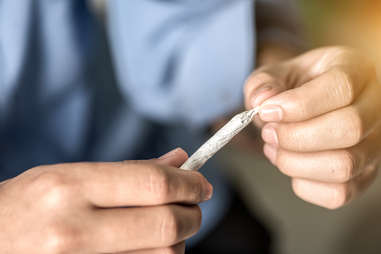 Who knew the not-so-holy union of God Bud and Green Crack would result in something so heavenly? God Bud is known for producing mammoth yields of gargantuan buds, but the effects are a little heavy-handed for some. That's why Jordan of the Islands crossbred God Bud with Green Crack, the high-flying sativa strain that focuses all of its effort on elevating the mind to a place where laughing fits are inevitable.
A new generation of Girl Scout Cookies has arrived, and its name is Gelato. From the same breeders that delivered fan favorites Sunset Sherbet and Girl Scout Cookies, Cookie Fam Genetics from California's Bay Area isn't finished with its royal line quite yet. Gelato, a descendent of Sunset Sherbet and Thin Mint Girl Scout Cookies, blooms in bright colors that are almost as inviting as its tantalizing dessert-like aroma.
Grape Stomper isn't a new strain, but a jump in Leafly reviews shows that not all good things are sparkly and new. Strong genetics inherited from Purple Elephant and Chemdawg Sour Diesel equip this strain with the full package: flavor, potency, and consistency. Relaxing without encumbering social skills, the balanced Grape Stomper is an excellent choice for so many different activities. No wonder its popularity isn't waning.
Nuken is also an older strain making a comeback. Originally found in Canada, it's since proliferated throughout the Pacific Northwest to states like Washington and Oregon. Herbal and sweet in flavor, Nuken cradles you in a blanket of dreamy euphoria where your thoughts can float upward to bliss.
Last year, the top-trending strain was Gorilla Glue #4. This year it's Superglue, which surprisingly bears no family ties to last year's champ. A cross between Northern Lights and Afghani, Superglue develops a thick coat of sticky resin that will quite literally glue your fingers together. Though its parentage may lead you to believe Superglue will be a knockout, this strain is bred to deliver more light-footed effects. In fact, Leafly users have described this strain as being focused and creative while simultaneously relaxing the body.
This article was originally published as "Top Trending Cannabis Strains of 2016." For this and more articles on cannabis news and culture, visit Leafly News.
Sign up here for our daily Thrillist email, and get your fix of the best in food/drink/fun.