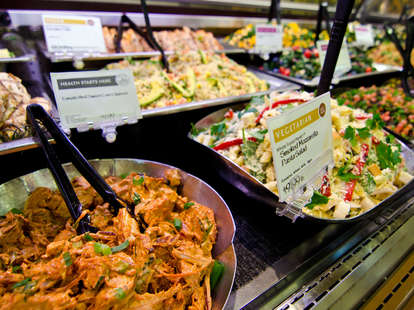 Whole Foods is jokingly referred to as Whole Paycheck -- often by the same jokesters who still think it's clever to call Target Tar-jay. It ain't. It's also untrue, as there are tons of bargains in Whole Foods if you know where to look. That's why we spoke to Whole Foods team members from across the country to steer us towards the top bargains in the store. Follow their lead and you'll have plenty of money left over from grocery shopping to buy stylish threads at Tar-jay.
Tiny amounts of food from the salad bar
"When I need small amounts of fresh veggies or nuts, I always look to the salad bar to save time and money. Ingredients are pre-washed, pre-chopped, often organic, and I can buy exactly what I need." -- Stephanie McCubbin (Golden, Colorado)
Cheese that's under $5
"One of the best deals we have is the under-$5 bin in our cheese department, which is a great way to try new cheeses without having to invest first. We update the bin daily. It's good for using in a recipe, or for a more impressive cheese plate. For great value on high-quality cheeses, I always recommend our Robusto Gouda and Seaside cheddar, both of which go on sale often -- they're imported and of fantastic quality." -- Derek McGovern (Scottsdale, Arizona)
Wine by the case
"Our stores have the best local wine selection around, so much that I actually end up purchasing wine by the case in order to get 20% off! [Editor's Note: Depending on the region and time you're making the purchase, wine by the case can be up to 20% off -- check your local wine shop for details.]" -- Margie West (Morristown, New Jersey)
Denver steak
"Our expert butchers and fishmongers can point out lesser-known cuts and species like Denver steak (the underblade of the short ribs) and lion fish that offer prime flavor on a tight budget." -- Adam Ornelas (Denver, Colorado)
Fruits and veggies in peak season
"As fruits and vegetables reach their peak harvest time, they not only taste better, the cost often goes down due to increased availability. Ask produce team members what's in season -- right now, I'm loving Bosc pears." -- Kubeshini Moodley (Alpharetta, Georgia)
Organic chicken breast
"Our 365 Everyday Value organic chicken breasts are a great bang for your buck, and it's not just because of the price. Like all chicken at Whole Foods, it meets strict animal welfare standards and never contains antibiotics or added hormones. It also comes in vacuum-sealed packs so you can easily freeze what you don't use." -- Kristina Bradford (New Orleans, Louisiana)
Free samples
"We have a 'try before you buy' policy that applies to nearly everything in the store. If you're interested in trying something out, just ask a team member to help you sample it." -- Lauren Bernath (Buckhead, Georgia)
Coconut oil
"Everyone hears about the seemingly magical powers of coconut oil, but that little jar of oil can be expensive. Our 365 Everyday Value virgin and extra-virgin coconut oils are not only amazing and versatile, they're a tremendous value. I almost don't want to let the secret out." -- Maria Dimakos (San Fernando Valley, California)
Food by the case
"I love taking advantage of the case discounts. It doesn't matter what you stock up on -- buying by the case saves you up to 10%." -- Lauren Talley (Houston, Texas)
365 essentials for the pantry
"My favorite money-saving shopping strategy is to stock up on pantry essentials from our private-label 365 Everyday Value line -- food like oatmeal, rice, quinoa, flaxseed, chia seeds, almond butter, canned beans, and frozen fruit for smoothies. I love our store brand because it's super affordable, there are lots of organic options, and I can trust the ingredients -- no artificial colors, flavors, or preservatives." -- Joshua Thorp (Kailua, Hawaii)
Canned/boxed black beans
"I routinely fall back on our 365 Everyday Value items like canned black beans, brown rice, and frozen broccoli when I need to make a quick and nutritious dinner in a pinch -- they're quick and economical." -- Akua Woolbright (Detroit, Michigan)
Meal deal from prepared foods
"When I'm not in the mood to cook, I love picking up an entrée and two sides from the prepared-foods department. All items are made fresh in-house, and are much healthier than anything I'd order from a delivery app. Plus, with the amount of food you get for less than $12, it's an amazing value." -- Jessica Koscialkowski (Lake Grove, New York)
Anything from the bulk bins
"Living in an NYC apartment with a roommate poses a problem when it comes to buying in bulk -- there just isn't space to store anything. That's why I love the bulk bins. I can buy just enough of what I need without taking up too much space or wasting my ingredients." -- Claire Lewis (Brooklyn, New York)
Salon hair care products
"I'm a big fan of our Whole Foods Market salon hair care line. It's made from up to 97% plant-derived ingredients and meets our standards, which means it's free of parabens and sodium lauryl/laureth sulfates -- and everything is less than $10." -- Debbie Labelle (Park City, Utah)
Sign up here for our daily Thrillist email, and get your fix of the best in food/drink/fun.