Bill Clinton Bakes Cookies, Makes History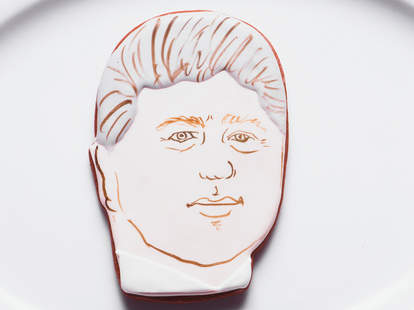 Evan Agostini/Hulton Archive/Getty Images
In an unsurprising turn of events, the Clintons once again challenged gender roles by pulling a switcheroo on last week's Family Circle Presidential Cookie Poll. The magazine has been soliciting a cookie recipe from each party's potential First Lady every election year since 1992, then running them against each other in a heated, reader-determined competition. And now, for the first time ever, a man has entered the ring.
That's right, ol' Slick Willy strapped on an apron and stepped in to fill FLOTUS' pumps this year, pitting his Clinton Family's Chocolate Chip Cookie recipe against Melania Trump's fancy-sounding Star Cookies (which are basically just plain sugar cookies in the shape of stars). Ironically, the entire thing stems from an offhand comment Hillary herself made back in 1992 about choosing to pursue her law career when she could have, as she put it, "stayed home and baked cookies and had teas" (the nerve). Conservatives and stay-at-home moms were outraged, Family Circle saw a marketing opportunity, and now the Comeback Kid is in the kitchen.  
This bizarre little battle of baked goods got us thinking -- what if Bill was meant to be popping out pastries all along? What if the Boy from Home should have chosen to stay home with the cookies and the tea? And what if, inspired by this baking debut, our nation's first ever FSOTUS (FMOTUS? FGOTUS?) decided to open up his own bakery? Here are but a few suggested menu items for Bubba's forthcoming (fictional) bakery. Bon appetit, my fellow Americans.
Bubba's "No Bake" Brownie Bites
When these brownies were in England, they experimented with baking a time or two, and they didn't like it. They didn't rise and never tried it again. Available with or without nuts.
Clinton Family Apple Pie
Bill just copped a bag of these bad boys during his morning jog to McDonald's, so you know they're hot, fresh, and plenty sweaty.
Inconvenient Macaroons
Al Gore's own creation. Served way too hot, these coconut cookies are super-depressing and taste like dirt.
Tipper's Doing Hot Sex Makin' Whoopie Pie
An extra-clean, very appropriate, PG-rated snack for the whole family.
Jazzy Jelly Donuts
These are just regular jelly donuts baked in the shape of saxophones that Bill sometimes pretends to play when he thinks no one's around.
Socks' Black & White Cookies
Miss that guy.
ImPeach Pie
A succulent, much-anticipated fruit pie that is served, denies everything, and is immediately removed from the table.
Oval Office Cream Puffs
Might require extra napkins.

Sign up here for our daily Thrillist email, and get your fix of the best in food/drink/fun.
Meredith Heil is a staff writer for Thrillist. She's flyer than a butterfly doing the tootsie roll -- haha, she got chips like the cookie dough. Send recipes to @mereditto.