The only part of life in which the adage "less is more" has ever made sense is when it comes to dessert. Sure, a huge slice of pie might seem like a good thing, but you've got to keep lifting up your fork to your mouth. What a waste of valuable energy!
This is the beauty of mini-desserts: all the flavor of regular-size desserts with a fraction of the effort it takes to consume them. Once you whip up these delicious recipes for pretzel s'mores, mini-lemon cream pies, and Texas sheet-cake bites, you can pop them in your mouth 'til your heart's content. It's like that other popular adage: Once you pop, you can't stop.
Pumpkin pie bites
The recipe says that if you follow it, you'll make 24 pumpkin pie bites. That means you can get away with serving eight pumpkin pie bites to your guests and keeping 16 for yourself. Recipe here.
Nutella cookie cups
The main ingredients in this recipe are cookie dough, an entire jar of Nutella, and two sticks of butter. Even if the only other ingredient in this were kale, we'd still eat it and consider it among the finest desserts ever made. Recipe here.
Mini lemon cream pies
Pucker up, buttercup, because these lemon cream pies can be made easily. And quickly—they take only 20 minutes of prep. As a bonus, you also get to use fairly healthy ingredients like non-fat Greek yogurt, low-fat cream cheese, and lemon juice. Recipe here.
Boston cream bites
You could swing by a donut shop, buy all of its Boston cream pies, and chop them up finely to form mini-Boston cream pie bites, but you can do better than that! Instead, whip up these cream pies using whipping cream, vanilla pudding, and French vanilla cake mix. Recipe here.
Apple crisp cookie cups
Granny Smith apples aren't the best to eat on their own, but when you bake those suckers, surround 'em in oatmeal cookie cups, and layer over some sugar glaze, you're in for a real treat. And you deserve a treat. We all do, don't we? Recipe here.
Pretzel s'mores bites
S'mores are delicious. That's a fact on the level of "the sun is large and hot." Sorry, we weren't good at science in high school. But pretzel s'mores that combine marshmallow, chocolate, peanut butter, pretzels, and graham cracker crumbs? That's next-level tasty. Recipe here.
Reese's peanut butter mini cheesecakes
Those famous peanut butter cups make everything in life better when you're eating them. Unless you're eating them while waiting to be seen by a dentist. Because then you still have to go to the dentist when you're done, and that's not fun. Forget about the whole dentist thing and go make these already! Recipe here.
Texas sheet-cake bites
Everything actually must be bigger in Texas, because this recipe feeds 72 people. But you'll need every last one of these, because the author says it's difficult to stop even after you've eaten five of them. Prepare thy taste buds. Recipe here.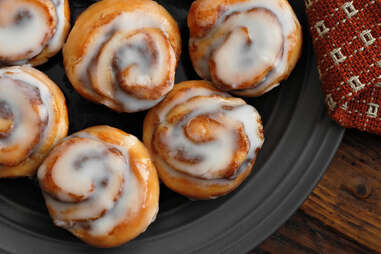 Mini cinnamon rolls
You probably will never be the manager of a Cinnabon. You will not be enveloped in the warm smells of cinnamon and icing for eight hours a day, and that is your loss. But the good news is that you can capture some of that cinnamon roll magic in your own home by baking these mini-cinnamon rolls. Recipe here.