With its assembly line model and ultra-fast cook time, Blaze exists at the intersection of fast-food and a sleek, modern update of a family pizzeria

| Blaze Pizza
With its assembly line model and ultra-fast cook time, Blaze exists at the intersection of fast-food and a sleek, modern update of a family pizzeria

| Blaze Pizza
Will LeBron James' Blaze Become America's 'Chipotle of Pizza?'
Editor's Note: Welcome to Too Fast Too Casual, a new review series where our National Writer-at-Large Kevin Alexander takes a close look at both classic and up-and-coming fast-casual chains. The rising fast-casual trend is defining how Americans eat today, and in this series we'll look at the food, history, decor, and branding of fast-casual chains to see what these restaurants are really trying to do, and where this is all going. Read Kevin's previous reviews of Jersey Mike's, Panera Bread, Lemonade, and Chipotle and check back in every other week for a fresh takes on more chains.
To get to the nearest Blaze Pizza, I have to drive 17 miles to a mall. It's a modern mall, which I know because they have both açaí bowls and a Lids. As I am at a fragile, basic point in my life, I also stop into the mall's Gap Kids to buy my 2 year old a Batman shirt with a cape attached.
When I get to the counter, I ask the Gap employee. "Have you ever been to the Blaze Pizza here?"
"Yes," she tells me without making eye contact, as she folds my son's Batman shirt (and cape!).
"Do you like it?"
She stares into the distance for a long time, so long in fact that I briefly turn around to see if she's staring at something in particular. Finally, she speaks, "It's good pizza. For this mall." And then she motions for me to put my credit card into the machine.

Where did Blaze Pizza come from?
Blaze was the mind meld of the Wetzel's Pretzels founders, who were driving around Pasadena, California, hankering for a pizza place to conduct a lunch meeting in 2011, but didn't like the options. Frustrated, they went to Chipotle, and there, watching the assembly line, they had an epiphany: "We should do this for pizza!"
As legend has it, they then sketched the business plan for Blaze right there on a Chipotle napkin. My guess is it just said, "Chipotle, but Pizza."
A year later, they opened their first two Blaze Pizzas simultaneously in Pasadena and Irvine, converting giant wood-fired pizza ovens into giant gas-powered pizza ovens, which would be easier to control and replicate while still cooking pizzas in 180 seconds. But Blaze got its biggest boost in publicity when LeBron James (as well as other famous folks like Maria Shriver) invested in the company and became a public spokesman. From there, Blaze's growth exploded, with Technomic naming it "fastest growing restaurant chain ever" after they opened 200 locations in just 5 years. They now have over 300 locations, and told QSR they hope to have 500 by 2021.
Some quick competitor context:
Blaze's sit-down, beer-inclusive approach to pizza puts it in a completely different category than the likes of Domino's, Pizza Hut, and Little Caesars, as does the highly personalized experience of ordering their "artisanal" pizzas, which come flying out of the oven quicker than you can say "30 minutes or less." It basically exists in a weird middle ground between a fast-food pizza experience and a sleek, modern update of a family pizzeria. But it's not alone in the category. It's not even the only one with backing from an NBA legend.
Blaze's main fast-casual pizza competitor, Washington-based MOD Pizza, has 430 stores in the US and the UK. California-based Pieology, which counts other very good basketball player Kevin Durant as an investor, has roughly 150 locations. PizzaRev, which sounds like a very cool youth minister, has around 50 stores. 800 Degrees, with around 15 stores, has yet ANOTHER very good NBA basketball player Dwyane Wade as an investor. For more information on all basketball and non-basketball related fast-casual pizza chains, read this!
What is Blaze Pizza trying to do now?
In short, Blaze is using the franchise model to grow very fast, as part of what appears to be some sort of pizza arms race with MOD (which interestingly enough, have opted to keep most of its stores corporate-owned, like Chipotle). With an extremely famous investor, experienced co-founders, and an industry declaration as "fastest growing restaurant chain ever," Blaze seems to be holding a lot of good cards, so it'll be interesting to see how they play their hand (poker metaphors!).
But how, you might ask, are they marketing themselves to us?
An anonymous creative director at a fancy ad agency tells us how Blaze is marketing itself to us:
"At first I thought to myself, 'How does a pizza place I've never heard of afford LeBron James?' But then I looked it up and he's an investor so it makes sense. I tend to be over the big-time-athlete-pranks-real-people trend (Kyrie kicked it off and crushed it, but by the time it got watered down to Jared Goff it didn't feel like anyone cared), but I actually like their simplified approach to it. They didn't put a disguise on him or try and trick the customers into doing anything, they just put LeBron-Freaking-James in a pizza outfit and let things play out.
"The video is a bit ridiculous, and lacks continuity (first he says "people tell me I look like Dwyane Wade" and then he says he doesn't know what a basketball is? How does he know Wade then, from the Gatorade commercials?), but overall, this is a likable video. Most importantly, it's great to see LeBron building off Trainwreck and coming into his own as an actor. Can't wait for Space Jam 2!"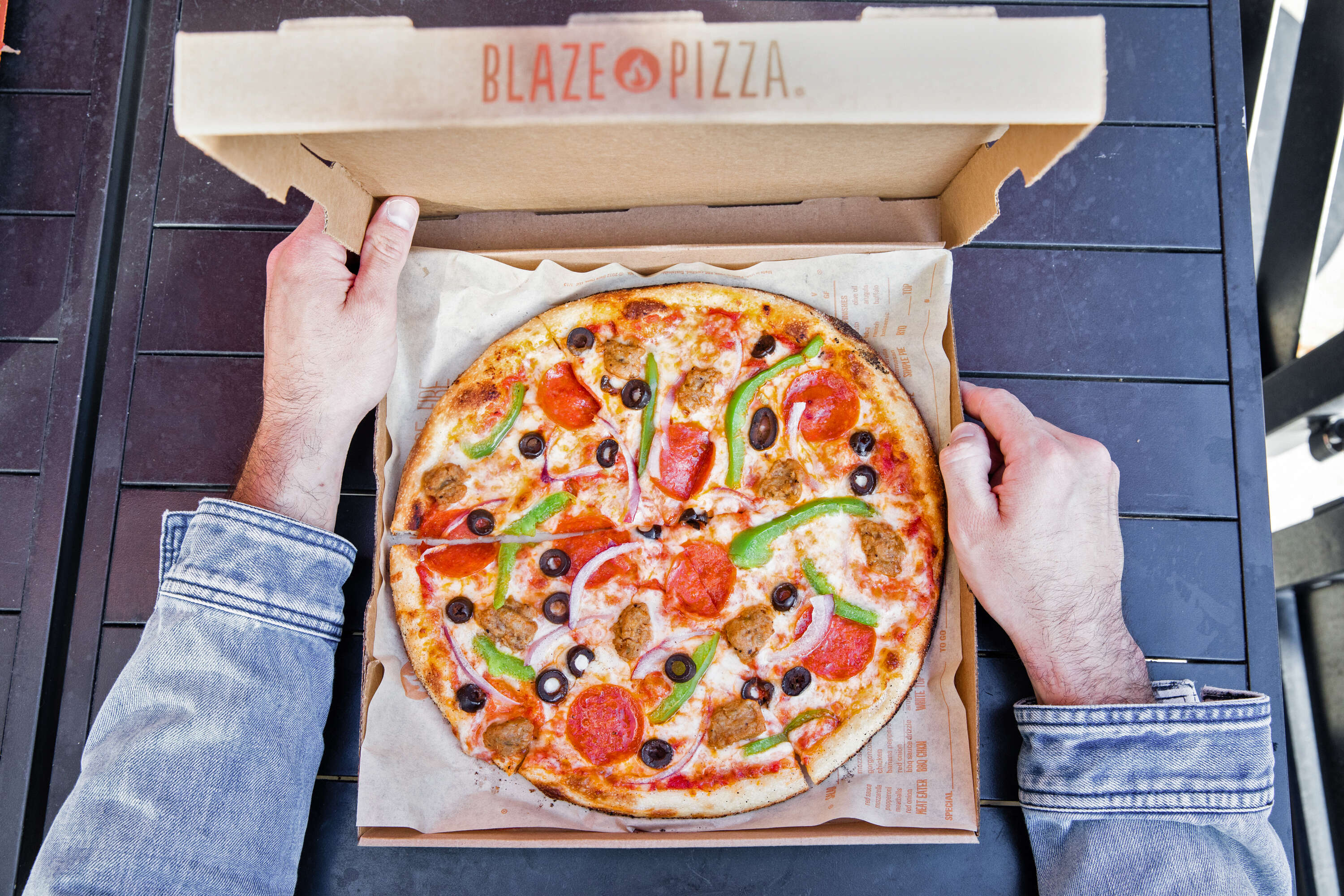 Blaze Menu Review
How I Did It: Over the course of several weeks, I went to one Blaze Pizza location three different times (I would've gone to more, but the next closest was 28 miles away). I tried every style of crust available (original, high rise dough, and cauliflower… this location did not have the "keto" crust), every sauce, every type of cheese (minus the vegan one), every meat, almost all of the veggie toppings (not oregano or spinach or artichokes), half the "drizzles," (essentially squeeze bottles of various condiments like ranch, BBQ, olive oil, etc) three desserts, two salads, and the dough knots.
The most important thing you need to understand about Blaze:
It is incredibly important to eat Blaze's food while it is still hot. The farther you get from the time the Blaze worker calls out "Kevin, your pizza is ready! Pizza for Kevin! KEVIN, GOOD GOD STOP TAKING PHOTOS OF OUR DRINK MACHINE!" the less you will enjoy the food. In some strange and sad ways, this weirdly makes it a perfect work lunch meal.
The John Blaze Stuff -- AKA What To Order:
Let's start with the pizza, yes? Most people opt to build their own pies, so they can have the fun of going through the Chipotle-style lineup and sporadically choosing items they like. IMO, this is actually kind of a crazy way to choose a pizza, as you need to be thoughtful about flavor combinations here, otherwise you'll end up with gorgonzola, red sauce, and a ranch drizzle. So allow me to simplify things for you (please note that each of these needs to be on the original dough. More on the other doughs later):

The best signature pizzas:
Hot Link (add pepperoni): This is a combination. The fatty sausage and pepperoni balance nicely against the acid and bite in the jalapeño and banana peppers, as well as the red onion and olive. This spicy sauce isn't really very spicy, but the double peppers makes up for the lack of real heat, and give it serious bite.
BBQ Chkn (ask for a side of ranch, and extra BBQ drizzle, and maybe the 'i' and 'c' and 'e' in the name): Though it is considered blasphemous in my house to stomp on the hallowed ground of the CPK BBQ Chicken Pizza, this one is pretty damn good. The chicken is not rubbery and the Gorgonzola and red onion have enough kick to make it interesting. Plus, there is something magical that happens when you mix barbecue and ranch, so don't forget the side.
My favorite build your own: Original dough, garlic pesto sauce, ovalini mozzarella, sausage, Parmesan, jalapeños and banana peppers, olive oil drizzle; ask for a sprinkle of sea salt and a side of the cold red sauce that comes with the dough knots. I would try and explain why it all works, but JUST TRUST ME.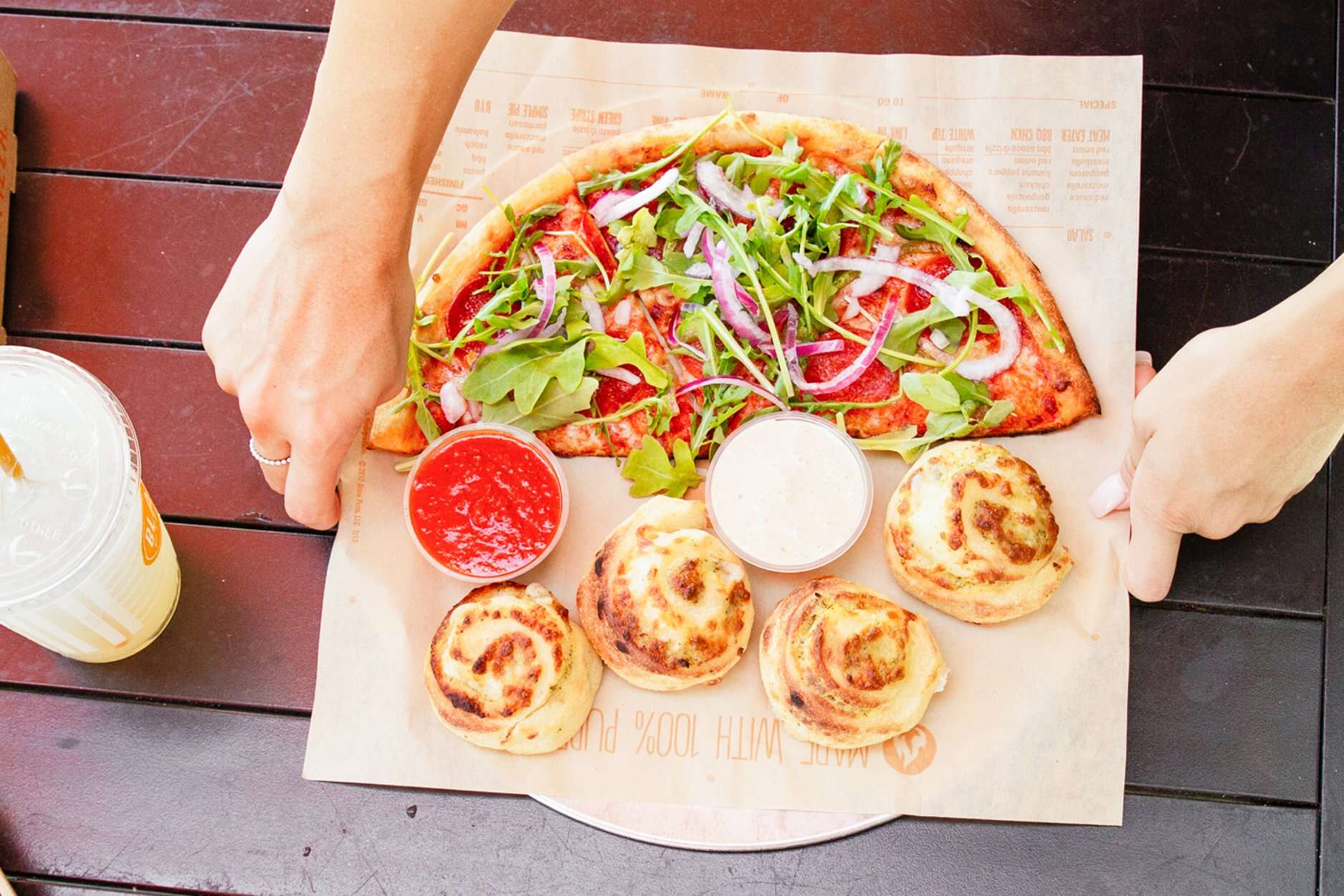 A note on the Dough Knots:
The Dough Knots are just rolled up pizza dough, with pesto and cheese stuffed inside. They take longer to cook than the pizzas, and when they are piping hot out of the oven, they just might be the best savory thing on the menu. But if you wait to eat them even three minutes, they will cool and potentially congeal to the cardboard container they come in, and will immediately drop 60% in taste value. Nothing is more urgent than immediately eating the dough knots, friends.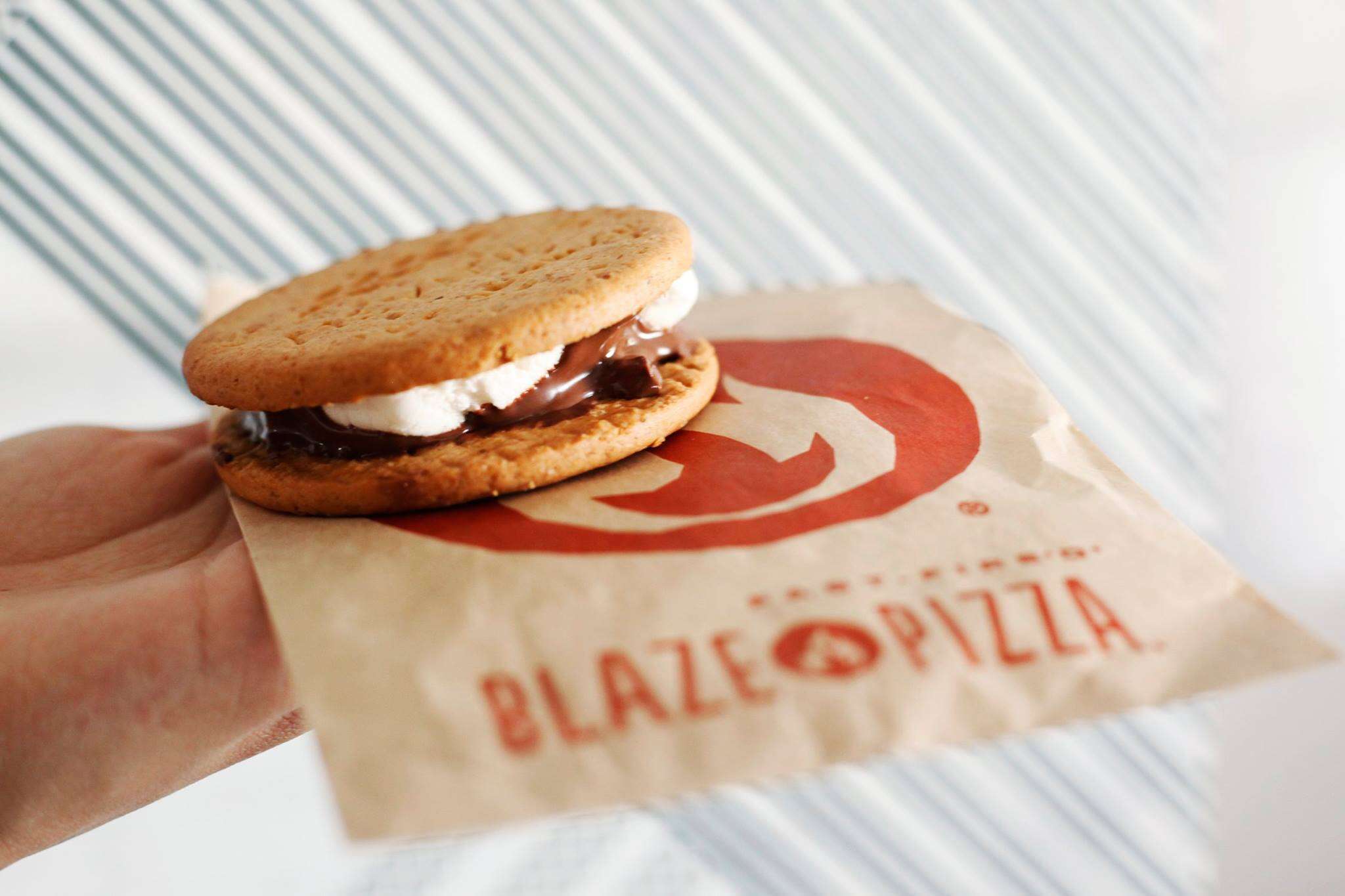 Quite possibly the best thing at Blaze:
The S'Mores sandwich. They will ask you if you wanted it heated up. You will emphatically say yes and make a thumbs up gesture. It is quite possibly the best use of any LeBron-purchased giant expensive oven.
The Not So John Blaze Stuff, AKA What Not To Order:
If I can make one general suggestion, it is to never get the hi-rise dough. Not only does your pizza take longer, it comes out with this chewy, medium-thick crust, which is not satisfyingly crunchy like a true deep dish or Detroit-style pizza, and just ended up reminding me of public school cafeteria pizza. I honestly think they need to re-evaluate what they're doing with that option. The cauliflower one was *fine*.
In terms of signature pizzas, what left me the most lacking was the Veg Out, not because of the all-veggie model, but because there tends to be an overwhelming amount of vegetables put on a pizza as some sort of way to counterbalance the lack of meat. It is classic overcompensation and it weighs the pizza down and turns it into some sort of edible veggie plate.
It's hard to critique individual items on these BYOPizzas, so just a couple more notes:
The white cream sauce seems to be the weakest of the sauce links, mostly because that sort of sauce works better with a thicker, airier dough (not the hi-rise!). The Italian meatballs are also underwhelming and ricotta never really added much value to any pizza I tried it on (though I think I feel that way about ricotta in general, don't @ me Ricotta Twitter).
Final Verdict, AKA So Is Blaze Going to Win?
Blaze is fascinating. It was indeed a savvy idea to try and build the Chipotle of Pizza, and with Blaze and MOD neck and neck in terms of trying to grow quickly (each with very different business plans), it's going to be interesting to see what the next few years brings, and which model proves most successful. As for the quality of Blaze's food, I think back to what the woman in the Gap said to me. It is good mall pizza. It is good, quick work lunch pizza. And maybe that's all that's needed for this space. But with this part of the market growing so fast, Blaze's business folks need to follow the advice I'd given anyone eating their pizza, and not wait too long to really dig in.
Postscript: If you are an NBA player with silly money lying around, and you would like to make that money work for you by giving me several million dollars to take New England Greek-style suburban pizza national, please email my business manager Andy Kryza.
Sign up here for our daily Thrillist email, get Eatmail for more food coverage, and subscribe here for our YouTube channel to get your fix of the best in food/drink/fun.