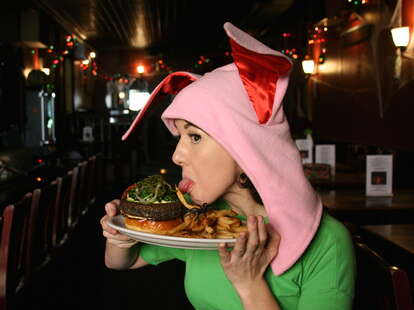 Just as surely as Tina will write erotic friend fiction, Bob Belcher will find a fantastic pun for his latest burger creation. We've always been cruelly denied a taste of these witty specials, since Bob's Burgers is a cartoon and all, but Philly's own Royal Tavern is looking to fix that with 11 burgers ripped straight from the Belchers' chalkboard.
The Royal Tavern plans to run a new Bob's Burgers-inspired special each week from now 'til January of next year. Every new burger will debut on Sunday at 5pm, and the first of the series hit just last night. It's the Jack-O-Lentil, a veggie option with pumpkin habanero aioli, wilted spinach, and tomato poblano salad atop a brioche bun. (You might remember it from the season three Halloween episode, in which Gene dressed as Queen Latifah.) The Jack-O-Lentil is available at Royal Tavern anytime before next Sunday, when Mushroom with a View takes up residence. No word yet on whether Royal Tavern managed to book Boyz 4 Now for live musical accompaniment, but if all else fails, we hear The Ta-Ta's are still available.

Kristin Hunt is a Food/Drink staff writer for Thrillist, and wants to be Tina Belcher when she grows up. Follow her to butts at @kristin_hunt.