Brunch-Flavored Candy Corn Is Here, for Some Reason
Lee Breslouer & Oren Aks/Thrillist
Candy corn: it's what's for breakfast! That's what the Halloween candy experts at Brach's want you to believe, as they've just released Brunch Favorites candy corn exclusively at Target, with three flavors meant to imitate the most #basic of meals. There's French Toast & Maple Syrup, Waffles & Strawberry, and Chocolate Chip & Pancakes. Sadly missing: Mimosa and Delayed Hangover Surprise.
We nabbed a bag to see if the candy is an acceptable substitute for standing in a long line for eggs.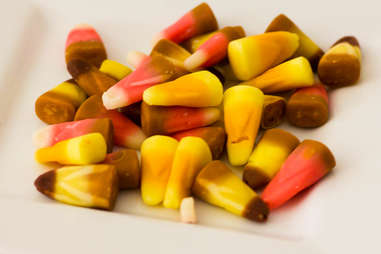 What the hell is going on here?
Brach's makes a ton of different candy corn just in time for that one holiday where everyone eats it: Arbor Day. Just kidding, it's Halloween. Brach's typically releases wacky flavors like Sea Salt Chocolate, Apple Mix, and Peanut Butter Cup, but this is its first crack at the most Instagrammable meal of the day. There are three flavors, so let's get into how they taste, one at a time.
Chocolate Chip & Pancakes
The chocolate chip notes are readily apparent on the first bite, but then they peter out and you're left with a mouthful of artificial candy corn flavor with a pinch of butter flavor mixed in. Not my favorite.
Waffles & Strawberry
I'm deathly allergic to strawberries, but I ate these just fine, which tells you exactly how much real strawberry is in them (in case you were getting excited/have never eaten candy corn). You get a ton of artificial strawberry flavors up front, and then you're left with a mouthful of cloying sweetness.
French Toast & Maple Syrup
Strong maple syrup flavors here, with some butter notes mixed in. This is delicious. And unlike eating the real thing, after a few of these, you don't need to take a nap from all the carbs you ingested. These are the best of the bunch.
All that said, I love candy corn. Keep in mind that if you don't like candy corn, you will probably not like these. And if you love candy corn and artificial French toast flavors, you're about to be very happy with your next purchase at Target.
Sign up here for our daily Thrillist email, and get your fix of the best in food/drink/fun.
Lee Breslouer is a senior writer for Thrillist, and will never stop loving candy corn. Follow him to Halloween candy @LeeBreslouer.