How to Build a Community-Based CBD Brand
Nam Nguyen started Brain Dings to have fun. Now he's using it to change the cannabis industry.
Emily Carpenter/Thrillist
Weed has always made Nam Nguyen happy. He founded NYC-based CBD brand Brain Dings, essentially, for fun. But the more he got to know the cannabis industry, the less comfortable he was with the success of those with deeper pockets and zero ties to the communities most affected by the business and legacy of this plant. Add in a pandemic and a social revolution, and Nguyen's notion of "fun" has evolved into something much bigger than a creative, cannabis-friendly outlet -- as has the purpose of his passion project.
Born and raised in California, about an hour east of San Francisco, Nguyen attended college in San Francisco during "the last phase of pre-tech bro dominance in the Bay."
"I tried really hard to make sure I didn't turn into a tech bro," laughs Nguyen, now 33. "I remember playing a pickup game of soccer with my small team at the time, and people from Zynga (the creators of Farmville) were using the other end of the field. There were like 30 people, official jerseys, referees, catered lunches -- I just remember thinking to myself, 'I gotta get out of here.'"
Nam Nguyen
He moved to New York in 2010, continuing to work within the tech scene. All the while pursuing a personal mission to prove it is possible to be a productive stoner.
"I've always had a great relationship with cannabis," says Nguyen. "Not just as a way to relax, but a way to be productive and creative too. I wanted to prove that you could run a business, manage a team, do great work, and still really love weed."
An introduction to CBD-dominant highs when Colorado legalized cannabis made that mission even more feasible. The no-THC concept wasn't appealing at first, but after taking it with his 6 am coffee and feeling stress and anxiety fade as he got to work, it became a regular part of his weed routine. It wasn't long until he began drafting ideas for his own CBD brand.
"Brain Dings started as a creative outlet," says Nguyen. "Not only getting to work on things I cared about, but getting to work with a medium of physical good. I had spent over a decade on a computer building things that people use on their phones, and this was something that truly made people feel better."
"I wanted to prove that you could run a business, manage a team, do great work, and still really love weed."
Nguyen loved having an excuse to learn more about the industry and build relationships with suppliers and cultivators as he created a line of full-spectrum, hemp-derived CBD tinctures and softgels. However, the more familiarized he became with the industry, the more concerned he was about big money already determining the winners and losers.
"The more I read about CEOs who don't really support the product or the cause; who don't even acknowledge previous and current injustices -- it all felt wrong," says Nguyen. "It showed me that I want to create a brand that does more good than harm."
The first major initiative he undertook was the Artist Label program, a "collaborative branding exploration" in which the artists designing limited run labels would receive 50% of all sales of that product. 
"When you go into a grocery store, you pick out that particular box of ravioli or whatever because it looks good to you," points out Nguyen. "The designer that made it look like that probably gets paid once for that effort. It's always seemed unfair to me that those people don't have a share in that product's revenue."
At the start of this year, Brain Dings was buzzing. The second series from the Artist Label program was getting finalized with British illustrator and animator Leanne Rule. Nguyen had successfully kicked off distribution of the tinctures through Urban Outfitter's online home store, and the CBD Jellies were on schedule for an early summer launch.
Haikoo
Then April arrived, and the pandemic hit New York. Hard.
"It didn't feel right to make money while people were struggling, much less off a passion project," says Nguyen. "So we started sending all April proceeds to the Million Masks Challenge, getting PPE supplies to frontline workers." 
As time and crises progressed, Nguyen didn't feel like stopping. He started directing all profits towards Afro Tectopia in May and June, an organization supporting the intersection of art, design, technology, Black culture, and activism. In July, all sales went to the Innocence Project, including the newly launched CBD Jellies. It was sometime in the middle of all of that when Nguyen noticed how much more fun he was having than when he was focused on profit margins pre-COVID.
"I thought to myself, 'what if we just kept donating the proceeds of the products back to the community? Like, forever? What if Brain Dings could be the Newman-O's of cannabis?' recalls Nguyen. "Just thinking it out loud made me feel good. And the more I think about it, the better it feels."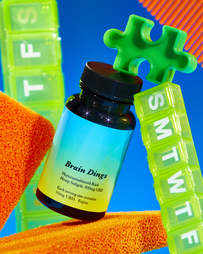 Alex Silva
Since talking these thoughts through with colleagues and friends -- particularly Tahira Rehmatullah, former GM of Marley Naturals and influential advisor in the cannabis industry -- Nguyen has honed his company's mission into three priorities: redistributing wealth back to the community, mentoring those in the space without the same luxuries and privileges of more moneyed endeavors, and setting the bar or at least sparking a conversation within other brands and other industries to consider these kind of core values.
"My ultimate dream is that Brain Dings is known to be a brand that is aligned with where the community is at and what the community needs," says Nguyen. "Whether it's supporting minorities interested in entering the industry, advocating for fair compensation to artists, donating masks in April, or sending relief to Lebanon."
He's still figuring out how "the Newman-O's of cannabis" will work, but that community focus has grown this little passion project into a platform for connecting like minded people ready to help change the status quo for the better.
"I don't think Brain Dings will solve racial injustice on its own. I don't think we'll share wealth equally on our own. But I think as a collective, it could be possible."
Sign up here for our daily Thrillist email and subscribe here for our YouTube channel to get your fix of the best in food/drink/fun.
Lauren Yoshiko is a Portland-based writer and co-host of Broccoli Magazine's podcast, Broccoli Talk. She was among the first journalists to cover the commerce and culture of cannabis starting in 2014 and her work has since appeared in Willamette Week, Forbes, Rolling Stone, and Broccoli Magazine, among others. Follow her on Instagram at @laurenyoshiko for Portland breakfast sandwich recs, stoned nail art, and moderate cat content.