This Vegetarian Congee Is Restorative and Customizable
"The more flavorful the stock, the better the jook will be."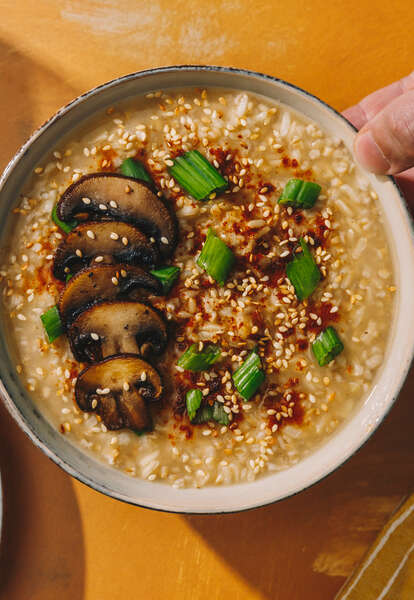 Photo by Cole Saladino for Thrillist
Photo by Cole Saladino for Thrillist
I've been eating porridge for breakfast and dinner going on three days in a row, and I owe it all to Brandon Jew, executive chef and owner of Mister Jiu's, Moongate Lounge, and Mamahuhu in San Francisco. This deliciously starchy bowl of aromatics will glue you back together when and if you feel a bit undone from our current world of chaos.
When probed for a congee memory from his past, the James Beard Award winner speaks warmly about his mother's recipe, a curative bowl that was "always made when someone in the family was feeling sick," but loved so dearly that it's also served "at all holiday gatherings too."
But the dish also appeared along his many trips to Chinatown with his grandmother as a child, where sweet air diffused from vats of frying donuts, ducks hung like ornaments, and many varieties of congee—the dish they'd treat themselves to after a day of market shopping—awaited them. This treat manifests now in his own organic brown rice and steel cut oat version.
Brandon Jew is intimately familiar with this dish, not just in a culinary sense or from personal memory, but also from what reads as a devotion to understanding food heritage—something that makes his recipe, and the development of it, feel that much more enriching.
Congee, or jook as it is known in Cantonese, is an ode to the joy of toppings. Jew's recipe is advertised as a vegetarian one, however, I myself do not advertise as a vegetarian, and as a result, my toppings included but were not limited to, salmon roe and bonito flake, along with Chef Brandon's suggestion of roasted chanterelle mushrooms, matsutake mushrooms confit in rosemary oil, slivered young ginger, scallions, and toasted pine nuts.
How to make vegetarian congee
Jew notes that your stock is the backbone of your congee. "The more flavorful the stock, the better the jook will be." Boiling a stock is a sentimental display of home and hearth, if you're a soup romantic like me. You'll need to give yourself a couple hours to build the relationship with the ingredients in your pot.
Here is where the hazelnuts, white miso, sesame seeds, and hojicha (toasted barley) tea leaves, among other veggies, will luxuriate. After two hours, the pot is filled with a silky, taupe colored broth that smells of savory heaven. Upon adding your rice and oats, "make sure to let it boil for at least 30 minutes. The action and movement of a rolling boil will burst the rice kernels and release their starches," Jew says. It should simmer thereafter for another 10-ish minutes, until it reaches that desired gooey consistency.
Next, it's a game of garnishing. Taking a trip to your local Chinatown to scoop pre-pickled tidbits is a quick and easy way to accessorize your porridge. That said, here are some of Jew's cooking tips on a few toppings, as the recipe is for the porridge/stock only:
Toasted Pine Nuts

: Spread nuts evenly in pan on medium heat, and swirl in pan to distribute heat evenly for a few minutes. Keep an eye on this. They can burn quickly.

Mushroom Confit:

Coat pan in ¼ inch layer of olive oil, use medium heat, and add diced shallots. Cook until translucent. Add sliced and lightly salted mushrooms to oil, with rosemary. Cook each side for about 8 minutes, or until crisp. Then add more oil to the pan, nearly to cover them, and let simmer for another 10 minutes. Store in a jar with residual pan oil.

Roasted Mushrooms:

Coat mushrooms in olive oil, salt, pepper, thyme, and melted butter if you feel like it. Add diced shallot, and spread on a baking sheet. Cook at 400 for 12-15 minutes, stirring occasionally.

Pickled Mushrooms:

Bring 1 cup rice wine vinegar, 1 cup water, ¼ cup sugar to a boil. Add mushrooms and let cook for 15 minutes. Strain, or don't, and store.

Soft-boiled egg:

Boil a pot of water, and prepare an ice bath separately. Add eggs to boiling water and let boil for 6-7 minutes. Place in the ice bath immediately after, crack shells gently, and peel when ready, under gently running water.
Brandon Jew's Brown Rice and Steel Cut Oat Congee
Serves 6-8
Ingredients:
Stock
350g carrot, sliced in one-inch chunks
40g dry mushroom stems
200g chinese celery
375g white onion, peeled and quartered
3 each bay leaves
10g toasted sesame
150g toasted hazelnuts
30g hojicha (toasted barley tea)
5qts water
Garnish
(see notes)
Roasted chanterelles
Confit matsutakes in rosemary oil
Toasted pine nuts
Sliced young ginger
Directions:
1. Add all ingredients to a pot, bring to boil, and lower to simmer.
2. Let simmer for 2 hours, then strain.
3. Once strained, and add 200g white miso.
4. (Whisk to declump if needed.)
5. Bring finished stock to a boil.
6. Add 100g Quaker organic steel cut oats.
7. Add 150g Koda farm organic brown rice.
8. Leave on boiling until it starts to thicken, about 30 minutes.
9. Turn down to simmer and let thicken for another 10 minutes.
10. Season with salt to taste and garnish.