Get a Free Biscuit Taco, Try the New Diablo Sauce at Taco Bell Today
Today is Cinco de Mayo, which means an inordinate amount of people will be getting tipsy on margaritas on a Tuesday. Before all that goes down, start your holiday off with some free food at Taco Bell. From 7-11am, the chain is giving out Biscuit Tacos to any "breakfast defector" who stops by. In case you're unfamiliar with the Biscuit Taco (it did just go nationwide in March), it's T-Bell's follow-up to the now-retired Waffle Taco. The shell is a specially formed biscuit stuffed with eggs, sausage, bacon, or fried chicken -- only for the purposes of this deal, you're limited to just sausage or bacon.
While you're there, make sure you also check out T-Bell's hottest sauce yet, Diablo. The new guy boasts a lethal combination of aji panca, chipotle, and chili peppers that promises to slide your taco up the Scoville scale. But it's only available for a limited time, so get it while it's hot.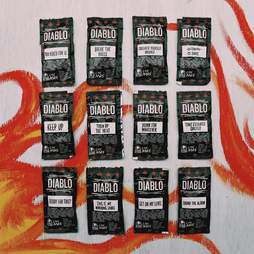 Courtesy of Taco Bell
Kristin Hunt is a Food/Drink staff writer for Thrillist, and thinks all burritos should be free tomorrow. Follow her to holiday spirit at @kristin_hunt.