The search for America's best breakfast sandwich begins here
The breakfast sandwich is simple and delicious: eggs, cheese, bread, and some sort of meat. But when those ingredients are combined in just the right way, it can be elevated into something magical -- a comforting, eggy beacon of light on the morning after a night of drinking, even if science says it's a horrible idea.
As part one of our ongoing series in the search for the best breakfast sandwich in America, we start in Colorado at modmarket, a high-quality, fast-casual joint that we think could be "the next Chipotle". And soon more Americans can try this for themselves, as they're close to opening up two locations in the Denver International Airport, and one outside of Dallas/Fort Worth.
Modmarket
Meet the Rocket Egg
This is the Rocket Egg, their most popular breakfast sandwich. Let's break down what makes this thing so special. Looks simple, but it's the ingredients that elevate it to one of the best morning sammie options in the country.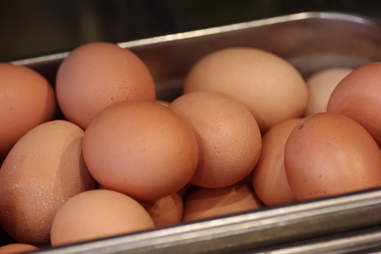 Lee Breslouer
Ingredients
All the menu items at modmarket are cooked to order, which ensures freshness. Once you say you want a Rocket Egg (and, boy, do you!), one of their line cooks cracks two cage-free eggs in the skillet.
Locally-baked ciabatta bread made in a size specifically for modmarket provides the egg a resting place.
Sitting atop the egg are a freshly sliced tomato, arugula (this where the name comes from -- Europeans refer to it as "rocket"), and a smoky provolone cheese. A housemade basil aioli ties the entire sandwich together.
Lee Breslouer
Why this is one of the best in the country
This sandwich doesn't even need bacon. And I say that not because I'm a Jew who has sworn off bacon and I need to feel better about my life decisions, but because it's truly satisfying on its own. Modmarket also serves up lunch and dinner, and they use this to their advantage -- their super-hot pizza oven toasts the bread. This gives it a crispy, crunchy toastiness that the bread at your average breakfast joint can't touch.
The Rocket's arugula has a "pepperiness", a term their chef might have made up, but it contrasts beautifully with the smooth, creamy aioli, the smoky cheese, and the hearty egg. It's filling and tasty, and it'll make you happy you got up before 11am.
Think you know where the best breakfast sandwich in the country is? Tell us in the comments.
Lee Breslouer writes about food and drink for Thrillist, and has eaten so many Rocket Eggs in his lifetime that basil aioli runs through his veins. Follow him at @LeeBreslouer, because you can't make up a name that good.