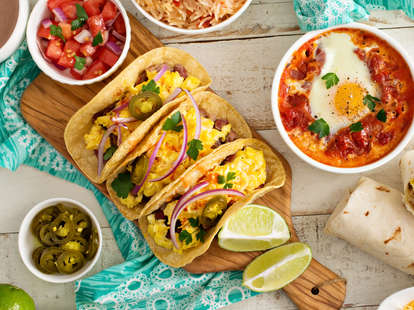 Elena Veselova/Shutterstock
Unless you're a hobbit or a linebacker, you don't get a second breakfast. And while Northeasterners and people from Montreal may think that bagels are the one morning meal to rule them all, the Dirty South has a little-known but totally massive breakfast staple that makes bagels look downright crumby.
It's the breakfast taco. A fresh tortilla cradling eggs, cheese, meat, and the occasional glamour veggie (potato! jalapeño! avocado!), that's eaten well into the afternoon. Here's 11 reasons that prove the breakfast taco is the most superior of breakfast foods, and that just because a bagel is sprinkled with a ton of seeds doesn't make it everything.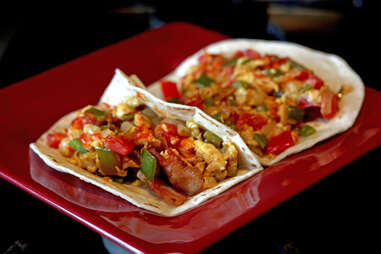 Salsa wakes you up
A breakfast taco topped with spicy salsa is the equivalent to a hot cup of coffee, whereas a warm bagel is a lukewarm tea at best.

Two halves do not equal two wholes
When you're hitting the second half of a bagel, it feels like defeat. Breakfast taco number two is a celebration of an entirely new set of flavors.

Chorizo
Compared to greasy, pan-simmered Mexican pork, Jersey Ham is like a fake tan.

Time efficiency
In the time it takes to boil a pot of bagel water, that chef could've served five hungry customers tacos de breakfast.

Easy to make at home
The quality of a homemade breakfast taco far surpasses a burnt bagel smeared with Philadelphia that's probably been sitting in your fridge for too long (find out how long is too long right here).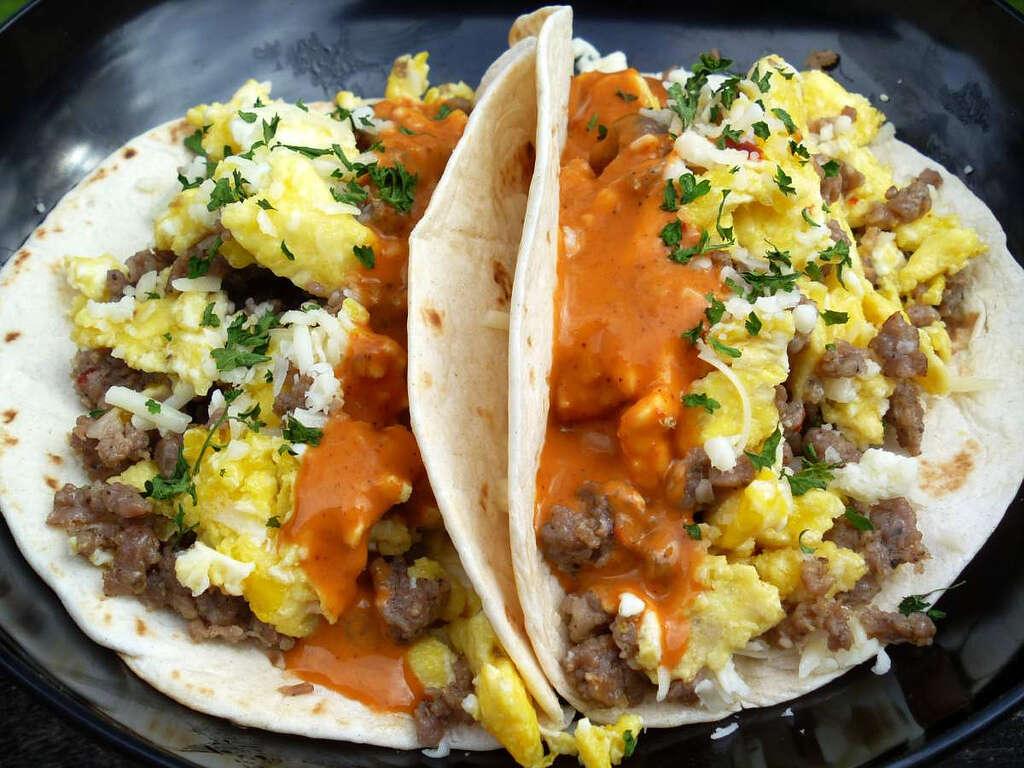 Cheddar cheese > cream cheese
Hot and melted always beats cold and creamy.

They're not just for breakfast
The girth of the breakfast taco makes it a triple threat, adaptable to breakfast, lunch, and dinner. Bagels should not be eaten after 3p (excepting the pizza bagel -- it's fine for lunch and dinner, but not at breakfast).

Lox makes you and everything around you smell disgusting
Why even brush your teeth?

Plentiful quality
The likelihood of a gas station having a solid breakfast taco is much higher than a decent bagel.

Tacos don't cost extra to be made warm
Seriously, an extra 50 cents for toasting? That's like charging for ice in water.

That's 200 pages worth of reasons right there.
Sign up here for our daily Thrillist email, and get your fix of the best in food/drink/fun.
Dan Gentile is a former staff writer on Thrillist's national food/drink team who often eats breakfast tacos for dinner, but never dinner tacos for breakfast. Follow him to a fresh tortilla/Twitter at @Dannosphere.