5 bizarre British cereals at the UK's first cereal-only restaurant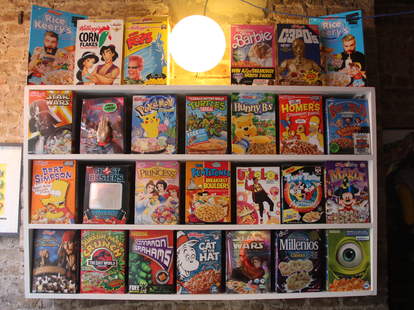 While there's plenty of great cereal to choose from in the US of A, there's a ton of breakfast options Americans will never get to try because they're not even available here. Shame on you, manufacturers of cereal!
That's why we sent our Britishest writer to peek into the UK's first all-day, cereal-only restaurant -- The Cereal Killer Cafe in London, and shove as many UK-only cereals as he could eat before falling into a deep sugar coma.
Jason Allen
Their shelves are graced with a menu of over 120 different boxes of bowl-fillers, and 14 (!) types of milk. Yes, they do have Urkel-O's.
Jason Allen
This is either Gary or Alan, one of the two identical twin owners immortalized on this cereal box. We may never know which one.
Jason Allen
Honey Monster Puffs (aka Sugar Puffs)
Most Britons know them as Sugar Puffs, a name they kept for over five decades, but apparently that was simply too honest for 2014; a world where the word "monster" is deemed more consumer-friendly than the word "sugar".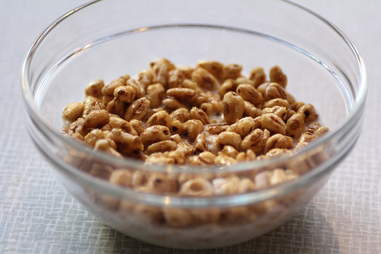 Jason Allen
How they taste
They're made from puffed wheat, and in fairness, they do taste sort of like honey. Possibly because of all the sugar on them.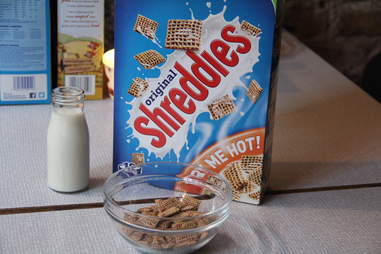 Jason Allen
Shreddies
These wheat squares have also been around for 50 years, and are also available in Canada, where they significantly spiked their sales by marketing them as all-new "diamond-shaped" Shreddies, and then literally changing nothing else. Genius. 
Jason Allen
How they taste
They're malty, and sort of delicious. The diamond-shaped ones were especially good.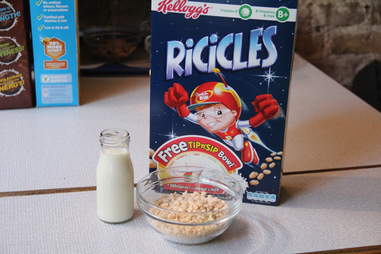 Jason Allen
Ricicles
This is a box of Ricicles. They're basically Rice Krispies coated in sugar. The name is a portmanteau of "rice" and "icicles", perhaps as a way to make the sweet glaze seem more benign... which we will happily go along with if it means a more delicious breakfast.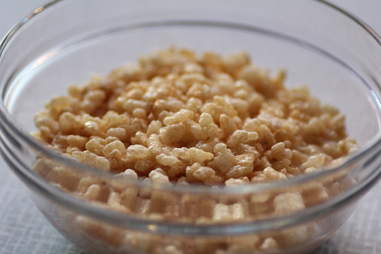 Jason Allen
How they taste
You can literally see the sugar glazing each individual rice puff. And anything coated in sugar tastes good to me. You can also probably hear the snapping, crackling, and popping too, if you had a childhood.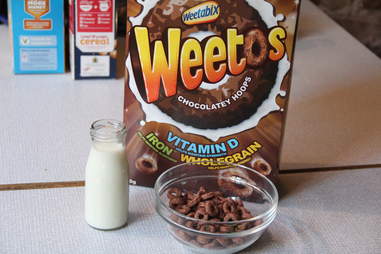 Jason Allen
Weetos
Calling them "Weetos" is a bit like calling U2 "Tourbus", as they have almost nothing to do with wheat, other than to use it as a vehicle, for chocolate.
Jason Allen
How they taste
This just in: chocolatey cereal tastes delicious.
Jason Allen
Nesquik
This stuff actually made it to US grocery aisles a few years back, but got shelved (or rather, unshelved) due to stiff competition from Cocoa Puffs, and sorry sales figures. This was a mistake.
Jason Allen
How they taste
Oh God, this stuff is good. I mean, they took the stuff they use to make chocolate milk, and made a milk-based meal out of it.
Jason Allenis Thrillist's Man In London, and doesn't understand why having breakfast in bed is considered romantic, but having lunch & dinner there is "weird and creepy" all of a sudden.