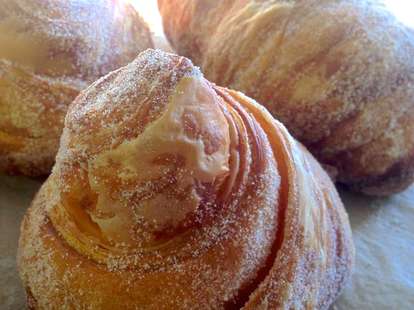 MarieBette Café and Bakery
MarieBette Café and Bakery
If you haven't already said goodbye to the Cronut, this is the time. First, it's 2015, and like, time to move on. And second, the Bronut exists.
The pastry (which, shockingly, was neither born in a frat, nor is slang for something gross) is actually brioche feuilletée, brilliantly dubbed "the Bronut" by Charlottesville 29. This particular incarnation can be found at MarieBette bakery in Charlottesville, VA. It has dense layers of thin, flaky pastry brushed with sugar, and is essentially a cross between brioche, a croissant, and a donut. Cronut who?! Given that brioche feuilletée directly translates to "flaky brioche," we think Bronut is probably the way to go.
No word yet on if the bakery will be changing this pastry's name -- but it seems pretty into it.
Lucy Meilus is a staff writer for Thrillist. She has never had a Cronut. Follow her on Twitter at @Lucymeilus and send news tips to news@thrillist.com.