This Texas Convenience Store Is America's Best Pit Stop
For most of us, getting food at a gas station typically results in some combination of the words "questionable," "cheese," "searing," "pain," "pull," and "over." But gas stations and truck stops can be havens. Hell, in the Northeast, people straight-up argue over the supremacy of chains Wawa and Sheetz. Luckily for those cultishly beloved joints, Texas isn't part of that fight, because the Lone Star State's Buc-ee's would slaughter them wholesale and leave room for Beaver Nuggets.
At Buc-ee's -- a chain of colossal truck stops/grocery stores/mini-malls scattered throughout the state -- you'll find more than the usual highway fare of Cool Ranch Doritos and Cherry Icees. It overwhelms the senses with gourmet sweets, fresh-to-order sandwiches, legendary Texas kolaches, and some of the cleanest damn restrooms in America. If you've ever hit a stall in a truck stop, you know how clutch that last one is.
It's the greatest pit stop the roadside has to offer, the truck stop America needs. Here's what non-Texans are missing out on.
Beaver Nuggets
Texas' favorite addiction, Beaver Nuggets aren't snack-sized chunks of roadkill, but sweetened corn puffs that can conveniently sit in a standard-size cup holder. These glorious bags of Cap'n Crunch-like treats are just sugary enough to get you through the next hundred miles and just addictive enough that you're guaranteed to stop at the next Buc-ee's you come across. Like George Strait and the Alamo, Beaver Nuggets are God's gift to Texas.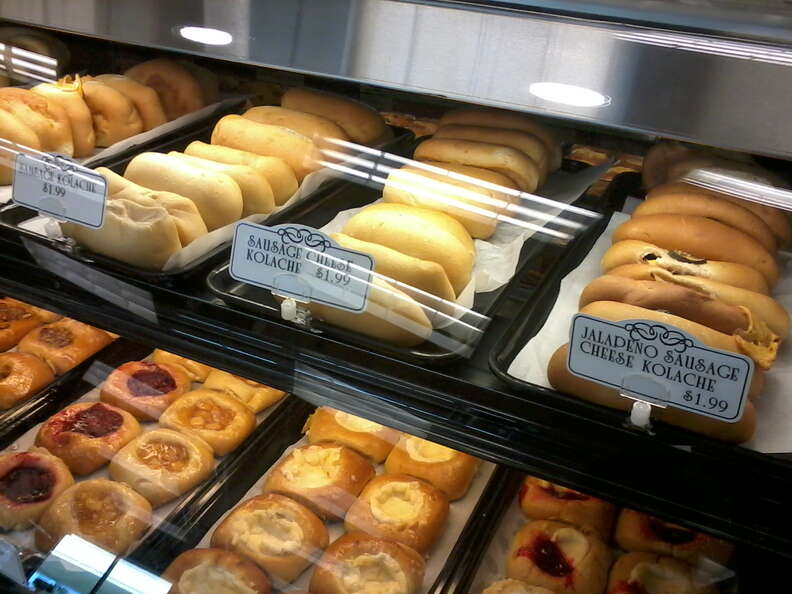 Kolaches
With roots dating back to the original Czech immigrants who staked their place in south and central Texas, kolaches have become one of the most sacred foods in Texas. Simply put, they're soft pastries made from yeasted dough either dimpled or stuffed with sweet or savory delectables. Buc-ee's takes kolaches seriously, serving traditional flavors like peach, cream cheese, and jalapeño Cheddar sausage, but also pays homage to the unique Texas palate with flavors like green chile/sausage and pecan pie. The kolaches are always served fresh at the bakery, but watch out for a mad dash when those cajun boudin kolaches (usually a mix of dirty rice, sausage, crawfish, or shrimp) come warm out of the oven. Be on the lookout for Beaver Nugget kolaches, (hopefully) coming soon.
Fresh beef jerky
The fresh beef jerky counter at Buc-ee's, which offers a variety of unique and mouth-watering flavors, is an institution in and of itself. While jerky is an essential road-trip treat, the Hill Country Bohemian garlic jerky is something Texans will make a 100-mile detour for. Luckily, the jerky counter offers samples so shoppers can taste the maple cherry, Ranch Hand honey BBQ, or one of the other numerous flavors before committing to purchasing by the pound. A stop at the counter is necessary, but pre-packaged jerky is the perfect gift to bring back home. It'll stay fresh throughout an entire road trip, but will most definitely be consumed before it makes its way back to grandpa in Idaho. So get two packages.
The Pecan Log
If heaven had a taste, it would probably be reminiscent of Buc-ee's Pecan Log. This inexpensive treat is -- you guessed it -- a log-shaped candy with a rich nougat core wrapped in creamy caramel and coated with nuts from the state tree of Texas. Something about a Pecan Log evokes the feeling of the holiday season: At Buc-ee's, everyday feels like Christmas. Or maybe it's the fact you just gorged on three not-so-tiny logs and a jalapeño kolache and still have 200 miles before spending a long weekend with your in-laws.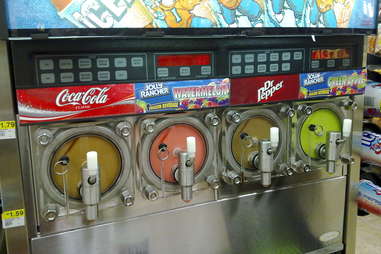 Frozen Dr Pepper and Big Red
Texas is a very proud state, and there are no two drinks -- OK, non-alcoholic drinks -- that are more important than Dr Pepper and Big Red, the red cream soda that also tastes like bubble-gum, but better. Buc-ee's, which has its own branded soda fountains, offers a crazy assortment of drinks to choose from, but you'd be remiss to skip out on these two Texas treasures. A real Buc-ee's experience requires a stop at the Icee machine to grab frozen versions of these iconic drinks. A real Texas experiences requires you get the cup that's about the size of Dallas.
Texas kitchen essentials
Besides the fresh food and snacks, there are aisles upon aisles of locally made products that deserve a place in any well stocked pantry, (right next to the .22 and Lowery's seasoning.) Change up your morning toast with a jar of Mayhaw jelly, made from the regional Mayhaw berry that has a sweet-yet-zingy taste. Spice up your favorite meals with an array of hot sauces that'll fit any palate, but unless you want your mouth to taste like Laredo in July, steer clear of Da' Bomb Beyond Insanity sauce. Even dare to make your own Texas-style barbecue with spices and rubs that are used in the best BBQ joints around the country. If you're really feeling adventurous, grab a jar of pickled quail eggs, a Texas "delicacy."
T-shirts, koozies, and Buc-ee the Beaver
Come for the food, stay for the overwhelming mini-mall featuring every type of souvenir imaginable. You can't really say you've been to Buc-ee's unless you leave with an official T-shirt (preferably camo or tie-dyed), a bag full of beer koozies, and, for the kids, a stuffed version of the all-American-beaver-next-door, Buc-ee (who you'd probably let your daughter date, but never fully trust because of that smug, toothy grin). If you were wanting something bigger, you can alway leave with a brand-new Yeti cooler, fishing equipment, or even an official Buc-ee's surfboard. There is literally something for everyone... even vegans, even cats, and probably even New Yorkers.
Texas barbecue
It's commonly said that you shouldn't get your lunch where you get your gas, but whoever said that has clearly never visited the "Texas Round-Up" barbecue counter at Buc-ee's. Here you can get a sampling of Texas barbecue, including lean and moist brisket, sliced sausage, turkey, and fresh-to-order sandwiches. It may not be a full Austin BBQ experience, but for the roadtrip warrior, it's also not a three-hour wait like Franklin. And while deciding between a chopped beef or pulled pork sandwich is never an easy task, rest assured that whatever you decide, this gas station sandwich won't send you running to the bathroom. But if it does...
The cleanest public restrooms you could possibly imagine
At the heart of it, Buc-ee's only became what it is today because of the creator's simple goal of opening a convenience store with cheap ice and clean bathrooms. And while the ice is still cheap, the bathrooms are palatial, extremely well-maintained, and considered to be the cleanest in America. If you've ever pooped in a truck stop, you know that honor doesn't take much, but this john is clean enough to snort Beaver Nuggets off the tile.
Sign up here for our daily Thrillist email, and get your fix of the best in food/drink/fun.
Tanner Saunders is an Editorial Production Assistant at Thrillist who is made of 27% water and 73% Beaver Nuggets. Tell him your Buc-ee's favorites on Twitter and Instagram.