Listen, we appreciate a good brioche as much as the next guy, but when someone hands you a burger with a deep-fried Ellio's bun, you don't say no... even though your doctor would advise you to do so. Along with that all-star out of Philly, we found nine more burgers with especially inventive bookends for your consideration. Pretzel buns, you've been served.
Recommended Video
Cauliflower Crust: Pizza or Health Fad?
When in doubt, add bacon. Grilling.com upped the cookout stakes by crafting this meats-on-meats selection, though really, it was only a matter of time before somebody made this power play. We're just surprised it wasn't Rob Ford.
Banking hard on the public's continued interest in Carly Rae Jepsen, this PornBurger pick "So Kalbi Maybe" also features kimchi and a short rib patty.
Snap, Crackle, and Pop died to bring you this burger, so you better damn well eat it in solidarity.
Culinary Bro-Down's fried dough bun is especially appropriate now, as county fair foods reach critical mass. Expect the carnies to start cribbing his style any day now.
Since a straight-up mac bun would deplete the world of its wet nap supply, Chicago's Rockit Burger Bar fried the stuff before placing it on top of a black Angus patty. They also named their creation the Mac Attack Burger, since that toothpick is the only thing keeping it from full-on assaulting your mouth.
Another expert innovation by PornBurger, which could only be improved with the addition of this super-sized Pop-Tart on the side.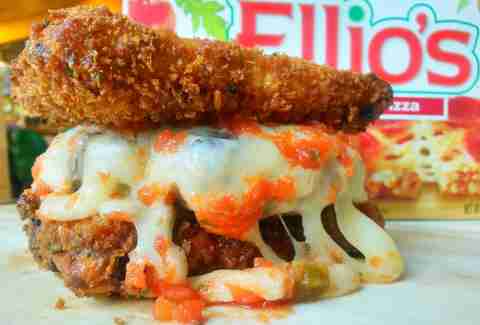 We're not quite sure how Philly's crazed burger-haven PYT dreamt this one up, but we'd like in on their REM cycle.
Slater's 50/50 first created the beefy, beautiful Supreme Nacho Burger a year ago, and has been known to trot it out for extra special occasions. Somehow, Chipotle and Five Guys have not teamed up to duplicate this important offering nationwide... yet.
What's crazier than a deep-fried Ellio's bun? A deep-fried Twinkie bun. We don't know what PYT's smoking, but we want some.
The competition deep-fried, grilled, and sculpted their hearts out, but you just can't beat this Fatburger newbie in terms of creativity, which is is basically a burger with burgers for buns for the carb-free set. Or for people who know buns are just filler.
Kristin Hunt is a food/drink staff writer for Thrillist and is surprised there aren't more burgers with Hot Pocket buns. Follow her to Jim Gaffigan specials at @kristin_hunt.