How to make an incredible burger, according to 6 meat-masters
Have you ever gone to a restaurant, had an amazing burger, and then tried to replicate it at home only to have disastrous results? That's what you get for trying. But in the spirit of spreading knowledge and leveling the playing field for meat aficionados everywhere, we consulted six burger experts to see how they prepare their burgers when no one's watching.
Spoiler alert: invest in a cast-iron pan. Also, research Maillard reactions.
Find a butcher. Buy a steak.
"Use high-quality, fresh-ground steak with 20 to 30% fat content. Either grind it yourself using a food processor, or ask your local butcher to grind it for you. Then, pack your meat lightly into patties. Flip it once and be gentle! Season with salt and pepper right before cooking and add any additional seasonings or sauces after it's finished. At home, I just put cheese and pickles on my burger!" -- Adam Fleischman, founder of Umami Burger
Cast-iron pans and mustard make all the difference
"Use a cast-iron pan at home or grill during the Summer at the beach. As much as I love my Bash Burger and the caramelized onion-bacon jam, I prefer a perfect slice of tomato, crisp lettuce, pickles, a thin slice of red onion, and shaved pickles. Also, a little mayo and ketchup on the bun and -- as always -- a smear of Dijon while the burger is cooking. Sometimes, it's fun to set up a burger bar with different buns, cheeses, and assorted toppings and let everyone create their own masterpiece! Most importantly: Have a good time, because that's what burgers are all about!" -- Josh Capon, executive chef at Burger & Barrel & Lure Fishbar and a three-time Burger Bash winner
Seriously, get a cast-iron pan (and rendered beef fat)
"My secret is a cast-iron pan, salt, and tallow-rendered beef fat. Be sure to season the patty with plenty of salt, then cook the burger in the rendered beef fat. When making a burger at home, I love bacon, blue cheese, or… my real fat kid-style is covered in chili and queso." -- Dale Talde, executive chef at Pork Slope & Talde and a Top Chef All-Star competitor
Don't let oil go to waste
"I typically sauté an onion in olive oil and butter. Then I drain the onions and mix into mayonnaise. As for the leftover oil, I use that to grill the burgers -- it really brings out the flavor. I eat my burgers with an English muffin, onion, mayonnaise, and cheddar cheese. As a side, a salad with sweet & sour cucumbers always works." -- David Burke, founder of David Burke Group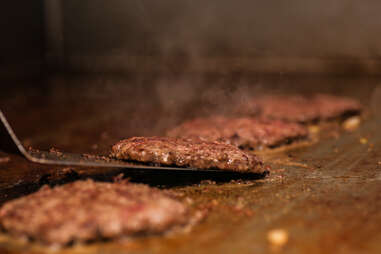 Fish sauce can elevate even an average patty
"The grill pan -- get it screaming hot while your oven is at 400 degrees. Place the patties on the pan, and rotate 90 degrees after a minute. Wait one more minute and flip, then rotate again and place in oven to desired doneness. Use room temp meat -- it sounds gross, but it makes for better crusting, aka Maillard reactions. Also, use fish sauce in the patty; it gives ordinary store-bought ground beef some oomph." -- Justin Warner, chef at Do or Dine and winner of The Next Food Network Star

Branch out from a burger with just bacon and American cheese
"This is my shout-out to Cold Stone Creamery, but more of a 'Hot Grill' -- I love to build a burger bar for my friends. Picture this: six to 10 friends, lots of cold beer, a sunny day, a hot grill, a clichéd picnic table with the red and white gingham pattern, and 5lbs of fatty, grain-fed beef. Keep the lean beef for the sissies or, to really blow your friends' minds, grind country pork sausage into a patty. If you don't want to get dirty while eating your hamburger, then don't come to my party. Now, surrounding your big wood cutting board, get your 'stuff' in place. Diced up piles of cheddar, goat cheese, blue cheese, jalapeños, cilantro, pickles, peppers, sun-dried tomatoes, basil, rosemary, onions, and fennel! But really, whatever your little heart (that will soon be enlarging) desires.
Now get your friends to come up one by one and let them build a burger by folding everything into a patty! Great buns and accoutrements like Sriracha-flavored mayo, aiolis, etc. to finish these masterpieces off. Step two? Drink beer and grill like your daddy taught you -- hot grill, toasted buns, and big smiles for everyone." -- Brian Malarkey, executive chef of Herringbone and Searsucker
Adam Lapetina is a food/drink staff writer at Thrillist, and prefers his burgers with melted Gouda, caramelized onions, and hot sauce... in case you were wondering. Read his musings on Twitter at @adamlapetina.