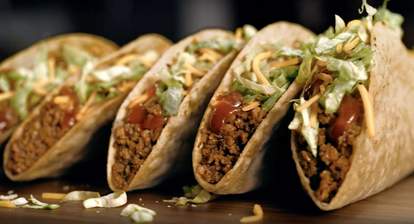 We Tried Burger King's New Tacos so You Don't Have To
Even if it's just a buck, we're not sure it's worth it.

Sound the alarm folks: Burger King has tacos. You wouldn't think it'd be something the fast-food chain would be entirely into -- what with them being burger kings and all that -- yet the burger franchise, known for its flame-grilled Whoppers, launched $1 crispy tacos this past Tuesday.
It's not the first time the burger sovereignty has experimented with tacos. Back in 2010, tacos were included on BK's menu -- though they haven't garnered the same respect and memorability as, say, Jack in the Box's beloved taco deal that gets you two for 99 cents. Will they gain it this time around? We're guessing no.
Why? How do they taste?
I'd like to believe I'm not picky about my fast food choices. I didn't go to Burger King with grand expectations on what a $1 taco would taste like. I expected seasoned ground beef, a crispy shell that wasn't filled quite right but had a reasonable enough meat-to-tortilla ratio, some identifiable cheese, taco sauce, and lettuce. That's what was advertised, at least.
What I got was a bizarre, sludgy, half-filled taco with translucent chunks of lettuce spilling out. The ground meat mixture was so overly processed that biting into it felt like eating a meat paste -- like a wet, uncooked sausage without the casing. It's perplexing because BK could easily use leftover ground beef from their burgers, hit it with some taco seasoning, and stuff it into their tacos. It makes me curious about what I'm actually biting into -- unless it is burger meat that's been blended beyond recognition.
I appreciate that the shredded cheddar cheese was melted -- often fast food tacos contain strands of dry, gritty cheese -- but because the meat was already inherently gooey (a word I have never wanted to use to describe meat?) it didn't help matters much.
The taco shell was far too big for the amount of filling it contained, which meant some bites were just plain, cracker-like bits of tortilla that are stiff enough to cut the roof of your mouth. The lettuce did no favors.
The one dim upside was the taco sauce; it was bright, albeit lacking in heat. Unfortunately though, it wasn't included generously enough. I'd prefer to have my own packets, with varying levels of heat à la Taco Bell, so I could season the taco to my heart's content in an attempt to save this taco -- though I'm unsure how much sauce could truly help.
Compared to Jack in the Box's famous taco deal, I'd say these are a bust. Jack in the Box offers you double the tacos for the same price, and the meat actually has texture that lets you know it's supposed to be meat. I mean, I'm not saying Jack in the Box's tacos are the greatest tacos in the world, but as a comparable fast-food joint that also doesn't necessarily specialize in tacos, they win in a landslide.
So… I shouldn't get the tacos.
In my good conscience, I could not recommend these tacos. There are other fast-food taco joints I'd point my
fellow fast-food enthusiasts
to, but BK's version would definitely not make the cut.
That being said, I do love a good, flame-kissed Whopper -- especially the Impossible ones. If you're dead set on going to BK for some reason, I'd stray from the tacos and purchase a meal reminiscent of the fast-food behemoth's name. I also would give BK's tacos another go if they substituted the meat out for Impossible meat; perhaps that could be its saving grace.
If you're a masochist and would like to try out Burger King's latest taco offering, they're available only for a limited time. But if you love yourself and respect tacos, maybe try a different spot… might I suggest King Taco instead?
Sign up here for our daily Thrillist email, get Eatmail for more food coverage, and subscribe here for our YouTube channel to get your fix of the best in food/drink/fun.
Kat Thompson is a staff food writer at Thrillist who, as an Angeleno, loves most tacos. Follow her on Twitter @katthompsonn.