Big news for people who love chicken sandwiches and Canadian coffee: Burger King just bought Tim Hortons. The $11 billion deal will merge the two companies into one unstoppable super-brand, and is already considered a pretty controversial move across the board. So what do you need to know about this meeting of fast-food minds? Here are the six most important deets.

The new company will be the world's third largest fast-food biz Between the two of them, Burger King and Tim Hortons have over 18,000 locations in 100 countries and pool about $23 billion in sales. The deal would make them the #3 quick-service restaurant company worldwide, and yet another problem for McDonald's.
They're stationing the HQ in Canada, for sneaky tax reasons
A lot of people are pissed about this merger, and it isn't because they found Tim Horton to be a "mediocre at best" hockey player. It's because Burger King is going to dodge a ton of tax money. Once the new company's global headquarters are stationed in Canada, BK will be able to reap the benefits of the country's taxes, which are about 46% lower than ours. Some people think that's shady, while The King thinks it's time for a new scepter.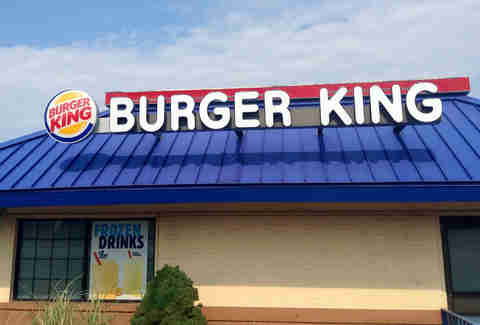 But all BK locations will stay put
Even though they're putting their fanciest corporate boardrooms up North, Burger King won't be messing with its American drive-thrus. In fact, it'll even keep its offices in Miami, and continue to manage itself independently. Clearly, they weren't kidding about having it your way.
 
A legendary rich guy is involved
Noted investor and Jimmy Buffett non-relative Warren Buffett kicked $3 billion of preferred equity financing into the deal. (Or at least his company, Berkshire Hathaway Inc., did.) Presumably, there are many free Timbits in his future.
 
Burger King will have to grovel in front of the Canadian government
As The Wall Street Journal explains, the merger will require approval from the Canadian government to actually go through. Basically, Burger King will have to prove the deal'll provide some "net benefit" to Canada before they move in -- and seeing as Tim Hortons is the country's largest quick-service company, that seems fair. We only hope the presentation involves Chicken Fry laser pointers.
We're totally getting donut burgers... maybe
Alright, those are all the key business points, but what does this mean for the menus? While no one's suggested any Burger King-Tim Hortons frankenfoods are in the works, we have to believe in our heart of hearts that Whoppers with donut buns are an inevitability. Buffett, ball's in your court.
Kristin Hunt is a food/drink staff writer for Thrillist, and wonders if Burger King is also saddling Tim Hortons with Satisfries as part of the transaction. Follow her at @kristin_hunt.