It's Official: Burger King Is Serving a Black 'Halloween' Whopper in the US
Burger King has long offered bizarrely colorful cheeseburger buns overseas, leaving curious Americans with the same old white bread Whoppers. But that's finally about to change.
Thanks to increasing interest among its American customers, the fast food chain said "Have it your way, weirdos," and announced Friday it is officially launching a black burger in the United States similar in appearance to a version served in Japan. But don't worry, everyone -- the American version isn't colored or flavored with squid ink, but rather with one of the most 'murica condiments possible: steak sauce.
Dubbed the A.1. Halloween Whopper Sandwich, the burger features a strikingly black bun that actually has A.1. steak sauce flavors baked right into it. And if you haven't gotten your A.! fill there, well, it also comes with even more A.1. steak sauce inside.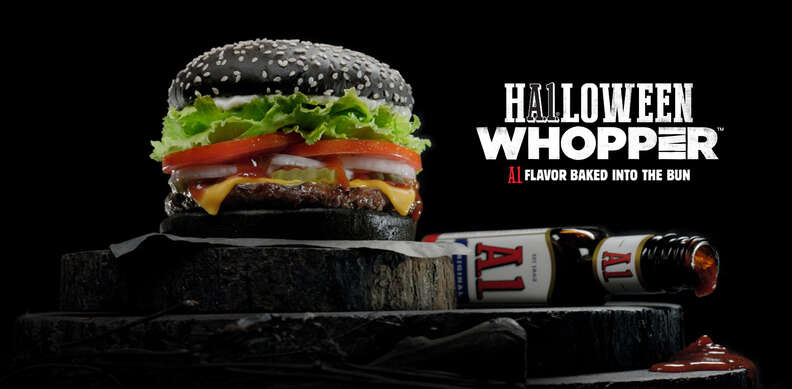 "Our U.S. guests have been extremely curious about the bun flavors they've seen introduced in Japan and other countries, so we saw the opportunity to bring them an equally unique experience," said Eric Hirschhorn, Chief Marketing Officer of Burger King North America, in a press release. "We tailored the flavor of the black bun to the American palate with A.1. sauce, a flavor this country loves, and we're delivering it in a way that's never been done before by baking it into the bun. It may look Japanese but it tastes like America."
The black Whopper will be available for a limited time at participating locations starting September 28th. Luckily, it appears the American version looks more appetizing than its Japanese counterpart:

Sign up here for our daily Thrillist email, and get your fix of the best in food/drink/fun.
Tony Merevick is Cities News Editor at Thrillist might actually eat one. Send news tips to news@thrillist.com and follow him on Twitter @tonymerevick.