Burger poutine is a thing now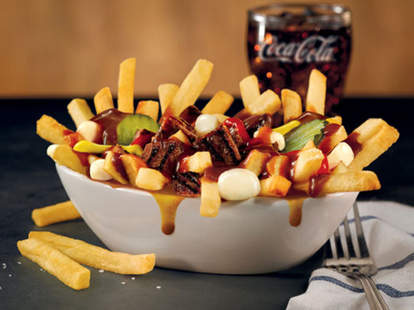 From the American side, you've got the esteemed burger. From the Canadian side, you've got gloriously gravy-covered poutine. Put them together, and what do you have (besides a really good excuse for a nap)? It's Burger King Canada's brand-new Poutine a la Burger, and it's one of the best cases for international relations ever.
This pile of golden French fries is topped with the requisite poutine stuff (cheese curds and brown gravy), as well as the ingredients of their Whopper -- a chopped beef patty, ketchup, mustard, and pickles. And if you want even more variation on the traditional poutine (not that it's an imperfect dish as is), they've also got it loaded with bacon.
Adam Lapetina is a Food/Drink staff writer for Thrillist, and thinks a Canadian road trip is in order. Read his musings at @adamlapetina.