The Ghost Kitchen Delivering Sunny Key Lime Pie to Winter Homes
Caitlin Hubner of Cait's Key Lime is bringing her pucker-up pandemic-era pie biz to your home.
Photo by Cole Saladino for Thrillist
Photo by Cole Saladino for Thrillist
When New Yorkers want key lime pie—a treat not otherwise easy to find in the five boroughs— usually one name comes to mind: Steve. Steve's Authentic Key Lime Pie, from Steve Tarpin, first opened in Brooklyn in 1995. These days, his pies can be found everywhere from local supermarkets to Goldbelly, which brings his creations to a national audience. But 2020 has also ushered in a new person to keep in mind when craving the tart dessert: Caitlin Hubner of Cait's Key Lime.
Right before the pandemic, Hubner was in Florida. Come spring, while searching for key lime pie and dreaming of warmer days, Hubner was hard-pressed to find options in her neighborhood of Bed-Stuy, especially those that would deliver. She began tinkering with her own recipes, eventually settling on one that was good enough not only for herself, but to begin sharing with friends. "I kept experimenting and became eerily fixated on making them," she says. "I posted a picture on Instagram and was like, 'who wants this pie, haha,' and people responded being like, 'I do!' and I realized, oh, people actually want this right now!" What has blossomed since is a new way to make money as well as a lime green lifestyle that would make Brooklyn's own Green Lady proud.
The pie crust itself—like all good pie crust, in our opinion—is made with Graham crackers (a gluten-free version is available, and dairy-free is in the works) laden with a healthy amount of key lime filling-to-whipped cream ratio, that is finished off with a confetti of lime zest for textural contrast. They're packaged in a tin foil container and topped with Hubner's signature green smiley face logo.
At the start of her launch, Hubner sold her pies at pop-ups all over the city, such as at Greenberg's Bagels and Rise Radio. "People we're looking for places that just could go to outside and hangout in a socially distanced way," she says. She found a neon green cart on Bed Bath and Beyond's website that she used as a mobile cooler to keep her goods refrigerated in the heat.
Right now, Hubner's attention is on delivery or pick-up, as well as partnering with local restaurants such as Eugene & Co. that have begun offering her pies on their menu.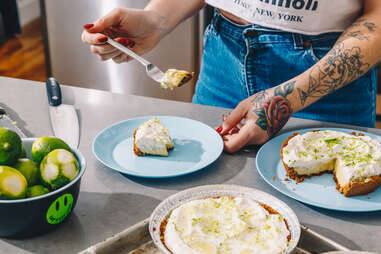 A 7-inch pie will run you $22 for local pick-up, or $25 for delivery (there's no additional cost for the transportation, but there's a two pie minimum); 4-packs of 4-inch pies are also available. Still, she dreams of someday bringing her pies to sell at Yankee Stadium. (The aforementioned pop-up at Greenberg's encouraged attendees to wear Yankee gear in lieu of being able to attend a game).
Since launching in the spring she has sold nearly 2,000 creations and has even delivered her treats to the actress Debi Mazar, of all people. Still, Hubner insists, "I'm in no way a pastry chef and I'm not trying to be. I'm not like making anything dough-based."
Hubner grew up in the suburbs of New Jersey, a commuter town that's in "diner country," she says, where she found herself interested in food from an early age; she worked in local bagel shops and cafes, experiences and a sense of place that has inspired her to want to create, what she calls, "grandma food," comforting, nostalgic bites.
"When I was young the options in the food world seemed really limited, I wasn't quite sure what I wanted to do," says Hubner. Still, at the time, her end game was always to have her own space, a "kaleidoscope of a place that was one thing during the day, and another at night that was friendly to pop-ups." For the past ten years she's worked at a litany of restaurants in New York City, first in front-of-house, later attending culinary school and working as a cook, to understand the full 360-degrees experience. "If I ever wanted to open my own space, I didn't want to rely on anyone else to finish the piece of the puzzle for me," she says.
But after a particularly bad experience working in professional kitchens, she realized she no longer wanted to have food be her main source of income: in part because of the unsustainable low wages and also the general toxicity that has become endemic to the industry.
A few years ago, she made the choice to break off from restaurants. Instead she began cooking as a side gig, finding work as a private chef, while working as a full-time nanny, a job she has done off and on again for years, as supplemental income. "The change really reinvigorated my love of food," she says. For the past four years, she's hosted weekly soup deliveries during the cold weather months, building a following under the clever name, SOUPERNATURAL.
Though she has plans to bring her soups back this winter, her focus these days is now mainly on the pies. "Cooking in someone else's house and helping raise someone else's kids during a pandemic is an especially unique experience," says Hubner of her main anchor job. But, she says, "kids are the best critics," and it's been especially helpful to have their direct feedback as she takes the pie-making more seriously.
Sign up here for our daily Thrillist email and subscribe here for our YouTube channel to get your fix of the best in food/drink/fun.
Emma Orlow writes about food and design for
The New York Times
,
Grub Street
,
Eater
, and more; find her on Instagram @emorlow.