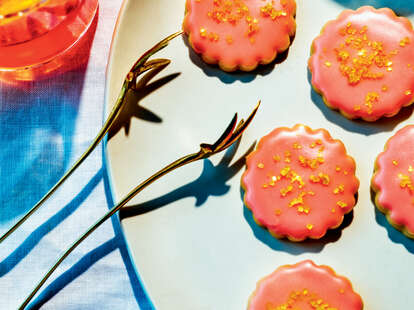 Campari Shortbread Cookies

| Photo by Chelsea Kyle
Campari Shortbread Cookies

| Photo by Chelsea Kyle
Even though the front cover of his cookbook is minimalist in its approach—a big salted chocolate chip cookie on a white background with "cookies" written in all caps—baker Jesse Szewczyk thinks the dessert means so much more. To him, cookies can be a form of fine art—or the catalyst to start conversations. Once, at a book event, he raised funds for Love Does Not Exclude, a group that aims to introduce marriage equality in Poland.
One flip through his Cookies cookbook and you'll realize you underestimated these baked creations. Inside, 100 whimsical and innovative recipes—everything from Blueberry Muffin Sugar Cookies to Salt and Vinegar Potato Chip Cookies to Malted Brownie Biscotti—are showcased through beautifully vibrant photography by Chelsea Kyle.
"The idea was to take cookies into the fine art world," Szewczyk says. "But I wanted to keep them in a very familiar and approachable space, never making the techniques too difficult or include hard-to-find ingredients. Cookies were the one object I could use to help home bakers reach their full artful potential."
While many of the recipes certainly look and sound fancy, some don't require an electric mixer or even for your oven to be turned on. (As is the case with the Spiced Peanut Butter-Coconut Squares.) The book is divided into familiar categories: chocolaty, fruity, smokey, savory, and boozy—which proved to be one of the more difficult chapters.
"The recipes came before the book sold and working backwards like that forced me to create techniques and figure out how doughs work," he says. "For the Red Wine Brownies, when you add booze to cookie dough, it makes them puffy and cakey in a bad way, which is why you rarely see wet ingredients. But if you basically brown the butter, removing all the water from the butter, you reduce your overall liquid. I'm very proud of that recipe from beginning to end."
Another in his boozy repertoire are the Campari Shortbread Cookies, which needed a little modification to get just right, as well. "These were originally listed as Campari sugar cookies, but the brown butter plus liqueur was a little too in your face," he explains. "So instead I made a glaze with the Campari. I leaned into the Negroni—sans the now-trendy Sbagliato version, though we can help that if you want—of it all and added crunchy orange sugar on top."
When making the shortbread cookies, Szewczyk advises to be very mindful of your flour measurement and content. "The recipe calls for spooned and leveled flour," he says. "The difference between something packed down is essentially ⅓ cup more flour so it can really alter them. Think of a cup of flour as the least amount you can fit in while still filling the cup."
Other tips include using a fluted cutter to make the shapes and to freeze the dough before putting them in the oven (up to an hour, if possible). The colder they are, the less the butter and fat will melt and lose crispness.
Though Szewczyk stresses that this book is "purposefully impersonal" so it can feel relatable for every home baker that picks it up, he did realize that cookies did mean one more thing to him in this process.
"Essentially, my boyfriend was the only one who tasted every recipe," he says. "His favorite cookie is a snickerdoodle, so the Snickerdoodle Shortbread became a chapter opener. That one is very romantic and special to me."
Campari Shortbread Cookies with Crunchy Orange Sugar
Yield: 24 Cookies
Ingredients:
Orange Sugar
• 2 tablespoons (30 grams) coarse sugar, such as turbinado or sanding sugar
• 1 teaspoon grated orange zest
Shortbread Cookies
• 3 sticks (24 tablespoons/339 grams) unsalted butter, softened
• 1 cup (100 grams) confectioners' sugar
• 1 teaspoon kosher salt
• 3 cups spooned and leveled all-purpose flour (384 grams), plus more for dusting
Campari Glaze
• ¼ cup plus 1 tablespoon (74 ml) Campari (see Note)
• 2¼ cups (225 grams) confectioners' sugar
• 1 teaspoon vanilla extract
• Pinch of kosher salt
Note: Campari is a dark red liqueur with a fruity, intensely bitter flavor. Aperol, another less bitter and slightly sweeter apéritif, can be used in its place.
Make Ahead: For extra-crunchy orange sugar, make it the night before and leave it out, uncovered, at room temperature.
Directions:
1. Make the Orange Sugar: In a small bowl, combine the coarse sugar and orange zest. Use your fingertips to massage the zest into the sugar until very fragrant. Scatter the sugar in a single layer on a plate and let sit at room temperature, uncovered, to dry while you make the cookies.
2. Make the Shortbread Cookies: Line 2 baking sheets with parchment paper or nonstick baking mats.
3. In the bowl of a stand mixer fitted with the paddle attachment, combine the butter, confectioners' sugar, and salt. (Alternatively, use an electric hand mixer and large bowl.) Beat on medium speed until smooth and fluffy, 2 minutes. Turn the mixer off and add the flour. Mix on low speed until a dry dough forms, 2 to 3 minutes.
4. Transfer the dough to a piece of parchment paper lightly dusted with flour and press together into a ball. Dust the top of the dough with flour, place a second sheet of parchment paper on top, and roll the dough until it's ½-inch thick. Remove the top piece of parchment paper and use a 2½-inch round cutter to cut out rounds and place them on the prepared baking sheets, spacing about 1½ inches apart. Press the dough scraps together into a ball and repeat the rolling and cutting process. Freeze the cut cookies for 20 minutes.
5. Preheat the oven to 350°F and set 2 racks at the upper-middle and lower-middle positions. Bake both sheets at the same time, swapping them midway, until the tops of the cookies are light golden brown, 15-19 minutes. Let cool completely on the baking sheets.
6. Make the glaze: In a large bowl, whisk together the Campari, confectioners' sugar, vanilla extract, and salt until smooth. (If the glaze is too thick, add more Campari; if too thin, add additional confectioners' sugar.) Dip the tops of the cookies in the glaze, allowing the excess to drip back into the bowl. Sprinkle the cookies with the orange sprinkles and let set for 1 hour.
Storage: The cookies will keep in an airtight container in a single layer for up to 1 week. (Just make sure the glaze is completely dry first.)
Reprinted with permission from Cookies. Copyright © 2021 by Jesse Szewczyk. Photographs copyright © 2021 by Chelsea Kyle. Published by Clarkson Potter/Publishers, an imprint of Penguin Random House.