Guy Fieri just published a new book about outdoor cooking. It's his fifth, and though I haven't read the other four, this one is pretty damn… good.
I didn't want to like it. I didn't think I would. But after I went cover-to-cover with Guy On Fire (hardcover; $18.59), I gotta tell you: its 335 pages are brimming with down-home brilliance that makes Cracker Barrel's rocking chairs look like Waffle House's scrapple.

This is a great cookbook.
Yes, I hate myself, but that's besides the point. Let's talk about this tome!
Recommended Video
Ghost Kitchen: Restaurant Gets Help From Community During Coronavirus Pandemic
The Recipes - 7/10
Fieri's restaurants have been famously lambasted for bad food. I've never been, so I can't say. But you know what? Outdoors, Guy seems to know what he's doing. I looked up the recipe for his notorious condiment, Donkey Sauce (45), and it sounds delicious. Same goes for the salted bourbon caramel milkshake (54), bone-in double-cut pork chops with brie & apples (146), and lemongrass-ginger julep (202).

There's a two-page spread titled "Prepare for Bears". I agree with this statement.
Most of the plates are decently nuanced -- smoked salmon hash, chicken Paillard with mustardy vinaigrette -- and don't sound like something you'd order at a food court inside of Target. Confused? There are three entire pages dedicated to s'mores, you guys. No, I am not sh*tting you.
"I'm a mean apricot-mint chimichurri machine", Guy tells me candidly on page 28. I find myself thinking that someday I too could become a chimichurri machine. This is patently insane, because I barely a) cook; and b) know what chimichurris are. But that's just the sort of yeomanly flame that Guy On Fire will ignite inside you.
The Look & Feel - 8/10
Leafing through Guy On Fire, it becomes more and more clear that there are no photos of Guy actually on fire, which would be incredibly baller. Despite that, there is plenty to love here.

Guy makes a colossal bird-cheese log in 12 photos. I want that in my life.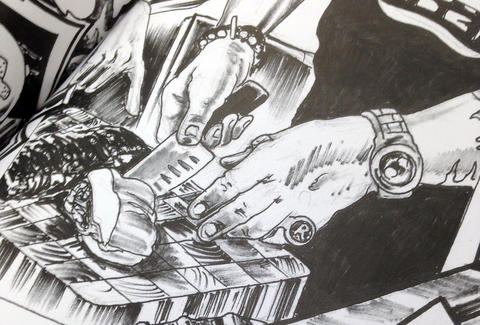 The layout is downright smooth, with heavy cardstock, mouthwatering food p*rn, and -- best of all -- graphic-novel-caliber illustrations delineating each major section. You will feel mostly good about gifting this book, especially if the recipient is a fan of: books, Guy Fieri, cholesterol, Maus by Art Spiegelman, et cetera.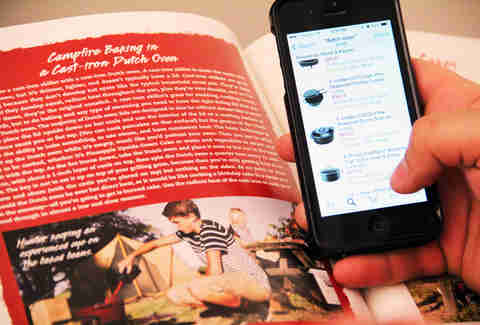 The How-Tos - 7/10
Normally, cookbooks lose me when they don't send themselves to me for free, or start preaching about how to use my sous vide machine in low-oxygen pork scenarios. Guy On Fire doesn't play me with culinary asshattery.

Put butts on cooker, fat side up. Set meat probe to 165º.
Its tutorials are plausibly useful, like campfire cooking basics (213), and cooking with booze (217; Guy says "if you wouldn't drink it, don't cook with it", which just makes sense). After pausing to snicker on page 256 at the explainer on recreational Dutch-oven maneuvers, I became engrossed, and started pricing them on Amazon. They are relatively inexpensive. I bought one.
Some instructionals come with full photo breakdowns, like Turkey Cordon Bleu on 310. "Everyone likes Turkey Cordon Bleu", opines Guy. This simply can't be true. But it only takes him 12 photos to make a colossal bird-cheese log, and I want that in my life.
The competitive barbecue schedule - 9/10
On pages 114-115, Guy On Fire includes a flat-out fascinating schedule of the Motley Que team's competition schedule. Its connection to a consumer cookbook is tenuous at best, but I'm lost in the Seinfeldian bob-and-weave of meat storylines across the page.
Friday, 11pm, pork butt: "Put butts on cooker, fat side up, 3rd shelf, set meat probe to 165º"
Saturday, 3am, brisket : "At 165º internal, wrap, add beef broth, set probe in flat muscle at 197º"
Saturday, 9:30am, ribs: "Baste"
Saturday, 1:30pm: "BRISKET TURN-IN"
I've always wondered how these competitions go down. Now I know. Guy On Fire has cured my Summertime blues.
Wisdom - 9/10
Guy On Fire's transformative power lies not in its food content, though. It's Fieri's wisdom that makes it a must-own. "My first time," he writes on page 80, "I was all over the buffet with the teriyaki wings at my Aunt Patty's wedding." He's not talking about losing his virginity; he's literally talking about eating chicken wings. The humility speaks volumes.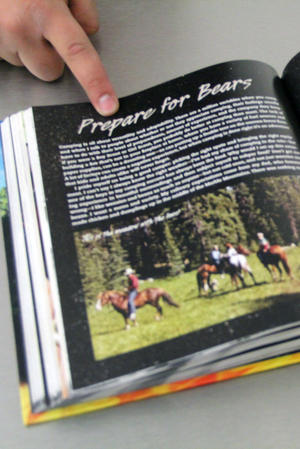 On 208-210, there's a two-page spread titled "Prepare for Bears". I sincerely agree with this statement.
Sometimes, Guy forgets this isn't TV and responds to his own jokes, which makes him sound like your dad. Reminder: your dad is awesome. "Grilled lamb chops... at your service, Flavortown residents. Good one! Ha ha."

This is a great cookbook.
Other times, he is profound. "If you're brought up on something, it just doesn't matter", he proclaims of fancy takes on simple recipes.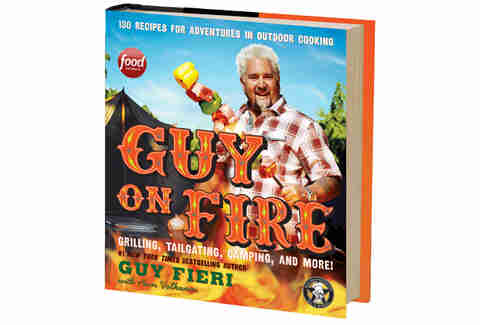 Conclusion
I'm not kidding. Guy On Fire is a good cookbook. I'm going to try out recipes from it. Everyone is laughing at me, and I don't get it, but I don't care. When I make Turkey Cordon Bleu in 12 easy steps, they're not getting any.
Dave Infante is a senior writer for Thrillist and thought Donkey Sauce was something else. Follow him on Twitter: @dinfontay.