People who love cannabis will recommend it for everything. Can't sleep? Try weed. Can't eat? You need weed. Glaucoma? Weed. Broken heart? Yup, weed. Although such claims have yet to be proven accurate, one turns out to hold some water: weed and working out might be a great duo.
To be clear, no one is saying weed will make you faster or stronger. However, scientists have discovered a link between our endocannabinoid systems—the part of our bodies with receptors that interact with cannabis—and the sensation commonly referred to as "runner's high." They are very similar sets of receptors that, when activated, may complement one another.
At least they seem to, according to a University of Colorado Boulder study that found that 80% of cannabis users consume when they work out. From that group, 70% report cannabis increased enjoyment, 78% say it boosted recovery, and 52% felt more motivated. If cannabinoids can make healthy, physical activity more fun and potentially help our bodies recover from strain, it may not be a bad idea to consider calling on the plant as you tackle more ambitious fitness goals.
Here are the coolest cannabis-friendly, fitness-oriented activities available around the country, the online workouts available to any cannabis-lover with Wi-Fi, and the best athletic CBD products made with movement and muscles in mind.
Weed and Workouts
Practice yoga with cannabis
Incorporating cannabis into one's yoga practice is kind of like the gateway drug to cannabis fitness: The calm, flowing nature of yoga lends well to the effects of cannabis, and vice versa. It can help some slow down their minds to match their intentional breathing, and the awareness of one's body can help get the most out of every stretch and pose. Perhaps that seamless combination of cannabinoids and child's pose is why it's the most developed corner of the weed wellness world.
There's Maine Ganja Yoga, Bend & Blaze in Bushwick, New York; 420 Yoga in Miami; Stoned Yoga at Portland, Oregon's Burning Spirits Yoga; and, for a virtual option, find body-positive online courses with Jessamyn Stanley. Even if you don't live in a state where cannabis is legal for medical or adult use, you can likely find a cannabis-minded yoga instructor near you via this Ganja Yoga trainer database.
Use it with: WeedSport CBD Muscle Stick
Whether you're in a studio or outdoors in a park, this hemp-derived topical quickly soothes any sore muscles during or after the class. Bonus points for its recyclable container and non-sticky or oily texture.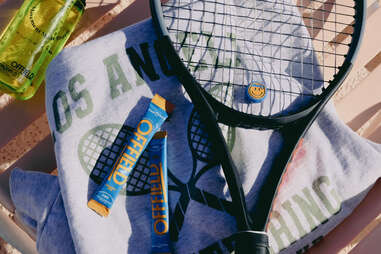 This is not your average aerobics class—and we're not even talking about the weed part. The lineup at the Portland, Oregon-based Marijane Fonda events is a little different every time. Expect a calming warm-up and cool down cushioned with smoke breaks; a solid, often butt-centric workout that will make you break a sweat; and additional wellness elements, such as a presentation from a burnout counselor or breathwork specialist. Sign up for their newsletter for class schedule updates.
Use it with: House of Wise
CBD brand House of Wise makes Strength gummies that target the needs of an active body, including some caffeine for energy, beetroot juice for potentially maximizing oxygen in our blood, and B vitamins along with 15mg of full spectrum hemp-derived CBD in every citrus-flavored gummy.
For access to weed-friendly workouts wherever you live, Stoned + Toned is an ideal option. They offer a library of high- and low-intensity home workouts and yoga flows, as well as in-person events in different states—led by people who smoke cannabis, for people who smoke cannabis. The classes are accessible to any experience level and don't require a bunch of accessories or weights to see results. You can try things out with a free week trial to browse the library, or sign up for ongoing access at $9.99 per month.
Use it with: Offfield
CBD brand Offfield set out to make products for athletes, and their lime or dragon fruit flavored drink mixes have proved to be a hydrating hit. The high-performance formula includes broad spectrum CBD and CBG, L-Theanine for energy, plus magnesium, zinc, and vitamins B6, B12, and C.
Every Tuesday evening, a group of runners get together in Brooklyn to run 4 to 8 miles. Anyone at any pace is welcome to join—you just need to be cool with weed. In addition to organizing weed-friendly community runs that typically start and/or end with a group sesh, Rage and Release curates programming like showcases of local artists and special supper club events that connect active folks within the cannabis community and beyond. Follow them on Instagram for the latest updates.
Use it with: Joggy
This active CBD brand has previously partnered with Rage and Release on a friendly-paced 5k, proving their Super Chargies gummies and Runner's High tinctures are enough to help the average flower smoker survive running 3-plus miles.
Yes, there's even reading material for athletic-minded cannabis lovers out there. This book by investigative journalist Josiah Hesse appeals to anyone interested in the professional sports world, really. In it, he explores the link between performance enhancement and cannabis use through conversations with the many, many elite athletes that regularly use it. Hesse breaks down the science in the lab and on the field into simple terms to help people better understand how cannabis works with our bodies.
Use it with: WeedSport DUNK CBD Muscle Soak in the tub—a soothing, refreshing mix of epsom and Dead Sea salts, moisturizing aloe, vitamin E, and eucalyptus and peppermint essentials oils. Candles are highly suggested, but not required.
Lauren Yoshiko is a veteran cannabis writer based in Portland, Oregon. She writes
The Broccoli Report
, a tri-monthly newsletter about cannabis business, culture and trends.