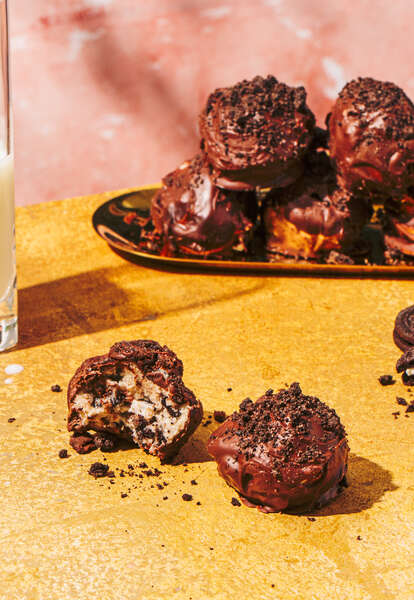 Like many edible brands, Incredibles started with a batch of "special cookies" to help ease one of the founder's grandmother's pain. Grandma Noni's original recipe tasted like a warm, melty homemade cookie.
Since Incredibles established itself in the Colorado market in 2010, the brand has expanded into many more states and flavor profiles, always maintaining a focus on creating delicious chocolate.
We can all agree on delicious chocolate, but dosing? That's unique to every person. These No-Bake Cannabis Infused Oreo Balls use a Cookies & Cream Chocolate Bar from Incredibles to create 10 decadent cookie balls at 10 milligrams of THC each. They're chocolate filled and chocolate coated with an Oreo crunch—a next-level munchie, but one that's not too complicated to make if you're already a bowl or two deep.
Cannabis-Infused Oreo Balls Recipe
Yield: 10 large cookie balls with a dosage of 10 milligrams of THC per ball.
Ingredients:
• 1 stick of unsalted butter, softened
• ⅔ cup sugar
• 2 tablespoons milk
• 1 teaspoon vanilla
• 1 cup flour
• ½ teaspoon salt
• 6 Oreos, broken into pieces
• 1 cup of chocolate chips (for outer coating)
• 10 (10 milligrams) pieces of Incredibles Bar, Cookies & Cream, broken into small piles of the broken squares
Directions:
1. First off: heat treat that flour. This makes it safe to consume raw—do not skip this step. Preheat oven to 350°F. Place the flour on a baking sheet to heat treat and bake for 5-7 minutes. Remove flour from the oven, and let cool completely. This can be done ahead of time and then stored in a sealed jar.
2. Cream butter and sugar together. Once blended, add milk and vanilla; mix until mixture is smooth.
3. Next, add the cooled flour and the salt; mix thoroughly.
4. Fold in Oreo pieces.
5. Place dough in the fridge.
6. Break Incredibles chocolate squares, and divide them into 10 different piles.
7. Take the dough out of the fridge. Portion out the dough into 10 balls, and flatten them onto a baking sheet. Take each flat dough, place chunks of chocolate in the middle, and form it into a ball. Repeat for the next nine balls.
8. Once all cookie balls are formed, melt chocolate chips in the microwave until completely melted at 45-second intervals while stirring.
9. With a spoon, take each cookie ball and cover in melted chocolate. Place on parchment paper.
10. Take some leftover crushed Oreo and sprinkle on top.
11. Place in the fridge for at least 30 minutes, and they'll be ready to serve!
12. Note: Remember, as with all edibles, it's best to be patient and wait at least an hour before deciding to eat another cookie. It can take an hour and a half to feel the effects start to set in—start low, go slow, and enjoy.
Editor's Note: Any cannabis products referenced above are not intended to diagnose, treat, cure, or prevent any disease. The writer is not a medical doctor, and their experience is based on personal use, the results of which may not be typical or intended. The legality of cannabis products varies by state, and readers are encouraged to check their local laws before purchasing and using cannabis products. Possessing, using, distributing, and/or selling marijuana or marijuana-based products is illegal under federal law as of the writing of this article, regardless of any conflicting state laws. Compliance with the laws of a particular state in no way ensures compliance with federal law, and there is a risk that conflicting federal and/or other state laws may be enforced in the future. Nothing in this article should be construed as advice regarding the legal status of cannabis products.
Hannah Izer is a copywriter who specializes in the cannabis industry.