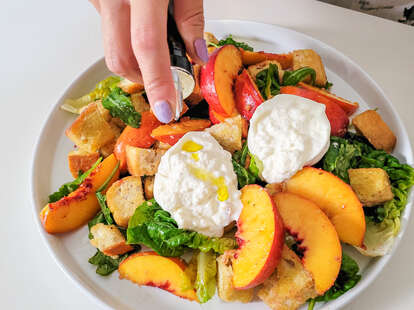 Italian grandmas have been making panzanella, or bread salad, for centuries. But cannabis has been cultivated across Tuscany even longer.
Ancient Romans cultivated cannabis plants as early as the 1st century AD, and author and naturalist Pliny the Elder wrote about using cannabis plants for various culinary and medical uses in his scientific encyclopedia of the world, The Natural History. So, it's probable that this isn't the first time that cannabis leaves have been used in a hearty summer salad like this one.
This panzanella recipe swaps traditional tomatoes with juicy peaches and adds a generous helping of burrata cheese—mozzarella's creamier cousin that's filled with a luscious center of curd and fresh cream. Its oozy center spills onto ribbons of salty prosciutto speckled with fresh basil and hunks of lightly toasted rustic Italian bread, all atop a bed of crunchy green lettuces.
Finished with fresh cannabis leaves—which won't get you high—and gently tossed in a cannabis-infused lemon balsamic vinaigrette dressing—which definitely will, this is an easy, sensory showstopper. Each bite is a little creamy, salty, sweet, crunchy, and savory.
Now grab a serving platter, cutting board, large mixing bowl, and let's get baked.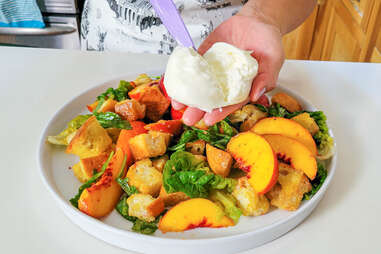 Peach and Burrata Panzanella Salad with Prosciutto
Yield: Serves 2-4
Ingredients:
• 1 loaf of rustic Italian bread, sliced into 1-inch cubes
• 1-2 tablespoons olive oil
• Pinch of sea salt
• 2-3 large ripe peaches
• 2 cups green lettuces (little gem, arugula, and fresh cannabis leaves)
• 4 ounces (1 ball) burrata cheese, removed from liquid and patted dry
• 6 fresh basil leaves
• 1 package (2 ounces) prosciutto
• Fresh cracked pepper, to taste
Lemon Balsamic Vinaigrette
• 1 tablespoon lemon juice
• 1 tablespoon balsamic vinegar
• 2 tablespoon cannabis-infused olive oil*
• Salt and pepper to taste
• ½ teaspoon honey or agave
Dosing:
One tablespoon of cannabis-infused olive oil from this recipe contains ~5mg THC. Two tablespoons of infused olive oil are used in this recipe for a total of ~10mg THC in the entire dish. For those who are new to edibles and cannabis, it is recommended to start at 5mg THC or less per person.
Directions:
1. Preheat oven to 300°F. Lightly drizzle and toss the bread cubes in olive oil with a pinch of salt. Spread on a baking sheet and bake for 15 minutes, until lightly toasted and crisp around the edges. Remove from the oven and set aside to cool.
2. Cut the peaches in half and remove the pit. Slice the peaches into thin wedges.
3. For an optional added smoky, caramelized peach flavor: lightly brush the peach halves with olive oil and place on the grill to sear and soften for about 4-5 minutes before slicing into wedges.
4. Make lemon balsamic vinaigrette: In a large bowl, whisk together lemon juice, balsamic vinegar, and cannabis-infused olive oil, salt, pepper, and honey/agave to make vinaigrette. Gently toss the green lettuces, sliced peaches, and toasted bread cubes into the large bowl with the vinaigrette until ingredients are lightly dressed and evenly coated.
5. Arrange the salad: On a large serving platter, arrange the greens, sliced peaches, and bread. Slice the burrata balls in half and arrange on top of the salad. Add fresh basil and prosciutto. Drizzle with any remaining vinaigrette, and finish with cracked pepper on top.
Note: Keep in mind that calculating and dosing homemade cannabis-infused oil can vary depending on a variety of factors, including potency of flower, decarb process, infusion temp, metabolism, etc. For precise dosing, get cannabis-infused olive oil from your local dispensary.
Editor's Note: Any cannabis products referenced above are not intended to diagnose, treat, cure, or prevent any disease. The writer is not a medical doctor, and their experience is based on personal use, the results of which may not be typical or intended. The legality of cannabis products varies by state, and readers are encouraged to check their local laws before purchasing and using cannabis products. Possessing, using, distributing, and/or selling marijuana or marijuana-based products is illegal under federal law as of the writing of this article, regardless of any conflicting state laws. Compliance with the laws of a particular state in no way ensures compliance with federal law, and there is a risk that conflicting federal and/or other state laws may be enforced in the future. Nothing in this article should be construed as advice regarding the legal status of cannabis products.
Christina Wong is a culinary cannabis writer, creator, and baked baker in Los Angeles, California. She's the Founder & CEO of
Fruit + Flower Co
. and writes
Fruit + Flower Unfurled
, a weekly newsletter for culinary cannabis enthusiasts. Her work has been featured in High Times, Cherry Bombe, CannaCurious, and Kitchen Toke magazines
.