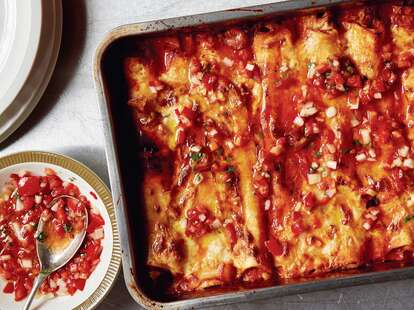 Cannelloni Enchiladas

| Photo by Yuki Sugiura
Cannelloni Enchiladas

| Photo by Yuki Sugiura
Ixta Belfrage seems like she's from everywhere all at once. She was born in London, but spent much of her childhood in Tuscany and often visited Mexico, where her grandparents lived. Later she'd move to Brazil, her mother's home country. And all along the way, Belfrage ate and helped cook, plucking foods and flavors that would eventually inform her palate and culinary career.
Belfrage's global experiences often confuse people. "No, I'm not Mexican, but I love it. No, I'm not Italian, but I love Italy. Yes, I am half Brazilian." But it's this multicultural melange that's reflected in Belfrage's cookbook Mezcla, which translates to, "mix," "mixture," "blend," or "fusion" in Spanish.
In her first solo cookbook—a former chef at Yotam Ottenghi's test kitchen for four years, Belfrage co-authored Ottolenghi Flavor—she pulls from a lifetime of eating. In Mexico, she remembers watching cooks pound chiles and press tortillas in her grandparents' kitchen. You see this inspiration in dishes like her Cheesy Roasted Eggplant with Salsa Roja and Torta Ahogada with Shrimp Miso Bisque.
Ilha Grande, a Brazilian island three hours from Rio de Janeiro, is a relatively quiet paradise where she's spent time with her parents and friends. "There are so many of these little fish shack restaurants around the island where you can eat meals with the water lapping up around your feet," she recalls. Specifically a bowl of seafood stew called moqueca is one of Belfrage's favorites. In her book, find a recipe for Caldo de Feijão with Spicy Pine Nut Oil, a dish she loved ordering with her oldest best friend, Roma, with whom she would frequent Bar do Mineiro in Santa Teresa on rainy days, Belfrage recalls in Mezcla.
"When people are unconvinced by fusion food and think that it lacks focus or is all over the place, I like to give moqueca as an example because moqueca is a classic Brazilian dish," says Belfrage. "[It's] a mix of indigenous Brazilian cooking, Portuguese cooking, and West African cooking by way of enslaved people who were forcibly taken to Brazil by the Portuguese."
Another example Belfrage points out is, of course, tomato and pasta in Italian cooking; the former a fruit indigenous to South America and the latter influenced by Chinese noodles. Her Cannelloni Chicken Enchiladas recipe is one of Belfrage's favorite mezclas: béchamel, mozzarella, and pasta unite with cumin, chipotle, and cilantro. Use up leftover roast chicken or snag a rotisserie chicken. For a vegetarian version, use marinated tofu, recommends Belfrage.
For Belfrage, "fusion" isn't a pejorative. As she exemplifies in Mezcla, it isn't a cliche cuisine or outdated genre, but the freedom to move between cuisines and ingredients. "I don't think it's something that's looked down upon anymore," she says. "I do think that the world would be a very boring place if we were only allowed to cook from our own culture."
Cannelloni Enchiladas
Yield: Serves 4
Ingredients:
• 12 ounces (350g) leftover roast chicken, finely chopped (see intro)
• 2 tablespoons lime juice
• ½ teaspoons fine salt
• 8 fresh lasagne sheets lime wedges, for serving
Cumin béchamel:
• 2½ tablespoons (40g) unsalted butter
• 5 tablespoons (40g) plain flour
• 1¾ cups (450g) whole milk
• 1 clove of garlic, finely grated/crushed
• 1½ teaspoons ground cumin
• ½ teaspoon chipotle flakes
• 3½ ounces (100g) mozzarella, drained and chopped
• 1 teaspoon fine salt
Salsa roja:
• 1 cup (250g) chicken stock (or water)
• ¾ cup (200g) tomato purée (passata)
• 2 tablespoons (30g) tomato paste
• 2 cloves of garlic, finely grated/crushed
• 1 tablespoons (15g) unsalted butter, melted
• 1 teaspoon ground cumin
• ½ teaspoon dried Mexican (or regular) oregano
• 1 teaspoon chipotle flakes
• ½ teaspoon fine salt
Salsa fresca:
• 1 medium, ripe tomato, finely chopped (3½ oz/100g)
•1 red chile, finely chopped
• ¼ onion, finely chopped (3 tbsp/30g)
• 1½ tablespoons olive oil, plus more for serving
• 4 teaspoons (20g) lime juice
• ¼ teaspoon fine salt
• 2 tbsp (5g) finely chopped fresh cilantro
Notes: Use marinated tofu instead of chicken for a vegetarian version. To make this vegan, use dairy-free alternatives and dried lasagne sheets (which will need to be boiled before using).
Directions:
1. Mix the chicken with the lime juice and salt and set aside.
2. For the béchamel, melt the butter in a medium saucepan over medium heat. Once melted, whisk in the flour to get a smooth, thick paste. Cook for 1 minute, whisking continuously, then slowly pour in the milk, whisking vigorously to get rid of any lumps. Cook for 1½ minutes (keep whisking!) or until the mixture has thickened to a smooth béchamel.
3. Remove from the heat and add the garlic, cumin, chipotle, mozzarella, and fine salt. Stir until the mozzarella has melted with the residual heat. Transfer half the béchamel to a separate container and set aside to use later. Stir the chicken into the remaining béchamel in the pan. Set aside.
4. Put all the ingredients for the salsa roja into a bowl and whisk until combined. Pour two-thirds of the salsa into a 9 x 13-inch (23 x 33cm) baking dish.
5. Preheat the oven to 400°F (180°C fan/200°C).
6. Place the lasagne sheets in a large heatproof container, cover with boiling water, and let soften for a few minutes.
7. One sheet at a time, take the lasagne out of the water and place on a work surface. If your lasagne sheets are around 6 x 8 inches (15 x 20cm), have a shorter side facing you. If they're much smaller, have a longer side facing you.
8. Arrange about ½ cup (75g) of the chicken mix along the side closest to you, then tightly roll up and place in the pan, seam side down. Continue with the rest until you've filled the pan. Pour on the rest of the salsa roja, followed by the remaining béchamel. Drizzle with some olive oil, then bake for 30 minutes.
9. Meanwhile, for the salsa fresca, mix together the tomatoes, chile, onion, oil, lime juice, and salt.
10. When you're ready to serve, stir the cilantro into the salsa fresca. Top the hot cannelloni with the salsa fresca, drizzle with some more olive oil, and serve with extra lime wedges on the side.
"Mezcla" Copyright © 2022 by Ixta Belfrage. Photographs copyright © 2022 by Yuki Sugiura. Published by Ten Speed Press, an imprint of Random House.
Rosin Saez is the senior editor of Food & Drink at Thrillist.