Caramel Apples Could Kill You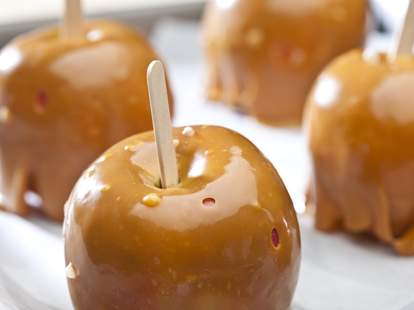 Few experiences truly capture fall quite like biting into a caramel apple... that is, unless it's infected with listeria and ends up killing you. That's not anybody's idea of fall. And while that may seem farfetched, new research suggests the sticky snacks could in fact be deadly -- if you're not careful.
A study published Tuesday in the journal mBio finds that growth of listeria bacteria is likely tied to sticks used to dip the apples, and further suggests that how you store caramel apples could increase the risk of listeria developing inside of them. Just last year, a listeria outbreak linked to pre-packaged caramel apples killed seven people and sickened 35 others, which prompted researchers from the University of Wisconsin-Madison's Food Research Institute to figure out how it happened, according to a report byThe Washington Post.
Researchers found that when an apple is punctured by a stick, juice leaks to the surface and causes bacteria to form in the microscopic space between the caramel and the apple. The study also suggests that the bacteria could develop faster if you leave your caramel apples unrefrigerated, according to the report.
The researchers deliberately contaminated apples with listeria, including some strains seen in the outbreak, and said "significant pathogen growth was observed within 3 days at room temperature on caramel apples with sticks inserted," according to the study's abstract. However, caramel apples without sticks saw very little bacterial growth, and apples without sticks that were refrigerated resulted in zero additional bacterial growth.
With that said, there could be an easy and delicious solution: eat your fresh caramel apples right away. Mmm, problem solved.
Sign up here for our daily Thrillist email, and get your fix of the best in food/drink/fun.
Tony Merevick is Cities News Editor at Thrillist and prefers slicing apples and dipping them in caramel sauce. Easier to eat, zero listeria. Send news tips to news@thrillist.com and follow him on Twitter @tonymerevick.