Your Handy Dandy CBD Gummy Purchasing Guide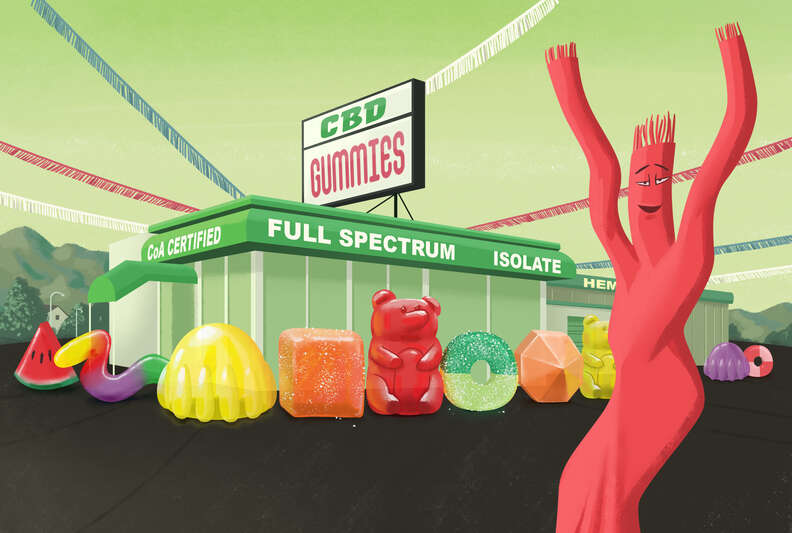 Jason Hoffman/Thrillist
Jason Hoffman/Thrillist
CBD infused edibles are a great way folks can experiment with CBD, especially if you're not keen on smoking cannabis. They're widely accessible, fairly budget-friendly, and are as discreet as it gets. Did we mention they also come in just about every form imaginable? You can get CBD cookies and even CBD drinks nowadays, although the most popular CBD edible tends to be gummies.
Tasty though they may be, not all CBD gummies are created equal. Many don't contain the ingredients listed on the label, a phenomenon that's even inspired the FDA to take notice.
So how are we supposed to separate the studs from the duds? With this handy dandy guide to purchasing CBD gummies, of course. Read on for valuable information including the difference between full spectrum vs. isolate, what to look for on labels, and how the hell to figure out the dosage, once and for all.
Getting to know your cannabis
Knowing what kind of cannabis you're consuming is the best way to determine how it might affect you.
Full Spectrum Vs. Isolate
Those seeking to experience the full therapeutic benefits of CBD should always opt to purchase full spectrum edibles. The term 'full spectrum' is used to denote the fact that all of the plant's cannabinoids have been preserved in the final product. This includes a trace amount of THC, which some makers say contributes to the entourage effect.
Cannabinoids work together synergistically thanks to a property known as "the entourage effect". This property suggests that the unique interactions between cannabinoids found in full spectrum products confer the greatest possible health benefits.
An isolate, on the other hand, is pretty much what its name implies. It's a lab-extracted singular cannabinoid, usually THC or CBD, that comes in a concentrated crystalline form or white powder. Isolates are popular with some groups as they're completely devoid of THC; however, since they're also devoid of other cannabinoids, isolates tend to be less potent in terms of therapeutic effect.
You'll also see broad spectrum, which is similar to full spectrum except that the THC (which will be tiny to begin with in a hemp product) is removed.
So what does this mean at the dispensary counter? It means that a full-spectrum product can feel a lot more potent than a larger dose of an isolate product. This is why the first thing you should look for on a label is whether or not the product is made with a full spectrum extract or CBD isolate.
Hemp. Vs. Hemp Seed Oil
What's the difference between hemp and hemp seed oil? Or hemp vs. regular ol' CBD, for that matter?
Hemp flower and CBD flower are the same thing. The only difference is one—hemp—has a THC content that's federally regulated and cannot contain more than 0.2% THC. CBD flower, on the other hand, can also contain small amounts of THC.
Hemp extract, then, is the CBD rich oil made from dried hemp flower. This means the real deal CBD may be listed as 'CBD (Cannabidiol)', 'hemp oil', 'full spectrum hemp' or even 'PCR (phytocannabinoid rich) hemp rich extract'. You may sometimes encounter hemp CBD in its least beneficial form: as an isolate ('hemp CBD isolate').
Hemp seed oil, on the other hand, is extracted from pressed hemp seeds, which do not contain CBD. Hemp seed oil has its own benefits but it is not the CBD you're looking for. You'll find this listed on the ingredient label as 'hemp seed oil' or 'cannabis sativa seed oil'.
Steer clear of any products that don't elaborate on what kind of CBD is used, i.e. any one that simply lists CBD as "cannabidiol" or "cannabis extract" as ingredients.
Breaking down your label
Alright smarty pants. You're now that much more knowledgeable about the type of CBD in your edible, sure. So what's left to decode on the label?
Third-party testing & CoAs
The first thing you want to seek out on the label is evidence of third-party testing. This means that someone beyond the manufacturer—generally a third party lab—has tested every batch of edibles to ensure they contain what the package says they do. Some edibles will denote this simply with text on the side, i.e. "Made on 4/21/2019, Tested by Green Leaf Labs 6/2/2019". Some will even include details like total CBD per milligram, test batch number, testing facility, and tested on date for greater transparency.
Third-party labs like Green Leaf will often provide this information through a certificate of analysis, or CoA. It shows a detailed analysis of the ingredients in your edible along with their concentrations. You can go to the Lunchbox site and look up CoAs for any batch of any of their products.
A CoA is the ultimate model of CBD transparency. Always look for brands that provide CoAs for their products so you know what you're buying is safe, tested and reliable.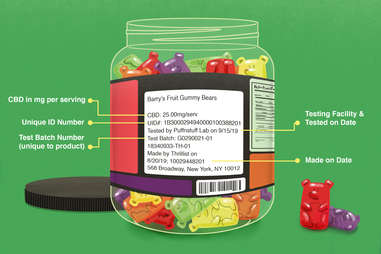 Dosage and Serving Size
You'll also want to take a glance at what the serving size is. A package may contain a total of 50 mg of CBD, for instance, but a recommended serving size or dosage might be 5 mg. As such, you may want to cut up your gummy to ensure you're starting with a small dose.
Many gummies are portioned to contain 5 mg each. Inexperienced folks may want to start with that single 5 mg serving of CBD, wait at least 30 minutes to see how it feels, and then work their way up. (You could even start with 2.5 mg if you're super sensitive or worried about a bad reaction.) For more experienced users, 10 mg is a good baseline per gummy. And 25 mg is more on the potent/medicinal side.
Two 10 mg gummies (20 mg total) generally make me feel fine, but again, the potency of the dosage is dependent on whether or not you're working with a full spectrum or isolate product. 40 mg is where I start feeling sleepy.
While CBD is well-tolerated in humans at doses of up to 1,500 mg you should always wait up to two hours before consuming more CBD. This gives your body time to fully process the CBD, helping you avoid taking "too much," which may make you feel drowsy.
Sourcing
You should look for information on the label that says where your cannabis/hemp was sourced from. Always purchase hemp that's grown in the USA to ensure your hemp is regulated and free of contaminants.
Ingredients to watch out for
This, of course, is largely subjective depending on your body type and preferences. Those seeking the full health benefits of CBD may want to opt for products devoid of artificial sweeteners (like glucose syrup or high fructose corn syrup), coloring (Red dye #40), emulsifiers or preservatives. You should also exercise caution when reading the label as many products note they are made in facilities that may expose products to allergens like wheat and soy.
Opt for edibles that use natural ingredients instead. This can include edibles that use cane sugar instead of corn syrup, or real fruit juice. You can also find many CBD edibles that are vegan and gluten-free.
Ideal extraction methods
You can extract CBD in a number of different ways, and some are certainly better for you than others. One of the cleanest cannabis extraction methods is supercritical CO2 based extraction. This method uses no solvent and allows for the greatest preservation of cannabinoids and terpenes in the final product, aka giving you the best CBD has to offer.
You also want to be sure you're buying a CBD infused product. Some CBD gummies may cut corners by simply spraying the gummies with a CBD isolate and sugar mix that coats the exterior. These gummies, of course, are going to be less potent than an infused product, and tend to be the kind of edibles that give you a headache the next day (probably due to all that sugar, but who knows).
Recommended Gummies
Can you buy a CBD gummy to address a specific need or ailment? You can, but the effects will be due less to a particular isolate or blend and more due to other ingredients (like L tyrosine for energy or melatonin for sleep) added to the gummy.
Regardless, these are some of the best gummies I've found.
Max tasty and potent
Lord Jones CBD Gumdrops: I've tried these and they rock. 20 mg of full-spectrum CBD per gummy makes them the champs.
WYLD CBD fruit gummies: These are the Thrillist food editors' pick. They said, "flavored with real Oregon marionberries, these broad-spectrum hemp gummies are what we reach for when we're feeling stressed."

Potent
Neurogan's Flavored Full-Spectrum CBD Infused Gummy Bears (250mg, 500mg, 1000mg). Each gummy bear contains 10mg, 20mg, or 40mg of non-GMO hemp sourced from Denmark.
Pure Relief Pure Hemp Gummy Bears, 30 mg per piece of isolate.
Pure Kana CBD vegan gummies, 25 mg per piece, isolate.
Joy Organics CBD Gummies, 20 mg of CBD isolate per piece.
Verma Farms CBD gummies, 21 mg per piece, likely isolate.
Hemp Bombs CBD Sleep Gummies, 15 mg per piece, broad-spectrum hemp.
Charlotte's Web gummies, 10 mg per piece, but they use full-spectrum hemp so it's more potent than a 10 mg of isolate.
Highland Pharms All Natural Gummies, 10 mg of full-spectrum hemp per piece.
Conclusion
CBD gummies are great fun and offer plenty of health benefits to boot. Knowing what goes into your CBD gummy is the best way to ensure you get a quality product. Always look for full-spectrum, all-natural products made from CO2 extracted CBD flower
Sign up here for our daily Thrillist email, get Eatmail for more food coverage, and subscribe here for our YouTube channel to get your fix of the best in food/drink/fun.
Janelle Lassalle is a content creator, brand strategist, and writer based in Portland, Oregon who specializes in food and travel. You can check out her work here or follow her adventures on Twitter @jenkhari.