How to Eat Your Way Through LA's Thai Town Like a Pro
The six-block neighborhood in East Hollywood is a haven for Thai culture and cuisine.
The six-block East Hollywood neighborhood that is Thai Town is a magical place for me. For starters, it's the only Thai Town in America, designated as such in 1999, by the Los Angeles City Council. It's a place where it's normal to see Thai script on shop windows, Thai newspapers set out for the diasporic Thais that live and work in the neighborhood, and every type of Thai dish imaginable—from aromatic Northern Khao Soi loaded with pickled mustard greens to fiery Isaan Grilled Pork Cheeks served with steaming sticky rice. It's also where I spent a lot of my childhood growing up.
Saturday mornings we dined at Siam Sunset, where it's customary to enjoy a steaming bowl of Jok or Thai Congee (although the crispy Pork Belly Krapow is a sleeper hit, too). My Thai dance teacher owns a hair salon on the block, which doubles as a miniature dance studio that his students flock to in order to perfect elaborate performances. There are constant debates among my family about which place serves the best Boat Noodle Soup.
It's special because it is home—a familiar place my mom sought out after immigrating to Los Angeles from Thailand in the early '90s and knowing no one. She's one of the later immigrants; Thais began coming stateside following the Vietnam War and really ramped up during the '80s. The first Thai grocery store, Bangkok Market, opened on Melrose in 1972 (it has subsequently closed in 2019 following a 47-year run).
To have a Thai Town, a place where Thai people can gather and feel a sense of belonging, ownership, and pride in the neighborhood, is a phenomenal thing. It's a running joke among Thais that Thai Town is the 77th province of Thailand—after all, Los Angeles is home to the most Thai people outside of Thailand.
But Thai Town, as comforting as it is for the community who gather there every day, is not just for Thai people. Every April, when Thai New Year—or Songkran—rolls around, a huge celebration is held in Thai Town and all are welcome to the festivities, which include Muay Thai boxing, classical dance performances, and a stretch of food stalls that are impossible to eat through fully. Outside of Songkran, Thai Town is an incredible place to find food, books, fabrics, and a different slice of life in the city of angels. Here are some things to add to your list when exploring the neighborhood:
I had to shout out Siam Sunset above because it has been nourishing me for over 25 years. Blink and you just might miss it; this Thai breakfast spot is unassumingly attached to an America's Best Value Inn. Despite its home in a value motel, Siam Sunset makes some of the best Thai Congee in LA, starting at $4 a bowl, complete with garlicky pork meatballs and slivers of ginger. If you get there early enough—like at 6 am when the place opens—you can also snag some Chinese crullers to dunk into your rice porridge or a side of sweetened condensed milk. Just remember that it's cash only—although you won't need a lot, because the value is incredible.
Sapp Coffee Shop is known for their Jade Noodles—a delicious tangle of green egg noodles topped with a trio of crab, barbecue pork, and tender slices of duck, and finished off with crushed peanuts and chili powder. It's popular for a reason, but the other options—which include deep Thai cuts like the seafood-infused Yen Ta Fo noodle soup and the fermented Sausage Fried Rice, are worth trying, too. Some even claim they have the best Boat Noodle Soup in Los Angeles (it's spicy, savory, and well-worth trying).
Digging into regional specialties is when Thai food can become even more interesting than it already is. Such is the case at Northern Thai Food Club, which serves delightful dishes that hail from Chiang Rai. There's Sai Oua, a spicy and herbaceous sausage filled with the scent of lemongrass and Makrut lime leaves. The Kanom Jeen Nam Ngiaw is a Northern specialty of vermicelli noodles in a red cotton flower broth that's hard to come across in other regions of Thailand, let alone in Los Angeles. Lastly, the Nam Prik Noom, a Northern chili paste comparable to salsa, is wonderful with boiled eggs or just a bowl of white rice, but goes especially well with an order of house-made Pork Rinds. Aunty Phai, who runs the place, greets everyone with a smile.
Finding Thai ingredients can sometimes be tricky, but that is not the case at Bangluck Market. They have every type of rice you could desire, as well as Thai herbs, different soy sauces, sala syrup for making snow cones or Thai-style drinks, and, of course, snacks. If you ever want to try your hand at making Thai dishes, you'll easily be able to find the ingredients here (or even shortcuts, like curry pastes and Tom Yum soup bases).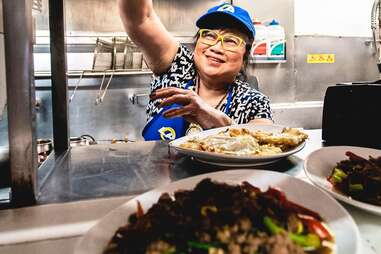 Every self-respecting Thai food enthusiast has heard of Jitlada. But just in case you haven't, here's the gist: the menu is expansive, the restaurant is family-owned, the food is deliriously spicy when called for, and the specialty is Southern Thai food (which means tons of seafood). Yes, you can order your typical favorite pad Thai, but maybe opt for the Southern version called Nakhon Spicy Pad Thai which can be made with lamb, soft shell crab, or tiger prawns, and is zippier, thanks to Thai chilies and additional tamarind.
Photos of Pa Ord, or Auntie Ord, adorn the walls of Pa Ord Noodle. And for good reason—she's built an incredible fanbase and two successful Los Angeles restaurants, thanks to her memorable noodle soups. The Boat Noodles are a favorite; deeply savory blood soup is filled with rice noodles, choice of pork or beef, liver, tripe, and a sprinkling of bean sprouts. For something a little brighter, the Tom Yum Noodle Soup is equally as delicious and cut with a generous squeeze of lime. If noodles aren't your thing, the Spicy Basil Stir Fry—otherwise known as Pad Krapow—is always a winner.
If you're heading to a Thai wedding and looking for an appropriate Thai outfit, or just want to browse accessories and silk imported from Thailand, a trip to The Phukaw is a must. They have a wide selection of traditional Thai dresses and suits, leather shoes, and dazzling necklaces and bracelets. The friendly staff are very knowledgeable on all the items and can guide customers to finding exactly what they need.
Bhan Kanom Thai, which pretty much translates to "House of Thai Snacks," is the place to go if you're looking to pick up a bag of Thai Lays (we recommend the Sweet Thai Basil flavor if you can find them), fresh baked buns stuffed with pandan custard, and endless other Thai sweets. The staff at Bhan Kanom Thai are usually behind the counter flipping Pangchi—black sticky rice pancakes studded with corn and coconut flakes—or pinching together sweet and savory crispy crepes. In the refrigerated section, you can find Mung Bean Pudding, Thai tea-flavored custard, and even Mango Sticky Rice if the fruit is in season.
There are a handful of Sanamluang Cafes scattered across Los Angeles, but the one on Hollywood Boulevard in Thai Town is the original. It's across the street from Jumbo's Clown Room (if you know, you know) and is open late for drunken revelers and late shift workers alike. The menu is relatively traditional and big enough to have something for everyone; you can't go wrong with an order of Duck Noodles, Rad Na (Pad See Ew's saucier cousin), or Panang Curry.
In Thai, hoy ka translates to "dangling legs." Might sound like a strange name for a restaurant, but back in Thailand many vendors sell noodle soups along the river, where customers enjoy their feasts with their legs dangling, perched above the river. Your best bet is to go with their signature Hoy-Ka Noodles, which can be served dry or in a broth. They don't joke when it comes to spice, so keep that in mind when ordering and be sure to finish the meal with Ruam Mit, a cooling Thai dessert composed of fruits and tapioca jellies in a sweet coconut milk broth.
Boran is a great spot for vegetarians, as their menu devotes a specific section to strictly plant-based options. That being said, the Spicy Catfish that's stir fried with fragrant Thai basil is mouth-watering, and the Spicy Duck Salad is simultaneously meaty and herbaceous. Pair your meal with a refreshing, color-changing Butterfly Pea Limeade to really get the full experience.