Famous American chefs share their families' cooking secrets
DANIEL: My French Cuisine
Everyone's family has special recipes that are passed down from generation to generation on faded recipe cards, mainly because email access was hard to come by in the '60s.
Because family recipes are often delicious, we asked a group of the country's most renowned chefs to take us on a trip down their culinary memory lanes and share a dish that their family cooked growing up. From Korean taco truck king Roy Choi's braised short-rib stew to Grant Achatz of Alinea's birthday cake (no liquid nitrogen required!), read on to see what these superstar chefs grew up on -- and how you can make it yourself.
My New Orleans: The Cookbook by John Besh/Andrews McMeel Publishing
Shrimp Creole
John Besh, August (New Orleans)
"I was blessed to grow up in a family that encouraged me to cook -- that's when I first saw how food could make people happy. I saw how happy my dad was when I made shrimp creole for him. Family dinner time was when we all dropped what we were doing, and gathered together. We began with a prayer and ate good, home-cooked food that connected us to where we came from -- the South. South Louisiana in particular."
See the full recipe here...
Daniel at Home
Garlic-Studded Lamb Roast
Daniel Boulud, Bar Boulud (New York City)
"When I think about Normandy, I see towering cliffs, immense tides, and the history of our two countries intertwined since World War II in the ancient sand. A leg of lamb studded with garlic, even if it's not a pré-salé from Mont-Saint-Michel, is the perfect main course. I love to butcher my own meat -- it reminds me of my early days in the kitchen -- but it's not everyone's cup of tea. Instead, ask your butcher to remove the thigh bone and tie it for you. Potatoes, artichoke hearts, and garlic are iconic ingredients from Normandy and Brittany, and make for a luscious garnish for lamb."
See the full recipe here...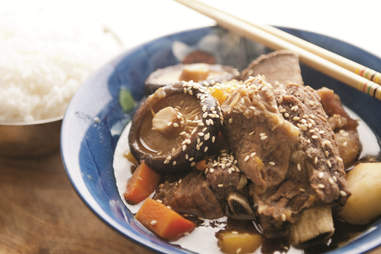 Bobby Fisher
Korean-Style Braised Short-Rib Stew
Roy Choi, Kogi (Los Angeles)
"This is that meal from home that every Korean kid says his or her mom does best. It's the dish that gets packed in CorningWare and taken to parties, the dish that creates some serious lines in the sand over friendship, and heated arguments over who seems to know it better or 'owns' the best-of-the-best title for it. I don't know whose mom does it best, so try mine."
See the full recipe here...
Grant's Chocolate Cake
Grant Achatz, Alinea (Chicago)
Grant's mom used to make this cake for him as a kid. The cake is still a family favorite, as he and his mother make it for his kids every year on their birthdays. And considering a reservation at Achatz's restaurant is so difficult to come by, we presume his kids have to reserve their dad 2mos in advance.
See the full recipe here...
Come Early, Stay Late/Mike Pawlenty
Clam Pasta
Brian Malarkey, Searsucker (San Diego)
"I grew up in Oregon on a ranch, but would often visit my grandmother who lived on the coast. That's where my earliest memories and love of seafood come from. Living in San Diego, I've been able to pass that on to my three kids. Our favorite day of the week is Sunday -- we call them Seafood Sundays. I get up early, grab the kiddos, and we take our family golf cart (I mean, why wouldn't we own a golf cart for getting around our neighborhood?) to the local seafood market to pick out whatever looks good. Then we head over to the farmer's market for produce and set off for home, where we cook together. My little botanist Hunter grabs the fresh herbs from our backyard garden. The trick is to keep Sundays simple, cooking as much as we can in one pan. It's usually butter, garlic, and whatever shellfish we've picked out. On days when we want a little more, we add in pasta which is always comforting. Nothing more comforting than freshly-made, Seafood Sunday clam pasta."
See the full recipe here...
Cheese Blintzes
Jon Shook, Animal (Los Angeles)
This recipe for cheese blintzes comes from Jon Shook's grandmother. She got it from her mother, and it goes back several generations to an unknown place in Russia.
See the full recipe here...
Dan Gentile is a staff writer on Thrillist's national food and drink team. In the process of writing this story, he learned how to make a chocolate cake! Follow him to gratuitous frosting at @Dannosphere.