Doritos & salsa, KFC's mac and cheese, and spaghetti with chocolate chips are all foods you'd expect your stoned roommate to make at 2am, but they're also guilty pleasures of some of the biggest chefs and food personalities in America. See what Mario Batali, Emeril, and David Chang all guiltily eat when they hope no one's watching.
Robert Irvine: Guy Fieri's bacon mac and cheese burger
When he isn't hosting Restaurant: Impossible or in the gym crushing bicep curls, Irvine told Food Network's Guilty Pleasures he likes to let loose with an over-the-top burger from Guy Fieri's Kitchen & Bar in Vegas. And we mean over-the-top: six-cheese mac & cheese, even more cheese on top, and donkey sauce all make appearances on this burger. Essentially, it's like eating a Guy Fieri fever dream after spending at least three nights in Flavortown.

Giada De Laurentiis: spaghetti and chocolate chips
Best known for having one of those cooking shows that make you angry you can't eat what's on the screen, Giada told the Las Vegas Sun that her late-night snack is spaghetti... with chocolate chips. Not strangely, that eye-raising combination has never made an appearance on screen.

Andrew Zimmern: frozen pizza
The man has likely eaten animal penises on every continent for his job hosting Bizarre Foods, and yet, he might be the most brave when he's eating "gas station pizza," which he admitted in a Reddit AMA last year. He also expressed his love of frozen pizzas, a food we respect so much we entrusted a group of kids to taste a ton of brands and rate them for us.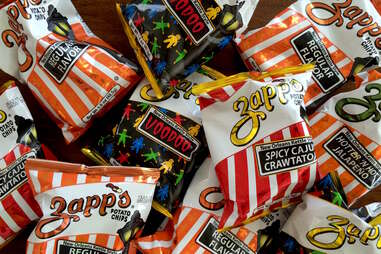 Emeril Lagasse: frozen Zapp's chips
While a basic bag of Zapp's grabbed off store shelves would be a normal snack, the New Orleans food hero and former NBC sitcom star (it happened, and we all lived through it together, guys) throws them in the freezer instead. He extolled the greatness of frozen, plain Zapp's chips in an interview, saying that "there's something about them when you freeze them."

Anthony Bourdain: KFC's mac & cheese
In a Q&A during a book tour this summer, CNN's best globe-trotting TV host said he loves visiting "the Colonel" for the mac & cheese, and said when he's recognized by fans, he says it's like being caught leaving a porn store. Also, how has no entrepreneur combined a porn store and a fried chicken spot yet? Get on it, America.

Marcus Samuelsson: General Tso's chicken
A globetrotting chef with a slew of restaurants from Stockholm to NYC, Samuelsson says when he wants to indulge, he goes for General Tso's "from my local Chinese takeout spot," which makes us feel much classier about our hungover takeout orders.
Mario Batali: Doritos and salsa
The man behind Eataly in Chicago and NYC clearly has good taste, considering how well his markets (and restaurants) are doing. But you'd be hard-pressed to believe that if you ever watched the man dip a Doritos Dinamita (chili + lime) into a bowl of salsa. Mario, listen to us: Doritos don't belong in salsa. They are beautiful snowflakes that are better appreciated when solo. Doritos: the snack food Justin Timberlake.

David Chang: Popeyes fried chicken
The Momofuku chef is all about the fried chicken. He's repeatedly admitted his love of well-cooked bird, specifically the spicy, Cajun-style fried chicken from Popeyes, so it makes sense that he's since spun his passion off into a restaurant concept: his new East Village spot Fuku serves spicy fried chicken sandwiches.

Kristen Kish: room-service chicken fingers
Let the chicken love continue with Top Chef winner Kish, who lately has been traveling the globe for her new show 36 Hours on Travel Channel. And while she eats authentic local cuisine from Berlin to Nashville on screen, after shooting is done for the day, it's "late-night room-service chicken fingers in various hotels around the world." In another interview, she said, "The shittier they are, the more I love them."
Alex Guarnaschelli: Frito pie
Guarnaschelli doesn't just pick up any random Frito pie when she's indulging, because she doesn't have pedestrian tastes. She knows what she speaks of, and she has 200K+ Twitter followers that agree. All of them real people and definitely not spammers. And there is no Spam to be found in this Frito pie from Santa Fe, NM, favorite Cowgirl BBQ, which ups the ante with brisket-fortified chili.

Rick Bayless: fried dough
Don't think Rick Bayless limits himself to sopaipillas just because the man owns Topolobampo and Frontera Grill and XOCO and... we could go on, but linking is hard work. Basically, he's agnostic when it comes to where he gets his fried dough indulgences from, saying in a Reddit AMA, "fried dough from any culture ... renders me weak at the knees." We feel you, Rick.
Sign up here for our daily Thrillist email, and get your fix of the best in food/drink/fun.
Lee Bresloueris a senior writer for Thrillist and is considering trying that chocolate chip spaghetti dish. Follow him to great dinner ideas at @LeeBreslouer.