Eat like Coolio, The Nuge, and Sinatra with these bizarro celebrity cookbooks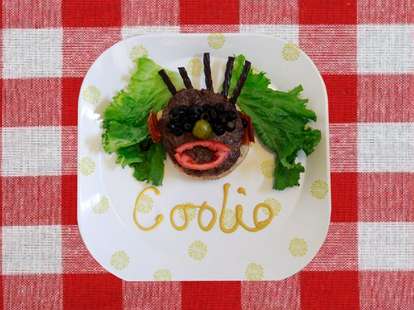 Celebrities have many talents: for instance, John Travolta can fly a plane and hear your thoughts from space. But which celeb's gonna be the MVP at a party? Try Coolio. Or General Zod. Or maybe the ghost of Yul Brynner, because those cats can cook for a crowd, as evidenced by these bizarro-world cookbooks "written" by everyone from Ted Nugent to Sinatra. It ain't a party until somebody busts out the squirrel stew...
The Yul Brynner Cookbook: Food Fit for the King and You
Sure, he starred in The Ten Commandments, The Magnificent Seven, and The King and I, spoke about a dozen languages, and played in a gypsy band, but the most versatile bald man in the world (suck it, Statham) was also a demon in the kitchen, popping out recipes fusing Russian, Thai, Gypsy, French, Swiss, and pretty much every other type of cooking.
Signature dish: Pork and sauerkraut ragout sauce that can be frozen and reheated whenever you say "Siam sure hungry".
Ted & Shemane Nugent's Kill It & Grill It
The Motor City Madman's got a habit of killing and consuming anything that moves, and now you can too! Just feast your eyes on these recipes for everything from bear to deer and antelope... pretty much anything you can shoot from a speeding ATV, except for human, since Deadly Tedly's not into the most dangerous game (wink, wink... see you in the woods).
Signature dish: The not-gross-sounding Squirrel Stew.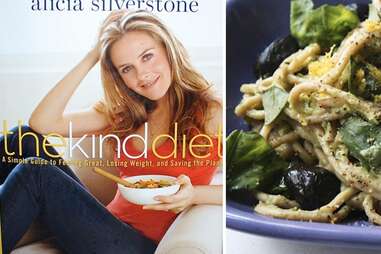 Alicia Silverstone's The Kind Diet
In an effort to promote healthy eating and trimming the excess baggage that comes with the Unkind Diet of Dorito/bacon smoothies, the actress offers up a massive list of vegan food that, unlike most vegan food, actually sounds pretty good.
Signature dish: Avocado Alfredo, which subs the green stuff for cream but is somehow so delicious that you'll be clueless it's actually good for you.
Terence Stamp's Stamp Collection series
No wonder the original General Zod had such a hard time breaking out of that glass prison thingy... the dude who originally played Superman's nemesis had extreme food allergies, which's why he created a series of books teaching people natural recipes without a hint of wheat or dairy, which are Kryptonite to his immune system.
Signature dish: A bunch of fruit salads and other things that're kinda boring but totally help you grow a badass beard.
Karma Cookbook: Great Tasting Dishes to Nourish Your Body and Feed Your Soul
More concerned with cultures in yogurt than actual culture clubs, Boy George's macrobiotic cookbook is intended to make you healthier, though side effects could be rampant wardrobe confusion and a weird ink-like discharge from the top of the head.
Signature dish: Apricots w/ vanilla custard.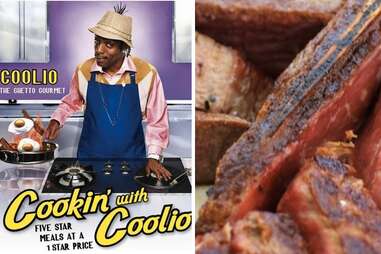 Cookin' with Coolio: 5 Star Meals at a 1 Star Price
It ain't a gangsta's paradise without the right eats, and Coolio's book -- which springboarded into a web series -- covers all the bases, with chapters covering everything from starters ("Appetizers for that Ass") to meats ("Pimpin' the Poultry", "It's Hard Out There for a Shrimp") to healthy choices for the ladies ("Salad-Eating Bitches").
Signature dish: Coolio Fork Steak, from the "Sinful Steaks" section.
Don't Fill Up on the Antipasto: Tony Danza's Father-Son Cookbook
Totally be the boss of the kitchen with a series of super-Italian recipes by the super-Italian Danza, ranging from salads and seafood to pasta, pizza, and simple desserts that'll totally make your guests moan-a.
Signature dish: Sunday sauce with meatballs, served over the pasta of your choice (Angel-a hair is recommended).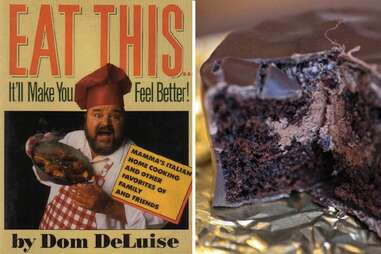 Dom DeLuise's Eat This... It'll Make You Feel Better series
The legendarily wheezy comedian also became a late-night infomercial star with his Eat This series of recipes that his mom used to make when he was a kid, with a strong focus on meats like rabbit and meatballs, but not cannonballs, because they had to run.
Signature dish: Death by Chocolate cake... which isn't at all prophetic for the author.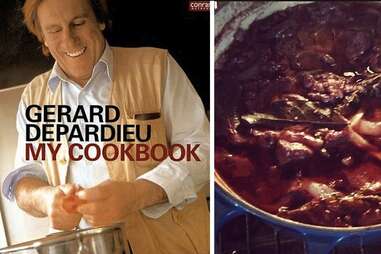 Gerard Depardieu's My Cookbook
The legendary French actor (or is he Russian now?) certainly loves his food, and here he shares his passion for not-frugal eating, even less frugal drinking, and all things French (because Russian food's actually kinda gross).
Signature dish: A saucy Boeuf Bourguignon that has nothing to do with Shia... though he's also pretty saucy and Depardieu would totally eat him without hesitating.
Dolly's Dixie Fixin's: Love, Laughter and Lots of Good Food
Filled with authentic southern favorites and authentic southern grammatical errors right in the title, the country siren focuses on classics like white beans, bread pudding, green tomato cake, and fried catfish.
Signature dish: Dollywood Chicken N Dumplings, filled with the signature mounds of pillowy, doughy orbs that Dolly is so famous for.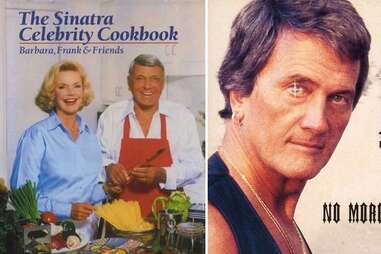 The Sinatra Celebrity Cookbook: Barbara, Frank & Friends
Surprisingly not only filled with recipes like "pour bourbon directly down throat, then add a dash of cigarette smoke", this little gem features actual food, mostly Italian (duh), from the Chairman's closest friends.
Signature dish: Pat Boone's Grammy's Chili Mac... but only because it's an excuse to once again show this photo of Boone in a leather vest.
Victoria Gotti's Hot Italian Dish
Surprisingly lacking hair gel and fake tanning oil, the bronze diva's cookbook is actually a pretty solid and simple book of traditional Italian recipes you can "look sexy while doing," and that're perfect for serving large groups or hiding a file inside.
Signature dish: Sunday Lasagna, which is way happier than Wednesday's Lasagna.
Ethan Phillips' The Star Trek Cookbook
The dude who played the alien chef on Voyager seeks to answer a complex question: What foods could humans, Vulcans, Klingons, and Bajorans eat if they had a space Thanksgiving feast together. The answer? Basically regular food with stupid names... Alfarian-hair pasta w/ Talaxin Mushroom Soup? Make it so!
Signature dish: Data's Cat Food #219... which is just cat food... from SPACE. Somebody call Travolta's cat.