I went to an all-cereal dinner and made Lucky Charms ravioli
First off, National Cereal Lovers Week is a real thing, and if you can't get behind an entire week celebrating all things awesome about cereal, you should probably stop eating cottage cheese for breakfast and reevaluate your life.
Second, there was an event in NYC hosted by Justin Warner, Food Network star and owner of Brooklyn restaurant Do or Dine. And like some other recent envelope-pushing dinners, it tested the boundaries of what familiar foods can become.
Third: Lucky Charms ravioli. Keep reading.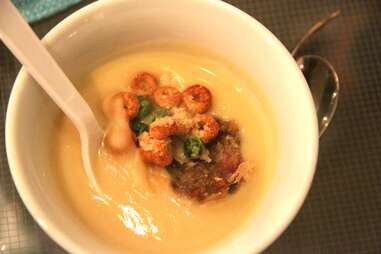 The night started off with a cocktail hour featuring cereal-based passed apps Warner had created before the event (recipes here!), like this split pea soup made with Banana Nut Cheerios, Parmesan, and smoked ham hocks.
Perhaps the weirdest sounding -- but still somehow the best -- was the Cocoa Puffs Carbonara. The chocolate wasn't overpowering and the puffs provided excellent textural counterbalance to the pasta. That's how 4-year-olds who love cereal describe stuff.
The Inverted Total Ravioli was also fantastic, and transforms the healthful flake into pasta through culinary magic before filling it with sage cream, essentially inside-outing cereal.
We were then led into a kitchen that was roughly infinity times better than your kitchen, where Justin told us to start yelling out cereals. So naturally I suggested Lucky Charms, marshmallows-only...
...fully not expecting to have to be the one to separate them.
They were then combined with smoked mozzarella, fresh oregano, and some key lime, and turned into the goo-iest, dessert-iest, s'mores-iest ravioli ever.
If you didn't know they were filled with marshmallows, you might think they were radioactive.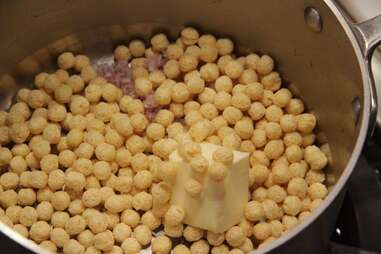 Someone yelled out Kix, which worked surprisingly well with butter shrimp...
...and flaming whiskey, to make...
Shrimp and Kix, which doesn't quite rhyme with grits, but it's damn close.
The floor was then opened for us to make some crazy crap. We decided to go with sausage corn dogs made with a Cheerio and beer batter.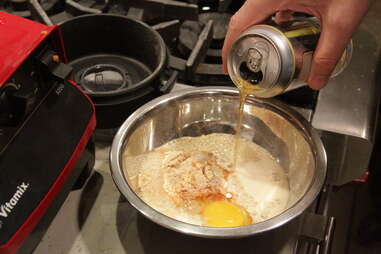 A little Sixpoint, a little mustard powder, an egg, and some cayenne, and we actually had ourselves a pretty tasty, almost pretzel-like batter.
Since there was no actual deep fryer on-site, we chopped up some cooked sausage and got ready to dip it in batter.
Once the hunks were fully coated we threw them into the pan and crisped them up...
They were surprisingly crispy, airy, and absolutely delicious for something made off the top of our heads, from not-even-Honey Nut Cheerios.
I left with armfuls of Boo Berry, Franken Berry, and Frute Brute, so we leave you with the boxes on boxes of vintage cereals they had sitting around the room. Remember Sir Grapefellow?! Of course not, no one remembers Sir Grapefellow.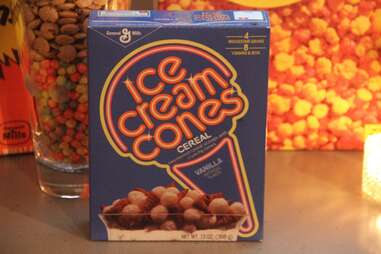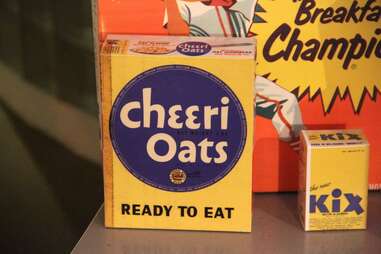 OHHHHHH, Sir Grapefellow. No, still no.