Daniel Boulud, Aarón Sánchez, Michael and Bryan Voltaggio -- it's near impossible to imagine these super-successful chefs ever having to pinch their pennies, let alone forking down 75¢ Top Ramen after 18-hour shifts. But even culinary hot shots had to start somewhere, and that somewhere often involved hot dogs and late-night drive-throughs.
Fourthmeal and noodles
"There were always a ton of really late night, post-service trips to Taco Bell. At home, nine meals out of 10 would have been chicken and broccoli Alfredo. And ramen with an egg." - Kelly Fields, chef/partner, Willa Jean (New Orleans, Louisiana)
Living beyond your means
"I ate a lot of takeout wings and burgers. But I would also pretend I wasn't a young, starving chef and live well beyond my means, eating out at places like Bouley and Nobu, even though I was only making $10 an hour. Not the best way to save money, but it was important to me to try these places." - Missy Robbins, chef/owner, Lilia and Misi (Brooklyn, New York)
Reese's and ramen
"It was typically bags and bags of Reese's Peanut Butter Cups and a few packets of beef-flavored ramen. But if I was getting cheffy, I'd make French onion soup -- onions were cheap, and there were always leftover cheese rinds and some stale bread when I worked at Vetri. And when things were especially good, I'd make pasta -- the dish would often consist of whatever I had left in the fridge. These were early days of embracing fermented ingredients... I was apparently ahead of my time." - Michael Solomonov, chef/co-owner, Zahav, Federal Donuts, Dizengoff, Abe Fisher, Goldie, and The Rooster (Philadelphia, Pennsylvania)
All butter, all the time
"For some reason, I always had butter. I used to make saltine butter sandwiches or dip pretzels in butter. Sometimes, I would even ask a chef if I could take some home from the restaurant and I would take a pound of it and it would last me forever. To this day, I still eat my pretzels with butter." - CJ Jacobson, chef/partner, Ema and Aba (Chicago, Illinois)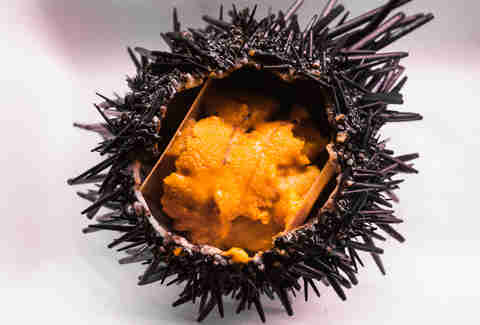 Catch of the day
"When I was very young and living in Cannes, I used to go fishing. I would buy a piece of bread at the bakery, and then dive for sea urchins to eat with it. When you have no money, fishing is the best! Otherwise, I would go to the local charcutier and get some good saucisson and a baguette to make (my) own 'rosette de lyon' sandwich. And of course... hot dogs! I ate them all the time when working in Copenhagen and haven't stopped since." - Daniel Boulud, chef/owner, The Dinex Group (New York, New York)
Gaggers (?!)
"Hot dogs. Ain't nothing wrong with a hot dog. In New England, we call them 'gaggers.' And I like mine smothered and covered -- beef sauce, onions, celery salt, mustard. It's the perfect late night snack to revive you after a hellish day."  - Matthew Jennings, founder, Full Heart Hospitality (Boston, Massachusetts)
Hitting the streets
"I ate a lot of plain pizza, ramen noodles, and whatever I could get at work. Also, these really cheap empanadas on the corner by my apartment and a ton of Chinese food delivery -- chicken and broccoli with hot oil sauce, one egg roll, egg drop/wonton soup and a Welch's Grape Soda." - Peter Serpico, chef/co-owner, Serpico, Philadelphia, Pennsylvania
The neverending sandwich
"In Philly, I lived seven blocks from this amazing Italian deli and bakery, Sarcone's. I used to order a large old-fashioned Italian sub with tons of herbs and vinegar. I'd make it last for, like, four meals. The longer it sits, the better it gets!" - Zachary Engel, chef/owner, Galit (Chicago, Illinois)
"I loved getting tamales and tacos up in Spanish Harlem and little Puerto Rican places that served rice and beans with roasted pork for $5. Those were my go to meals -- cheap, filling and really tasty. Really understanding your craft and finding inspiration around every corner, at markets, traveling, meeting grandmas who have been making their recipes for a long time, finding that drive for yourself is really important. Once I found what motivated me and became constantly curious, that's when I really started to succeed." - Aarón Sánchez, MasterChef judge and chef/partner, Johnny Sánchez (New Orleans, Louisiana)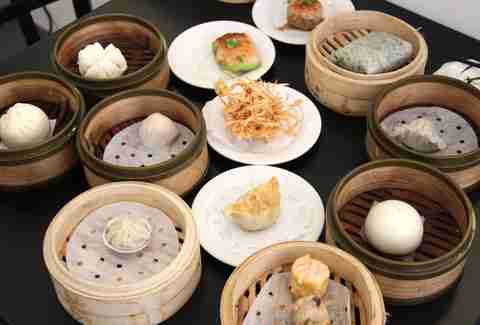 All in the family
"Living in New York as a young chef, I basically survived for seven years off of family meals the restaurants provided, then I would save up paycheck after paycheck to go out to restaurants like Cafe Boulud or Gramercy Tavern. But my wife and I lived in Flushing, Queens and we would regularly go to this small Mexican place called 5 Burro Cafe on Austin Street. They had huge portions of cheap tacos that were delicious, plus giant frozen margaritas they served in mason jars." - Bryan Voltaggio, chef/owner, VOLT and Family Meal; chef/partner, Voltaggio Brothers Steakhouse at MGM National Harbor and Estuary at the Conrad DC (Washington Metro Area)
DIY soup and hot dogs
"Knorr chicken bouillon cubes for a quick late night soup or instant ramen with hotdogs and white American Cheese -- it has to be white over orange, as a preference. Unfortunately none of these are healthy options, but beer and whiskey also had to fit into the budget too!" - Holly Jivin, Chef de Cuisine, The Bazaar by José Andrés at the SLS Hotel (Beverly Hills, California)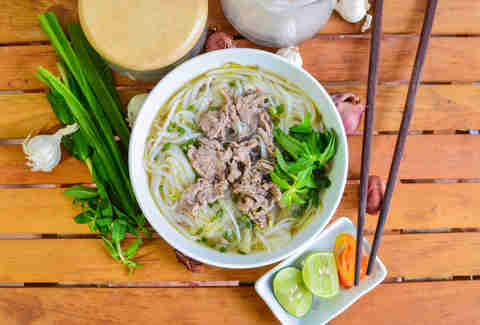 Broth and bodegas
"When I was living in New York making my way through the kitchens there were two food items I found myself eating almost everyday: pho and a deli sandwich from the corner bodega. The key to both is that they're cheap and big. Pho isn't just a big bowl of Vietnamese soup, it's filled with your choice of protein and linguine-shaped rice noodles. Between the richness of the broth and all the noodles packed in, it frequently made its way into my rotation." - Greg Vernick, chef/owner, Vernick Food + Drink, Vernick Coffee Bar, and the forthcoming Vernick Fish (Philadelphia, Pennsylvania)
Sign up here for our daily Thrillist email, and get your fix of the best in food/drink/fun.