Daniel Boulud, Aarón Sánchez, Peter Serpico -- it's near impossible to imagine these super-successful chefs ever having to budget their funds, let alone forking down 75¢ Top Ramen after 18-hour shifts. But even culinary hot shots had to start somewhere, and that somewhere often involved hot dogs and late-night, fast-food runs.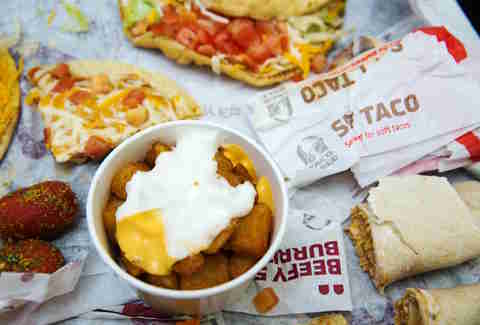 "There were always a ton of really late night, post-service trips to Taco Bell. At home, nine meals out of ten would have been chicken and broccoli Alfredo. And ramen with an egg." - Kelly Fields, Chef/Partner, Willa Jean, New Orleans, LA
"I ate a lot of takeout wings and burgers. But I would also pretend I wasn't a young, starving chef and live well beyond my means, eating out at places like Bouley and Nobu, even though I was only making $10 an hour. Not the best way to save money, but it was important to me to try these places." - Missy Robbins, Chef/Owner, Lilia, New York, NY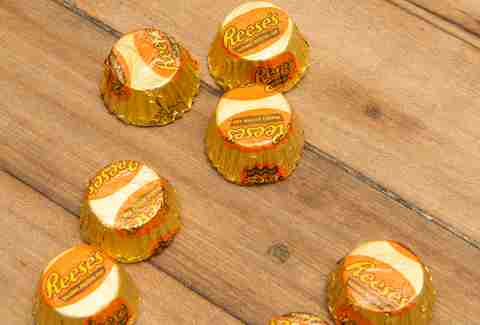 "It was typically bags and bags of Reese's Peanut Butter Cups and a few packets of beef-flavored ramen. But if I was getting cheffy, I'd make French onion soup -- onions were cheap, and there were always leftover cheese rinds and some stale bread when I worked at Vetri. And when things were especially good, I'd make pasta -- the dish would often consist of whatever I had left in the fridge. These were early days of embracing fermented ingredients... I was apparently ahead of my time." - Michael Solomonov, Chef/Co-Owner, Zahav, Philadelphia, PA
"When I was very young and living in Cannes, I used to go fishing. I would buy a piece of bread at the bakery, and then dive for sea urchins to eat with it. When you have no money, fishing is the best! Otherwise, I would go to the local charcutier and get some good saucisson and a baguette to make his own 'rosette de lyon' sandwich. And of course... hot dogs! I ate them all the time when working in Copenhagen and haven't stopped since." - Daniel Boulud, Chef/Owner, The Dinex Group, New York, NY
"Hot dogs. Ain't nothing wrong with a hot dog. In New England, we call them 'gaggers.' And I like mine smothered and covered -- beef sauce, onions, celery salt, mustard. It's the perfect late night snack to revive you after a hellish day."  - Matthew Jennings, Chef/Co-Owner, Townsman, Boston, MA
"I ate a lot of plain pizza, ramen noodles, and whatever I could get at work. Also, these really cheap empanadas on the corner by my apartment and a ton of Chinese food delivery -- chicken and broccoli with hot oil sauce, one egg roll, egg drop/wonton soup and a Welch's Grape Soda." - Peter Serpico, Chef/Co-Owner, Serpico, Philadelphia, PA
"I loved getting tamales and tacos up in Spanish Harlem and little Puerto Rican places that served rice and beans with roasted pork for $5. Those were my go to meals -- cheap, filling and really tasty. Really understanding your craft and finding inspiration around every corner, at markets, traveling, meeting grandmas who have been making their recipes for a long time, finding that drive for yourself is really important. Once I found what motivated me and became constantly curious, that's when I really started to succeed." - Aarón Sánchez, Host, NYC Wine & Food Festival's Tacos & Tequila and Chef/Partner, Johnny Sánchez, New Orleans, LA
"I always made spinach pasta with pesto which would last a few days. I would also eat this pizza in Southern California called Rusty's Pizza and it's probably still my favorite crummy pizza place." - Cosmo Goss, Executive Chef, The Publican, Chicago, IL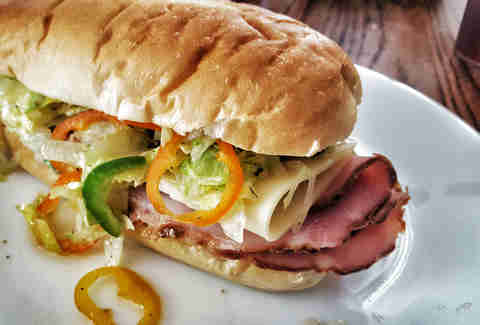 "When I was living in New York making my way through the kitchens there were two food items I found myself eating almost everyday: pho and a deli sandwich from the corner bodega. The key to both is that they're cheap and big. Pho isn't just a big bowl of Vietnamese soup, it's filled with your choice of protein and linguine-shaped rice noodles. Between the richness of the broth and all the noodles packed in, it frequently made its way into my rotation. A bodega sandwich must is ordering it on hoagie bread so you can eat one half for lunch and save the other for dinner. Turkey, genoa salami, provolone, pickled hot peppers, lettuce, tomato, salt, pepper, and mayo was my go-to. - Greg Vernick, Chef/Owner, Vernick Food + Drink, Philadelphia, PA

Sign up here for our daily Thrillist email, and get your fix of the best in food/drink/fun.