Fast food: it's supposed to be cheap. But somewhere along the line, presumably due to communist witches, bad things started happening. Dollar menus became "Value Menus," because nothing cost a dollar. "Extra Value Meals" stopped providing it. HOLY CRAP THEY JUST CHARGED YOU FOR SWEET & SOUR SAUCE.
But deep within their menus lies hope. To excavate it, we hit some top fast-food joints and devised delicious, filling meals you can put together using only a five-dollar bill (and maybe a few of those Buffalo nickels you like to flash around, depending on tax). We chose what to order based on what 1) had a high caloric content, because it's important to be, like, all full of energy after eating cheeseburgers, 2) tasted great, and 3) would mesh well with other menu items in the interest of making a full meal for $5. The results:
Smashburger
What to order: Most Smashburgers start at $4.99, and we value variety in our incredibly cheap meals, so that was a no-go. Luckily, the Kids Smashburger meal ($4.99) offers a slightly smaller patty that comes with a nice portion of fries and a calorie-laden Fruit Punch. One downside: the meal does not include a toy. Smashburger was clearly never a child itself at any point.
Total calories: 1,010
Cost (pre-tax): $4.99
Taco Bell
What to order: Their behemoth is the XXL Grilled Stuft Beef Burrito ($3.99), which has eight times (!!) the number of calories as your average Doritos Locos Tacos, easily making it a much better value. And those cheesy nachos ($0.89) are the icing on a cake made of tortilla chips that've been drenched in processed nacho cheese. Despite the best efforts of Bond villains, water continues to be free.
Total calories: 1,150
Cost (pre-tax): $4.88
Wendy's
What to order: One of the rare cases where ordering a meal is the way to go, we opted for the Jr. Bacon Cheeseburger, small fries, and a small Coke ($3.59 together), all of which left enough cash for the very necessary small chocolate Frosty ($0.99).
Total calories: 1,150
Cost (pre-tax): $4.58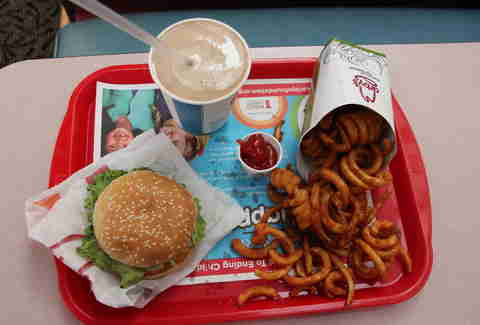 Arby's
What to order: Why didn't we get the Beef 'n Cheddar? Because they're not cheap, and everyone knows their curly fries ($1.89) are the best thing ever, and we wanted a medium. Besides, the Value Chicken Sandwich ($1.59) has a full 100 calories more than the roast beef. For dessert, enjoy a Value-size Jamocha Shake, a mix of coffee + mocha flavors ($1.19).
Total calories: 1,200
Cost (pre-tax): $4.67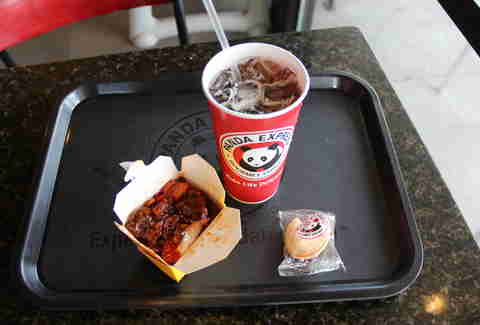 Panda Express
What to order: $5 can't even buy you a full entree and a side, let alone an entire panda (we tried), so we opted for the super-filling Beijing Beef ($3.25) on its own, along with a regular soda ($1.59). The employee serving tried to give us a side for no cost, but we couldn't accept because there's an off chance that you will end up at a different Panda Express with a different employee who is not cool like that. At least the fortune cookie's free!
Total calories: 1,020
Cost (pre-tax): $4.84
McDonald's
What to order: There is no restaurant on earth where five bucks buys more. Yeah, we skipped on their famous fries, but in their place, we got two of the best dessert items in fast-food land -- the Oreo McFlurry ($1.69) and a Baked Apple Pie ($0.69) -- plus two enormous sandwiches in the form of a Double Cheeseburger ($1.29) and a Hot & Spicy McChicken ($1.00). There's not even any need to Hamburgle these things, they're so cheap.
Total calories: 1,390
Cost (pre-tax): $4.67
Chipotle
What to order: Five bucks can't buy you a burrito. But fear not, as it does buy a tasty kid's meal, and one they'll serve to you without demanding ID to prove you're a child. It doesn't have many calories, but it makes up for it in taste, with two soft tacos, carnitas, white rice, black beans, tomato salsa, chips, and a box of apple juice.
Total calories: 595
Cost (pre-tax): $4.25
Burger King
What to order: Yeah, we cheated by seven cents. So what?! We make the arbitrary rules around here, and we can break 'em! And it's worth breaking your very tiny bank for seven additional cents to get Value Fries ($1.19), a BK Bacon Burger ($1.00), a Double Cheeseburger ($1.49), and a chocolate sundae ($1.39).
Total calories: 1,210
Cost (pre-tax): $5.07
Panera Bread
What to order: Since many of the sandwiches here are above $5, the best bet is to load up on a calorie-laden chocolate chip bagel ($1.14) topped with New York cheesecake cream cheese ($1.15), and wash it down with a large soda ($2.09). There's not a whole lot of bang for your buck here, especially if all you've got is a fiver. Panera is not exactly for the people.
Total calories: 790
Cost (pre-tax): $4.68
Sign up here for our daily Thrillist email, and get your fix of the best in food/drink/fun.
Lee Breslouer writes about food and drink for Thrillist, and thinks there's no shame in ordering a kids meal. Follow him @LeeBreslouer, especially if you enjoy McGriddles.
Other Stuff You'll Like In Best Spends