Fast food: It's supposed to be cheap. But somewhere along the line, prices went up and dollar menus became "Value Menus." A single bill used to represent real buying power at fast-food chains, and now it barely buys you a soda.
But that's no reason to fret: Deep within every fast-food chain's menu lies hope for the hungry. To excavate it, we hit some top fast-food joints and devised delicious, filling meals you can put together using a $5 bill (and maybe a bit of change to take care of the tax).
We chose what to order based on: 1) what had a high caloric content, because it's important to be, like, all full of energy after eating cheeseburgers; 2) tasted great; and 3) would mesh well with other menu items in the interest of making a full meal for around $5. And keep in mind that the prices might change based on the city you live in (the ones here are for the Denver, Colorado metro area). Check out the best cheap meals below.      
Recommended Video
101 Dishes That Changed America: Junk Food Edition
Taco Bell
What to order: The Dollar Cravings menu is a panoply of faux-Mexican food that's incredibly affordable and delicious. Even better, Taco Bell recently introduced something called a "Cravings Deal," which is a combo meal that offers a pile of food for just $5. The combo includes a soft taco (aka the best damn thing on the menu), a Cheesy Gordita Crunch, a Burrito Supreme, chips and cheese, and a medium soda. Live mas, indeed.
Total calories: 1,490
Cost (pre-tax): $5
Panda Express
What to order: Five dollars can't even buy you a full entree and a side, let alone an entire panda (we tried), so we opted for the super-filling Beijing Beef ($4.25) on its own, along with a regular soda ($1.59). The employee serving tried to give us a side for no cost, but we couldn't accept because there's an off chance that you will end up at a different Panda Express with a different employee who is not cool like that. At least the fortune cookie's free!
Total calories: 1,020
Cost (pre-tax): $5.84
Dunkin' Donuts
What to order: Sure, you might associate Dunkin' with breakfast sandwiches, donuts, coffee, and convenient airport locations. But it also offers lunch! The Texas toast grilled cheese with bacon offers a good bang for your buck ($3.80) by having almost as many calories as a Big Mac (560). We recommend pairing it with a small sweet tea ($2.17).  
Total calories: 870
Cost (pre-tax): $5.97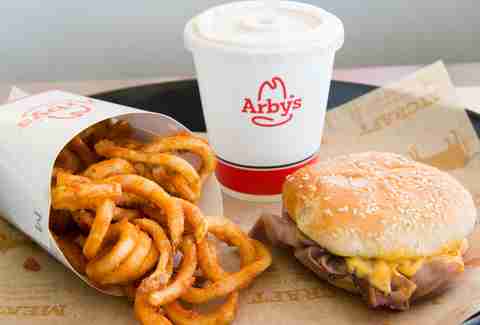 Arby's
What to order: If you have extra money to spend, you can buy Arby's $10.82 Meat Mountain sandwich (chicken tenders, turkey, roast beef, and plenty more meat), but if you only have $5 on you, turn instead to the more wallet-friendly Jr. Bacon Cheddar Melt to get your roast beef fix ($2.09). Add in a medium curly fries ($1.39) and a Jr. Jamocha shake ($1.20), that way you get the best of Arby's (roast beef! Curly fries!) and a unique dessert you can't get anywhere else.
Total calories: 1,000
Cost (pre-tax): $4.68
Chipotle
What to order: Five bucks can't buy you a burrito. But fear not -- it does buy a tasty kids meal. It doesn't have many calories, but it makes up for it in taste, with two soft tacos, carnitas, white rice, black beans, tomato salsa, chips, and a box of apple juice. Since the last time you probably had a juice box was preschool, you should take a nap after eating this meal. It's only right!
Total calories: 595
Cost (pre-tax): $4.75
KFC
What to order: The $5 Fill Ups are a great deal from the fried chicken chain, but for a little bit more money ($5.43 pre-tax), the combo actually provides much more chicken. And that's what you go to KFC for! The move at KFC is the Original Recipe two-piece with a drumstick and thigh. If you're not a dark-meat person, well, you're wrong. But, you can get the one-piece white meat breast instead. The combo comes with a side, and we recommend the well-seasoned potato wedges. Round out the meal with a biscuit and a 20oz drink to wash down all that fried chicken and potato goodness.
Total calories: 1,120
Cost (pre-tax): $5.43
Jimmy John's
What to order: While another sub chain made a name for itself on a super-cheap footlong deal, Jimmy John's is a bit more of a premium offering. So you'll sadly have to forgo favorites like the Big John roast beef sandwich. Instead, snag a salami, capicola, and provolone Slim ($4.25), which offers plenty of protein and calories, plus a smattering of meats! Even though it doesn't come with lettuce, tomato, or anything else that belongs atop a sandwich, you can get around that by requesting free mayo and mustard packets. Luckily, you'll still have cash left over to get a bag of the chain's crunchy kettle chips -- the salt & vinegar Jimmy chips ($1.51) are the winners here.
Total calories: 804
Cost (pre-tax): $5.76
Wendy's
What to order: That sweet, pigtailed redhead has been gifting America Junior Bacon Cheeseburgers for years now, and the best way to order it is via a combo. Unlike some other chains, Wendy's knows that $5 is a critical price point, and still lets you put together a full meal with a sweet finish for less than a Lincoln. Snag a Jr. Bacon Cheeseburger, a small fry, and a small chocolate Frosty for just $4.21 altogether. And don't even try to get a vanilla Frosty. It's not a Frosty if it's not chocolate! Yeah, we're judging you.
Total calories: 1,040
Cost (pre-tax): $4.21
White Castle
What to order: There is but one job you have when you get to this stoner palace: Order as many sliders with cheese as you possibly can for $5. Since they're 95 cents each, that's five of 'em. Sure, you could get a slider, an order of mozzarella sticks, and a shake, but if you don't go to White Castle for the sliders, your life needs re-evaluating. There's a reason they were immortalized in Harold and Kumar and can now be purchased in your local supermarket's freezer aisle. Just eat those five sliders as fast as humanly possible and go back to making whatever awful decisions you were making at 1am.
Total calories: 800
Cost (pre-tax): $4.75
Chick-fil-A
What to order: While the original chicken sandwich is great, the real winner on the menu is an order of the eight-piece nuggets, which are the same price. And because Chick-fil-A has some of the best sauces in the fast-food game, you'd be a real dummy if you didn't dip those precious nuggets into the BBQ sauce, original Chick-fil-A sauce, and Polynesian sauce. Pair 'em with the waffle potato fries for another $1.50, and you've got a solid lunch or dinner. Except for on Sundays.
Total calories: 660
Cost (pre-tax): $5.50
McDonald's
What to order: McDonald's once had a Dollar Menu, and it was glorious, for it allowed anyone with a handful of singles to eat like a king (or queen!). Since All-Day Breakfast is still a thing, take advantage of that by McPicking a Sausage McMuffin and a four-piece McNugget ($2.16). You'll still have some dollar bills left over, so get a super-filling dessert (430 calories!) like the snack-size M&M McFlurry ($2.09), and a small Coke ($1.08), which is a perfect pairing for any McDonald's menu item.
Total calories: 1,000
Cost (pre-tax): $5.33
Sonic
What to order: People go crazy for Sonic's hot dogs and fancy frozen drinks, but don't sleep on its burgers. Really, don't, they don't offer good enough neck support. Order the Jr. Double Cheeseburger ($2.69), a solid backyard burger if there ever was one. And take advantage of Sonic's fantastic dessert options in the form of a mini-cheesecake shake ($2.79). Not only does a mini pack in a belt-stretching 630 calories, it's also delicious, as it includes real ice cream, graham cracker crumbs, and whipped cream. Warning: Don't try to drink all of its shakes in one sitting.
Total calories: 1,150
Cost (pre-tax): $5.48
Subway
What to order: The $5 footlong is dead! Long live the $5 footlong! Ever since Subway scrapped its signature deal months ago, people looking for a quick sandwich for cheap have never been the same emotionally (or financially). Still, the sandwiches remain quite affordable: We recommend ordering the Italian B.M.T. (Genoa salami, spicy pepperoni, Black Forest ham) on Subway's new rye bread ($4.25) with a bag of Doritos ($1.10). And don't forget to top that sucker with any fixin's you want -- unlike other sub shops (*cough* Jimmy John's *cough*) -- it's all free.
Total calories: 580
Cost (pre-tax): $5.35
Burger King
What to order: BK keeps sneaking crazy-cheap specials onto its menu on a temporary basis, and if you see the recurring $1.49/10 nuggets special, this all goes right out the window. Ditto for the ever-changing two-for-$5 special that sometimes features the legendary Original Chicken Sandwich. If you see that, make like Busey and get two. But in terms of everyday menu items, you can still live like, well, a king. Get value fries ($1.19), a BK bacon burger ($1), a double cheeseburger ($1.49), and a chocolate sundae ($1.39).
Total calories: 1,210
Cost (pre-tax): $5.07
Sign up here for our daily Thrillist email, and get your fix of the best in food/drink/fun.