Gone are the halcyon days of the dollar menu. Not to sound like your uncle after he's had a few Keystones, but a dollar doesn't get you very far anymore. 
Despite the glorified reminiscing about times gone by, a dollar didn't actually get you a whole lot when there were genuine dollar menus at most fast-food chains. You still needed to spend a little extra cheddar to make it a meal. So, instead, let's see where a Lincoln can take you. We rolled around to ubiquitous chains like McDonald's, Subway, and Chipotle to find the best meal that can be cobbled together for about five bucks. 
To eat on a budget, you need a system. Here are the three principles driving the food selection for this list:
1. The meal has to be right around $5.
2. We're looking for the best food the joint offers on a budget. It's not about the most food you can get. It's about the best meal you can construct.
3. It's a little bit about the most food you can get. It's a meal, right? So, caloric intake is taken into consideration so that your $5 leaves you feeling full. (Not that get 6,000 calories for $5 is a good idea, but you don't want to be left hungry at the end of lunch.)
Also, we're not paying attention to limited-time offers that won't be around in a few weeks. Sorry, Nacho Fries and unicorn thingamajigs. 
Now, dig in.
Recommended Video
Debatable: Is Shake Shack Really Fast Food?!?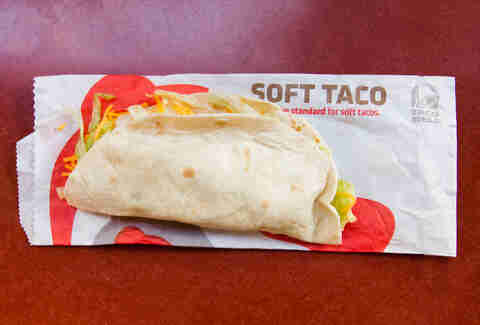 Taco Bell
What to order: The Dollar Cravings Menu offers myriad ways you could construct a $5 meal at the home of Taco a la Doritos. Additionally, there's the Cravings Deal Menu with a couple of $5 combo options, but be your own person. Build your own combo. Tell them you quiero a soft taco ($1.29), the wonderfully textured Spicy Potato Soft Taco ($1), chips and guacamole ($1.59), and a soda ($1.79). 
Total calories: 840
Total cost (pre-tax): $5.67
Panda Express
What to order: It's a little tricky to get the price down while filling up at your favorite mall-based restaurant. Nonetheless, you can get pretty close, especially if you opt to skip a soda and get some water. (You probably need to hydrate anyhow, right?) Of course, we should probably recommend the Orange Chicken at the house that Orange Chicken built, but opt for the Beijing Beef ($4.40) instead. It's pretty damn solid all things considered. Then throw in an egg roll ($1.95) if you're feeling saucy.
Total calories: 490
Total cost (pre-tax): $6.35
Wendy's
What to order: Wendy's is one of the few burger chains where $5 still gets you all three major (fast) food groups: burgers, fries, and drinks. While this meal is put together with menu prices, you can pretty reliably find a deep discount in the Wendy's app and occasionally even land a free burger. Nonetheless, to get your meal, skip the Jr. Bacon Cheeseburger and grab two Jr. Cheeseburgers ($1 each) for the same price. Add on a small order of fries ($1.39) and a small chocolate Frosty ($1). You haven't really eaten at Wendy's until you've dipped your fries in a Frosty. (Though, if you're really savvy, you'll drop $2 in November and buy a Frosty key tag. The money goes to charity and you wind up getting free Frostys for an entire year.)
Total calories: 990
Total cost (pre-tax): $4.39
Dunkin'
What to order: If you're looking to maximize your caloric intake for the buck, the Sausage Egg and Cheese on a croissant has a whopping 710 calories. But if that's not such a big deal, you can go for the tastier Bacon Egg and Cheese on a bagel ($3.59). The bagels at Dunkin' tend to survive life before your mouth a little more intact than the croissant. Add on some hashbrowns ($.99) and a donut ($1.09). No, you aren't getting a coffee, but Dunkin' isn't fooling anyone with the name change. You still came there for the donut. 
Total calories: 880
Total price (pre-tax): $5.67
Chipotle
What to order: Chipotle is not the go-to spot for a budget-conscious eater. You really can't get anything...  but... oh... there's a kid's menu. Don your best pre-pubescent voice and politely ask for the kid's taco meal to land yourself two soft shell barbacoa tacos, white rice, black beans, and a juice box ($4.95). The same thing less the juice box from the adult menu costs slightly more. 
Total calories: about 495
Total cost (pre-tax): $4.95
Arby's
What to order: The restaurant so appealing that even Jack Donaghy owned one is about as friendly to the concept of a $5 meal as it is to vegetarians. However, it's entirely possible if you think outside the Mountain. Go for the traditional Greek Gyro ($3.99), and you'll get plenty of caloric intake and still have enough cash left over for a small order of Curly Fries ($1.89). Yeah, the Jamocha Shake is only available here, but these are the best damn fries in the game. It's also worth checking if they're offering anything for signing up for the Arby's email list. Sometimes handing over your email lands you a free sandwich or gyro.
Total calories: 1,120
Total cost (pre-tax): $5.88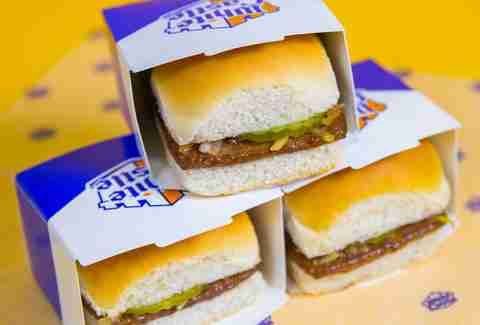 White Castle
What to order: If you've ever been to a White Castle or have seen a film with the words "Harold and Kumar" in the title, you know the drill. Sliders. Let's make that Cheese Sliders ($.95). Grab four of them and a small Coke ($1.69), and you might find Neil Patrick Harris taking a nap in your backseat as you're cruising down the highway at 2am. 
Total calories: 819
Total cost (pre-tax): $5.49
KFC
What to order: No, the Colonel still isn't bringing back the long-dead Double Down. So, skip right over the combos and dip into the $5 Fill Ups. It's not just a clever name, you can definitely fill up for $5 by grabbing a drumstick, thigh, biscuit, mashed potatoes, cookie, and a medium soda ($5).
Total calories: 1,260
Total cost (pre-tax): $5
Chick-fil-A
What to order: Skipping past the stuff that keeps many from ever setting foot inside a Chick-fil-A, the obvious choice here is the chicken sandwich ($3.89), even if it doesn't stack up to that new Popeyes chicken sandwich. (Though, the nuggets would substitute well and keep you in the same price range. Plus, you'd be getting those sweet, sweet sauces.) That leaves enough cash left for a medium order of waffle fries ($1.65). Sometimes the classics are classics for a reason. 
Total calories: 800
Total cost (pre-tax): $5.54 
Jimmy John's
What to order: Jimmy John's hasn't always been the best place for a super-cheap lunch. However, in late 2019, JJ added the Little John. It's a smaller sandwich for just three bucks, making it a bit cheaper than the Slim 5 ($3.99), the next cheapest sandwich. Plus, there are seven varieties of the Little John, which gives you options, but the #6 is a solid choice if you're looking to get the most out of the smaller sandwich. The vegetarian sandwich comes with avocado, provolone, cucumber, lettuce, tomato, and mayo. You're getting a lot more flavor there than with the spare Slim 5 and a few more calories than with the other Little John options. Since you've got a little space to wiggle, grab a regular fountain drink ($1.75) and some Jimmy Chips ($1.29).  If you're ordering anything but the salt and vinegar chips, you're doing it wrong. 
Total calories: 910
Total cost (pre-tax): $6.04
Panera
What to order: You're going to have a tough time pulling this one off. Even if the food is above average for fast-casual, there simply aren't many options to keep things under $5. The closest you'll get with a sandwich spectrum is the BBQ Chicken Flatbread at $6.99. The cheapest you're getting while still filling up is the Broccoli Cheddar Soup ($6.19). That's the highest calorie soup they offer. For the same price, you can come close with the Summer Corn Chowder or the Bistro French Onion. 
Total calories: 360
Total cost (pre-tax): $6.19
Qdoba
What to order: You'll run into the same problem here that you ran into at Chipotle. There's basically nothing for under $5. You could turn to the kid's menu, but that can get awkward. Let's go a different direction. Despite having fewer calories than some kid's options, your best bet is the Mini Burrito Bowl ($5.45). Pack on some chicken and queso, and you'll be feeling full enough for a $5 lunch. 
Total calories: 440
Total cost (pre-tax): $5.45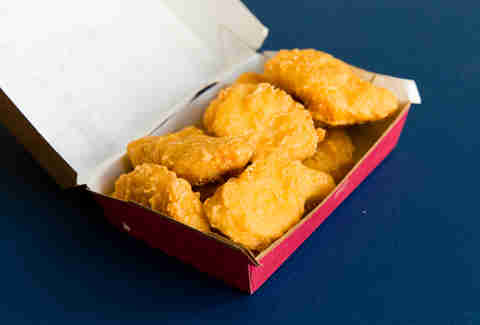 McDonald's
What to order: The Dollar Menu is dead; long live the Dollar Menu. Once you've come to grips with the death of your favorite late-night menu, order up a McDouble and Fries ($3) from the new $1 | $2 | $3 menu. Then tack on a six-piece order of chicken nuggets ($2). That's the best you'll do unless you're dining with the Hamburglar.
Total calories: 880
Total cost (pre-tax): $5
Sonic
What to order: Get dressed like you're making stops at the sock hop and Makeout Bluff, then try not to spill chili cheese down your chest. The Chili Cheese Coney ($2.69) has enough loaded on top of the hot dog to make a meal of things. Once you order a side of Onion Rings ($2.99), the greasy drive-in food will make you understand better how the Fonz felt on a Friday night. 
Total calories: 910
Total cost (pre-tax): $5.68
Subway
What to order: Much like your beloved McDonald's Dollar Menu, the $5 Footlong has gone the way of Juicero. So, there's really only one option to make it all happen here. At $5.19, the Cold Cut Combo is in the running, but you're not leaving space for any chips. Moreover, it's actually fewer calories than the Italian BMT ($3.89) with Genoa salami, spicy pepperoni, Black Forest ham. Load it up with your favorite fixings and add in a bag of Sun Chips, because that's what you do at Subway. 
Total calories: About 710
Total cost (pre-tax): $5.38
Starbucks
What to order: Yes, you could blow your budget and more on any of its ridiculously sweet Frap du Jour surprises. But you can actually get a decent breakfast as well. There are more calories in other sandwiches, but the best is quite clearly the Bacon, Gouda, and Egg Breakfast Sandwich ($3.95). Tack on a coffee ($2.45), and you've put together a breakfast worth having. (Not to mention you should be checking the Rewards app to get points and see if there's a Happy Hour going down.)
Total calories: 375
Total cost (pre-tax): $6.40
Burger King
What to order: You could blow the budget on the new Impossible Whopper, which is really a pretty good choice. But you can get a whole lot more out of $5 from the King. It recently brought back its 5-for-$4 deal. That'll land you a bacon cheeseburger, four-piece order of chicken nuggets, cookie, value-sized fries, and a 16-ounce soft drink. 
Total calories: 1,360
Total cost (pre-tax): $4.00
Popeyes
What to order: Look, you know where this is going. You can't just go to Popeyes and not get that chicken sandwich. Not only is it really good, but it's also only $3.99. That almost puts you up to you budget's ceiling. So, though there are many worthy sides at Popeyes, we're going with a Coke ($2.29). The only side that's cheaper is biscuits ($.99). You're going to want that drink to cool your mouth if the sandwich proves too spicy for you. 
Total calories: 970
Total cost (pre-tax): $6.28
Sign up here for our daily Thrillist email and subscribe here for our YouTube channel to get your fix of the best in food/drink/fun.