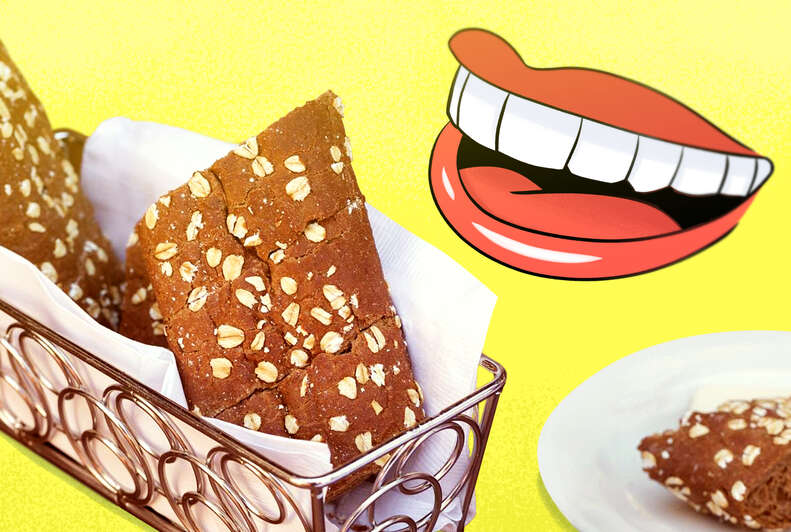 Why Everyone Is Obsessed With The Cheesecake Factory's Brown Bread
There are a handful of things a person can post about on Facebook that result in a nearly endless stream of notifications: an engagement, a baby, and "brown bread" from The Cheesecake Factory. This seemingly banal signature item from the large American chain with even larger portions, has long commanded an obsessive following. In a casual and completely non-scientific Facebook crowdsource, the fan love apparent within my own modest friend roster was outsized. Old roommates, ex-colleagues, food media brass, and chefs from all over the country name-dropped favorite items from The Cheesecake Factory like the Chinese chicken salad and the avocado spring rolls, but there was a seemingly endless outpour of love for the brown bread.
If you've never had the bread before, its texture is yeasty, doughy and super-soft. Taste-wise, its flavor is similar to multi-grain bread with a sweet, honey finish to it. It's the bakery aisle equivalent of a Snuggie: soft, luxurious and problem-ending.
Internally, at the chain, the bread is actually referred to as "wheat bread" -- and is served gratis in a shiny wire basket alongside sourdough. More importantly, it is continually replenished throughout the meal. Recently, the 40-year-old company decided to capitalize on the "famous brown bread" obsession by boldly taking the item straight from its bread basket and into stores. It hit shelves earlier this year in local grocery chains like Winn-Dixie, Bi-Lo, Safeway, and Vons to the sound of exploding heads. The January news announcement alone generated hundreds media mentions as well as thousands of retweets, likes and comments. The item is available in demi baguettes, sandwich rolls and in sliced sandwich loaves (find it at a store near you with this handy locator) in the bread aisle.
According to Donald Evans, chief marketing officer of The Cheesecake Factory, the "famous brown bread" has been on the menu nearly from the start. The first Cheesecake Factory, which now has 199 locations, was opened in 1978 in Beverly Hills, California by David Overton, son of Evelyn Overton (a homemaker/baker who sold her famous cheesecakes to restaurants in California throughout the '70s).
When son their David opened the first restaurant (fulfilling his parents' lifelong dream), the location had a simple one-page menu, which by the late 1980s grew longer and longer. While researching items for the original menu, Overton came across a recipe for "Squaw bread"-- as it was referred to at the time, a somewhat controversial term for a rye and molasses-based baked good. "Squaw bread" is thought to be a German immigrant version of a Native American recipe for rye bread that emerged in the 1800s.
If you've ever visited any of The Cheesecake Factory's nearly 200 locations, you'll recall that the menu reads like that of an overly ambitious Greek diner, an unedited "greatest hits" of the last 100 years of global gastronomy. A place where you can order everything from steak Diane to Cajun jambalaya pasta, margherita pizza to Miso-glazed salmon -- it's a Xanadu of choice; a stoner's dream. You could start with Indian-inspired chicken samosa, then move on to an unholy creation known as the macaroni & cheese burger and end with classic Italian tiramisu.
So you might be asking yourself, of the over 300 potential restaurant items to take to retail, why did the chain decide to start at the bread basket? The at-home line began last year with a line of baking mixes and continued with several flavors of Nestle coffee creamer. But the first restaurant-ready product is the brown bread. "We were thinking about what product would make sense to bring to grocery that would look, feel, and taste like the product in restaurants," Evans explains. "The bread is exactly the same as what you get in the restaurant."
At a Vons grocery store in Los Angeles last week, I purchased a package of the brown bread demi baguettes in the bread aisle, and warmed them to perfection in just five minutes in my oven. It tasted pretty much exactly like what I remembered the brown bread tasted like at the restaurant. But there's more to their marketing rationale than mere convenience. The legend of the "brown bread" spread via word of mouth for decades before it blew up on social media.
Former employees bemoan having to constantly refill the baskets. "I hate brown bread," former server Seth Byrum tells us. "Not because it doesn't taste good, but people were obsessed with it. They would ask for incessant refills three to four times, and there was constantly a deficiency of bread for that reason. During dinner rush, you're running back and forth the length of a football field to refill it because the restaurant is so big." Byrum worked at the Chestnut Hill location near Boston six years ago.
Former employee Jeremy Koegler used to work the to-go counter at a Tampa location and recalled that customers would frequently pick up orders, drive home, and then drive back to the restaurant if the brown bread wasn't in the bag.
As for why people are so obsessed with the bread, Koegler has a theory: "People like it because it's sweet." Evans agrees. "I think it's the sweetness of it," Evans remarked simply. Byrum offers up another explanation. "People think it's healthy because it's brown and has oats on top," according to commentary he frequently overheard. Considering many of the restaurant's dishes are upward of 1,000 calories each, diners seems to think this was the one healthy indulgence they can feel good about. "Plus, it's free," Byrum added. That always helps.
"People think it's healthy because it's brown and has oats on top."
So what's actually in the bread? Diners are finally privy to the mysterious ingredients -- some speculated cocoa gave it its brown color -- now that the product is in retail. We took a look at the package and found a mixture of enriched flours like wheat, whole wheat, and malted barley forming the base, plus rye flakes, molasses, brown sugar, and caramel coloring (to give it that extra-dark "health look"). It's even got wheat bran in it. Half a baguette clocks in at 190 calories with 38 carbs and 8 grams of sugar (mostly added sugar), plus 3 grams fiber and 6 grams protein.
Once social media came along, there was no stopping the widespread adoration, eventually reaching critical mass with NBA players in particular. The whole thing could have started in 2008, when ESPN published this story, detailing various NBA players' apparent love of the Factory and espousing theories as to why. More media followed investigation the NBA-specific obsession, many players specifically name-checking brown bread like Jared Sullinger of the Toronto Raptors and Brooklyn Nets' own Sean Kilpatrick, who told First We Feast, "They probably have the best bread in America."
In 2017 alone, the brown bread drove some 50,000 social media mentions that including celebrities like Camilla Cabello who tweeted last July: "The best thing on the menu at Cheesecake Factory is the brown bread and butter, DO NOT ARGUE WITH ME ON THIS." Actress/singer Zendaya summarized the obsession in a tweet last march: "The brown bread at the Cheesecake Factory...I could live off that shit."
Sign up here for our daily Thrillist email and subscribe here for our YouTube channel to get your fix of the best in food/drink/fun.
Kelly Dobkin is a writer/editor, culinary school grad, and recovering waitress based in Brooklyn, New York. Her interests include pina coladas (check out @piningforpinas), cats, pizza, and sushi she can not afford. Follow her on Twitter and Instagram.