Food & Drink
Sponsored by
Chef Kwame Onwuachi Breaks Down Why Guinness Should Be Your Go-To Grilling Beer
Sponsored by
On a hot summer day, most people don't think to reach for a dark, malty stout to pair with their barbecued ribs or smoked chicken breast. However, we're here to tell you that you should be. There are a few star chefs proving that smoky, umami-packed grilled dishes can be made even tastier when matched with a classic and bold stout like Guinness.
To learn more about this innovative pairing, we caught up with Chef Kwame Onwuachi and Ian Colgan, a Guinness beer sommelier (that's a beer-food pairing specialist) at the annual Guinness X Meatopia festival in Dublin this past July. The three-day food and beer festival, held at the Guinness Open Gate Brewery in Dublin, gathered talented chefs like Kwame from around the world to pair (or prepare) meaty dishes with a Guinness beer. The takeaway: Guinness may be the secret ingredient we've been missing at our summer cookouts.
Andres Poveda
Guinness works with globally-inspired flavors
Guinness X Meatopia celebrates live fire cooking from around the world, which is why Chef Kwame Onwuachi, a James Beard Award winner and former Top Chef contestant, channeled tropical flavors with his unique spin on traditional Afro-Caribbean smoked duck. Now, to those who may think combining an Afro-Caribbean dish with an Irish beer is like trying to blend a cheeseburger with chocolate cake, Chef Kwame is here to tell you, "Hell no."
"Guinness is one of my first beer memories," Onwuachi said. The malty and dark flavors of Guinness Extra Stout actually heighten the savory flavors of Afro-Caribbean cuisine, which typically include meats that are slow-roasted in dark spices for hours. But this pairing actually goes way beyond flavor notes, as Onwuachi told us that Nigeria, where the chef spent part of his childhood, is actually the second biggest market for Guinness -- and it's frequently found alongside meals there.
It's not just pairing dishes like his seasoned lamb, short ribs, or smoked duck with Guinness Extra Stout that's easy: cooking with the beer makes sense for Onwuachi, too. At the festival, Guinness Extra Stout was a key ingredient in the base sauce for his short rib, alongside chile, honey, and vinegar. He told us that the smoky and malty notes found in the beer bring out sweetness and smoked flavors in his entrees -- making for a simple, but tasty, combo.
Andres Poveda
A beer that's practically made for grilling
Turns out the reason why Guinness and grilled dishes go hand-in-hand goes back to how Guinness is produced. "Grilled and charred foods go through a similar process as our roasted barley, so the beer helps bring out the smoky, earthy taste," Colgan said about Guinness Extra Stout, a beer recipe that goes back to 1821. As a "sharper version of a stout" and darker in color, Guinness Extra Stout enhances all the tastiest flavors of grilled food, while giving the dish a dry, sharp finish, which balances out the sweetness in many classic barbecue entrees, like ribs.
Colgan said the flavors of Guinness Extra Stout can have the same effect on dishes outside the fire pit, too. "The dry, sharp finish works against the brine in the seafood, helping to bring out the sweetness of [its] meat," he explained. And, thanks to the full flavor of the stout, it compliments red meat in a stew or casserole -- and makes for a delicious marinade.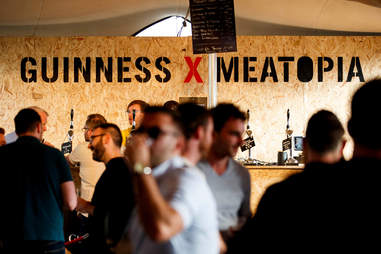 Andres Poveda
The pairings are easy to pull off at home 
You don't have to be in Dublin (or a James Beard Award-winning chef) in order to sample some of these flavors. You can be your very own Guinness pitmaster right in your backyard, and pull it off successfully by following a few of Colgan's tips.
First, don't think that the beer is too heavy to be drunk alongside a simple meal or lighter dish. Oysters come highly recommended by Colgan as good place to start. But you can also use Guinness to prepare your meals. Guinness Draught serves as a perfect gravy base for these Guinness Braised Short Ribs. 
Second, one of the simplest ways to incorporate Guinness into your cooking is to utilize it in a marinade. For example, instead of using chimichurri on your strip steak, try a long marinade with Guinness and spices, like minced garlic and black pepper. Then, cook the meat low and slow to bring out the best beer flavor.
Finally, Colgan suggests being creative and listening to your taste buds. With several amazing Guinness beers to choose from (Guinness Draught, Guinness Extra Stout, Guinness Foreign Extra Stout, Guinness Blonde), there are plenty of pairing possibilities to keep you busy for the rest of the summer. Try accentuating the brie cheese in a warm applewood smoked bacon sandwich with a Guinness Draught, or pair a Guinness Blonde with the guajillo peppers and ground cinnamon of a red mole chicken dish. 
Or, let your culinary imagination run free on the grill and discover a new Guinness food pairing of your own. Who knows, maybe you'll even get tapped to share it at next year's Guinness X Meatopia.
GUINNESS Draught Stout and GUINNESS Extra Stout. Imported by Diageo Beer Company USA., Norwalk, CT.