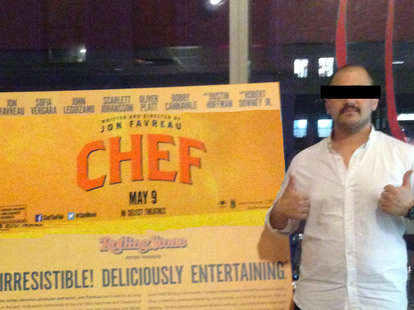 All photos by Dave Infante
All photos by Dave Infante
Chef -- the new Jon Favreau film about food trucks & restaurant culture -- is essentially 120 minutes of food porn. Naturally, popcorn simply wouldn't do for a serious reviewer like myself, so, on opening night, I shoved classic NYC on-the-go food into my girlfriend's purse to get the full experience. These are my findings.
The Movie
Favreau plays a disillusioned L.A. chef* who wants to put beef cheek on his menu and bang Scarlett Johansson -- laudable goals! -- while Dustin Hoffman plays a d-bag restaurateur who eventually forces him out of the business and into a rickety food truck. John Leguizamo is his inexplicably loyal sidekick, Sophia Vergara is his inexplicably hot/supportive ex-wife. There's a trailer above for your viewing pleasure.
*Read: every L.A. chef, probably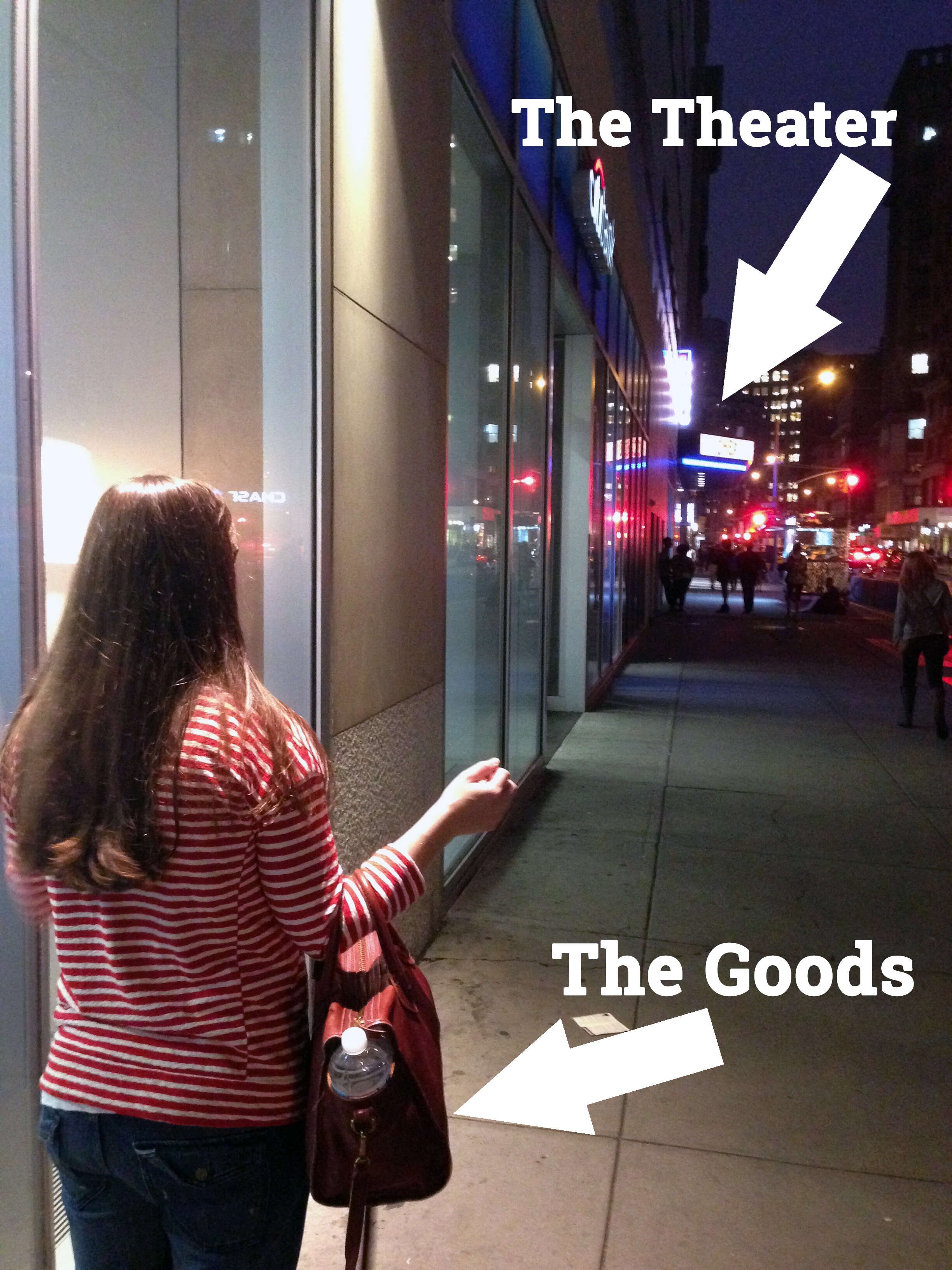 The smuggle
Girlfriend rolls her eyes as I scramble around Union Square purchasing street meat. "I wish you had told me that this was the 'date'", she drawls wryly. I haven't told her yet, but all this food is going into her purse.
IMPORTANT: At some point in your life (usually, right after you've been laid off), you'll want to smuggle hot food into a theater. When you do, remember to bring Tupperware. This airtight plastic vessel was the only thing that saved the interior of girlfriend's leather bag -- and in turn, our relationship.
ACT COOL: "Think about anything besides the fact that your bag is full of piping-hot imitation lamb", I coach girlfriend as we head up the escalator towards our theater. She seems to be in good spirits, considering.
By the grace of James Beard himself, the usher doesn't smell the cart's-worth of food in her bag, and we make it into Chef unscathed.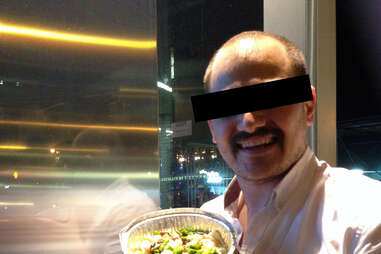 Amuse Bouche: Mushroom Taco
For the opening credits, I brought out a wonderfully light mushroom taco from Morocho NYC. This Peruvian fusion cart puts it down with fava beans, shallots, and juicy mushrooms. I laugh at Favreau's disturbing girth, then enviously watch him devour a Cajun andouille sandwich with his son. I wish I had one of those, I whisper to my girlfriend. I can't see her face in the darkened theater, but I can feel her judgement. Nonplussed, I crush the rest of my taco.
As I take the last bite of my appetizer, Leguizamo calls his co-star "amuse douche". I am on pace.
Takeaways: Establishing shots and jaded dialogues confirm that Favreau's initial kitchen will not be enough to fuel his creativity. Against these heavy tones, the fava beans shone admirably.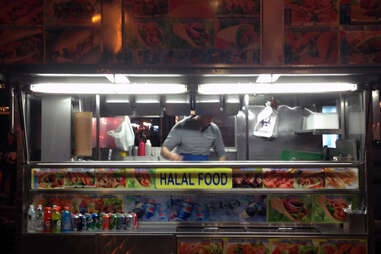 First Course: Lamb Gyro
After Morocho, I hammer a bunch of candy and settle in to watch Chef's chefs butcher a whole hog in preparation for a visit from an important food critic/blogger. Food bloggers are so lame, I think to myself. Oh wait.
By the first appearance of meddlesome owner Hoffman, I've seen enough tasty cinematography to get into the meat of the matter. From my girlfriend's purse, I pull out a lamb gyro slathered in tzatziki. Favreau's son teaches him how to use Twitter, which the chef promptly uses to start a flame war with the critic. SPOILER ALERT: tzatziki doesn't travel well.
Takeaways: The gyro was more reductive & chaotic than the film's hackneyed treatment of social media, but also more delicious.
Second course: Hot dog & sauerkraut
The gyro draws unwanted attention to my section, so I hunker down for the next act, during which Favreau gets fired, moves to Miami, and buys a food truck off Robert Downey, Jr. This feels arbitrary and contrived, as though the filmmakers didn't even bother to bake in a transition between Act I & II.
Randomness makes me hungry, so while Favreau & Co. perfect El Jefe's bocadillos (that's the food truck's name, because he's "the chief". Get it?), I break out my heavy-hitter: an NYC dirty-water dog with shredded kraut. At this point, girlfriend is reconsidering her life choices. By its unmistakable odor, everyone in the theater knows I'm eating a weiner.
Takeaways: Like balut, RDJ's role is frightfully underdeveloped. Twitter's pervasive role as a plot mechanism becomes laughable. On the other hand, the hot dog is excellent.
Intermission: Kebab
Plot holes aside, El Jefe hits the road bound for California, with stops in New Orleans (Cafe Du Mond) and Austin (Franklin BBQ). Leguizamo puts corn starch on his testicles; I am hungry again. Unclear if the two are related. Out comes the chicken kebab and soft preztel.
Takeaways: Nice to see Franklin get its moment in the national spotlight, but overall it feels like a cheap thrill. Chef is riding coattails, and the kebab is similarly underwhelming.
Dessert: soft pretzel
By the time the action comes full-circle back to L.A., I've farted several times and have begun sweating profusely. There's only one way to finish this: El Jefe gets a restaurant gig (FAVREAU CAN COOK WHAT HE WANTS!), and I maul a pretzel.
Takeaways: At least I gave the pretzel a satisfying ending.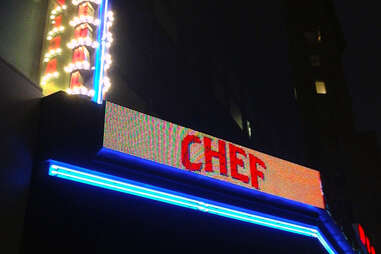 Conclusion
Chef feels like a painfully late Hollywood response to something that 2008-me might've unironically called the "food truck revolution". With its insistent inclusion of Twitter and exclusion of Instagram, Snapchat, etc., it only draws its datedness into sharper contrast. Upshots include excellent cinematography, and Leguizamo's spicy dialogue, but unless your girlfriend loves street meat and Jon Favreau, it is not worth jeopardizing your relationship by smuggling food truck food into this film.
Takeaways: Wait for it on Netflix, then watch half of it and go out for dinner.
Dave Infante is a senior writer for Thrillist Food & Drink, and is really pushing his luck with his lovely girlfriend. Follow him on Twitter: @dinfontay.