How Chef Nikki Steward Became the Go-To for Celebrity Cannabis Dinners
Dave Chappelle's favorite caterer shares a recipe for an extra chill group hang.
Courtesy of Nikki Steward
To be clear, Chef Nikki Steward is not just a weed chef. The esteemed chef toured with DJ Khaled, cooking for him, the crew, and select attendees from her custom food truck that traveled via semi from city to city. She's called upon for special campaigns, even more special green room spreads and craft services for major players across the entertainment industry. But damn, if this pharmaceutical student-turned-culinary maestro isn't destined to cook infused food that tastes very, very good.
I was able to catch the Ohio native in between shifts feeding everyone in attendance at Dave Chappelle's Summer Camp to learn more about her origins and how she became the chef to call on when you need a perfect spread for 200+ people. Plus, she shares a recipe for a sweet treat you can bring to the next backyard smoke sesh.
Thrillist: Tell me about where your relationship with cooking began.
Chef Nikki: My relationship with food started early, with my grandma's dinners after church on Sundays. I started helping her, and she just started teaching me little hacks.
Hacks?
Yeah, like I couldn't understand why her food always tasted better. I'd eat broccoli at my mom's house, but it just didn't taste the same as broccoli at my grandma's house. Then my grandma's like, 'Well I simmer the broccoli in broth,' and I'm like, 'What?!' She taught me all her tricks to making food taste better.
At some point I started taking over holiday dinners, probably when she started saying my dishes were tasting better than hers. I still came over every Sunday throughout college—campus was like 10 minutes from her house. I remember the day she passed on her pound cake pan to me—I still have it. It's legendary as fuck.
And what about your relationship to cannabis?
I have enjoyed cannabis since I was a teenager, but my tastes have changed over time, of course. Cannabis is not actually frowned upon in my family. My father owns a construction company, and I would see him consume after work pretty often, just because he was taking care of his body.
And then I started messing with infusions while in college. I was a pharmacy student interested in playing around with the science and dosage, and I started selling alcohol- and weed-infused cakes from my dorm room. Like, straight up Bailey's-infused cheesecakes—people were bringing me bottles of Hennessy just for cheesecakes. This is around 2000-2001, and dang, I was selling cakes for $35-40 a pop.
Oh so you were destined to be an edible chef!
I was, but not at first! After getting my degree in pharmaceutical sciences, I was working in the healthcare system, at a CVS pharmacy. I felt like I was just counting pills inside, all day every day, telling people what to take and what not to take, making elderly people upset because I'm not able to charge their insurance—I hated it.
There was a moment, right after I had my first daughter, while I was still nursing, and I wasn't able to take a break because we were too busy. My lab coat started getting soaked. As I'm expressing [breast milk] into the bathroom sink, I'm looking at myself in the mirror saying, 'I gotta find something else to do.' There had to be something else for me that would be more soul satisfying, give me the flexibility to be a mom, and let me just...be. I knew then that I wanted to cook.
"I was a pharmacy student interested in playing around with the science and dosage, and I started selling alcohol- and weed-infused cakes from my dorm room."
Had you cooked for people outside your family at this point?
You know those Sunday dinners? I'd started inviting my sorority sisters over to my house for those, too. They would come over every Sunday evening and I'd have a new menu with special cocktails prepared and then we'd watch the new episode of True Blood. Over time, all my friends were like, 'You might want to consider taking this whole chef thing seriously.'
I started taking culinary classes, traveling across the country and other countries to do culinary study and work in different restaurants; learned different aesthetics and techniques. There's something about food for me—it's just my safe space. When I'm creating and cooking, it's where I find my solace. If I'm able to make money doing this, that's dope.
What brought about your shift from working in restaurants to your own event/catering operation?
I started getting asked to cater—just word of mouth. It really started with classmates at Ohio State. They put me on, and then word spread over the next few years. One of them went on to work for Snoop and work on Merry Jane, and she knew I made edibles for some celebrities when they traveled and hosted a few underground edible dinners. One day in 2017, she reached out about doing a dinner for Snoop, and I was thinking, like, 15-20 people. She hits me with 250.
Gasp! Cooking for just 15 people scares me.
She told me she had a budget of $10K, and I said yes. Nowadays, I would never do a 250-person event for that! But at that moment, this was huge for me. Then I connected with the other people involved, who handed me like seven pounds of flower. This was old-school style—just handing me the flower that I'd need to process and cook with. I knew that because of concentrate yield, I needed less than a half-pound. I was handing out ounces to friends like crazy.
That party was the first time I felt that pressure of everyone's experience being my responsibility. It's so different from working at a restaurant and handing out plates. I was responsible for everyone having a good time—all 250 of them. (Everyone did.) Some people got smashed, which I took note of to reflect in later calculations. But Snoop was like, 'Girl, you killed that shit.'
Ok, but—what did you cook?!
I remember I did 8-10 courses: an arancini, some sort of chicken and waffle situation, a jerk jackfruit—which was interesting because of one of Bob Marley's granddaughters was there, and she was like, 'I've never had this like this before, this is outstanding!'
What would you say defines your style of infusing?
I don't like for you to taste an overpowering taste of cannabis in my food. I want it to be enjoyable and seamless. I want the flavor palette to retain its harmony with the weed—there was initially a lot of trial and error, and I worked with friends who are food scientists and dieticians until I got things down. I time my courses according to how the cannabis will be digested: the sugar content, the level of savory, the form of the cannabis concentrate. There's a lot of math when you do shit the right way. It's chemistry. I tell people all the time how I think James Beard ought to have a category for cooking with cannabis, because this is more than molecular gastronomy.
I know I'm not supposed to fangirl. But I can't deny losing it when I saw that you catered Dave Chappelle's Summer Camp?
I've been crossing paths with Dave Chappelle for a while. Mind you—he lives in Ohio, in a little small hippie town, and I live in Ohio. His publicist first connected me way before the weed, but I was already doing craft services, back of the house, green room—things like that—so now, anything involving food, events, parties—I'm Dave's girl.
What do you love most about creating these experiences?
Being able to define how I want my life to look and feel is really most important to me in regards to my daughters—showing them how to carve out their own destiny. I want them to know you don't have to be held to a certain set of guidelines—do your own thing. If you do it right, people will pay you for it. I want to have an impact on this world, while maintaining being a humble and honest person. I always tell my kids, 'Don't forget, do not tell my grandbabies that I was a drug dealer. Explain this whole story to them!'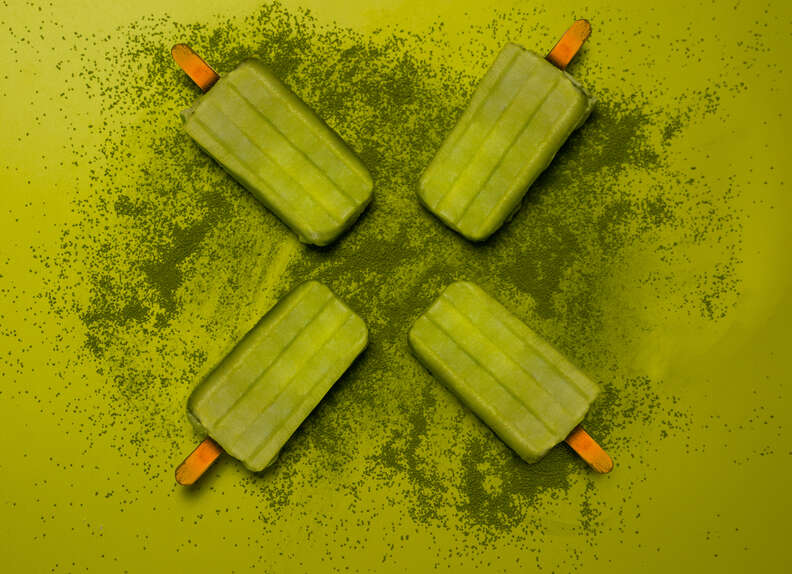 Coconut Matcha Ice Pops Recipe
A collaboration between PAX Era Life and Chef Nikki
Yield: 10
Ingredients:
2 cups unsweetened vanilla oat milk

2 cups solid white coconut cream

2 ripe avocado (peeled and chopped)

½ cup agave

1 Tablespoon matcha powder

2 teaspoons vanilla bean paste or vanilla protein powder

Kiwi slices (optional)
Directions:
In a blender, puree all ingredients until smooth. Pour the mixture into your popsicle molds and insert ice-pop sticks. Freeze for at least 4-6 hours (overnight is ideal).
Lauren Yoshiko is a freelance writer and editor based in Portland, Oregon. She writes The Broccoli Report, a bi-weekly newsletter for creative cannabis entrepreneurs
.