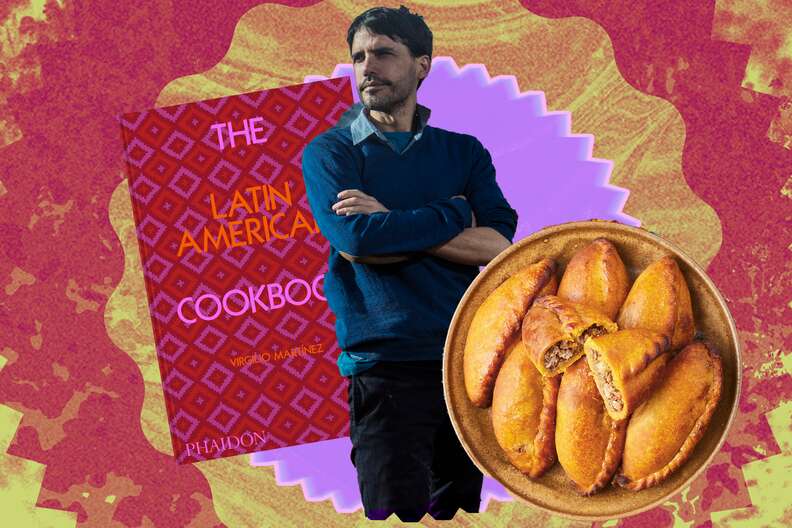 Design by Chineme Elobuike for Thrillist
Design by Chineme Elobuike for Thrillist
When attempting to cover the entire region of Latin America in one cookbook, where do you even begin? For co-author and acclaimed chef Virgilio Martínez, he looked into his own kitchen. As the owner of Central Restaurante in Peru, Martínez says that, at one point, his kitchen represented nearly 20 different nationalities.
"Most of our chefs are coming from Paraguay, Mexico, Bolivia—so many people from our team are from different countries," he says. "We sent a massive email to those chefs, artists, writers, anthropologists, and farmers. We were surprised how much people were interested in sharing their own culture."
The result of those conversations and extensive travel research is the monumental Latin American Cookbook, out November 24, which is encyclopedic in scope thanks to Martínez, his co-author Nicholas Gill, and the hundreds of cooks and sources they consulted. The book includes a whopping 600 recipes, spans 22 countries, and aims to give the region's cuisine some overdue recognition.
"There hasn't been much room for Latin American cuisine and we don't have the same visibility as France or Italy," Martínez says. "To understand the deep soul of this cuisine is to understand 500 years of fusion and agriculture. The sources of so many ingredients come from the South American region. The first tomato, the original tomato, came from the Andes."
The book focuses on the myriad influences you see in Latin food, zeroing in on the importance of Indigenous communities during pre-colonization through European occupation. These are dishes you would see while you have feet on the ground, ones that use local ingredients and respect cultural roots.
Martínez knows from his experience as the managing director of Mater, which catalogs ingredients and their origins. His research for the book had him eating pirarucu com açaí on the banks of the Amazon in Belém, Brazil and soothing bowls of caldo de costilla in the cold winter of Bogotá, Colombia. So much of the book digs deep into the roots of the cuisine, which has been misunderstood for quite some time.
"To understand the deep soul of this cuisine is to understand 500 years of fusion and agriculture."
"The way the world conceptualized Latin American cuisine, the wrong recipes were sent to the world—more heavy and fatty cuisine," Martínez says. "But there is an amazing variety of healthy food, from different grains like quinoa to fruits and vegetables. This is a demanding cuisine that makes you go to the farmers' market and think more about the natural world around you."
Because of the vast geography covered in The Latin American Cookbook, one dish might go by different names, depending where you are. Corn masa steamed in a corn husk is referred to differently in Brazil, Peru, and Mexico, for example. No dish exemplifies this more than the empanada.
"If you look at empanadas, they could be our pizza," he says. "You see them everywhere, different styles, fillings, and ways to make the dough. You'll see one version in Chile, another over the border in Argentina. Even a few miles can make a big difference."
Martínez points out a recipe for Bolivian-style turnovers, or salteñas. Though the name refers to the Argentine city of Salta, the baked empanada has origins in Bolivia, when a writer introduced them to a new culture after being exiled in the 19th century. The sardine and veal ragu filling and llajua hot sauce is very Bolivian, while the repulgue (or seam) on the side of the turnover is more common in Argentina.
"We wanted to go further than just a home cookbook—we want to give you a sense of place," Martínez says. "Obviously, you will see how big Latin America is, how vast and diverse the recipes are. You'll not only gain a knowledge of ingredients, but also a sense of history."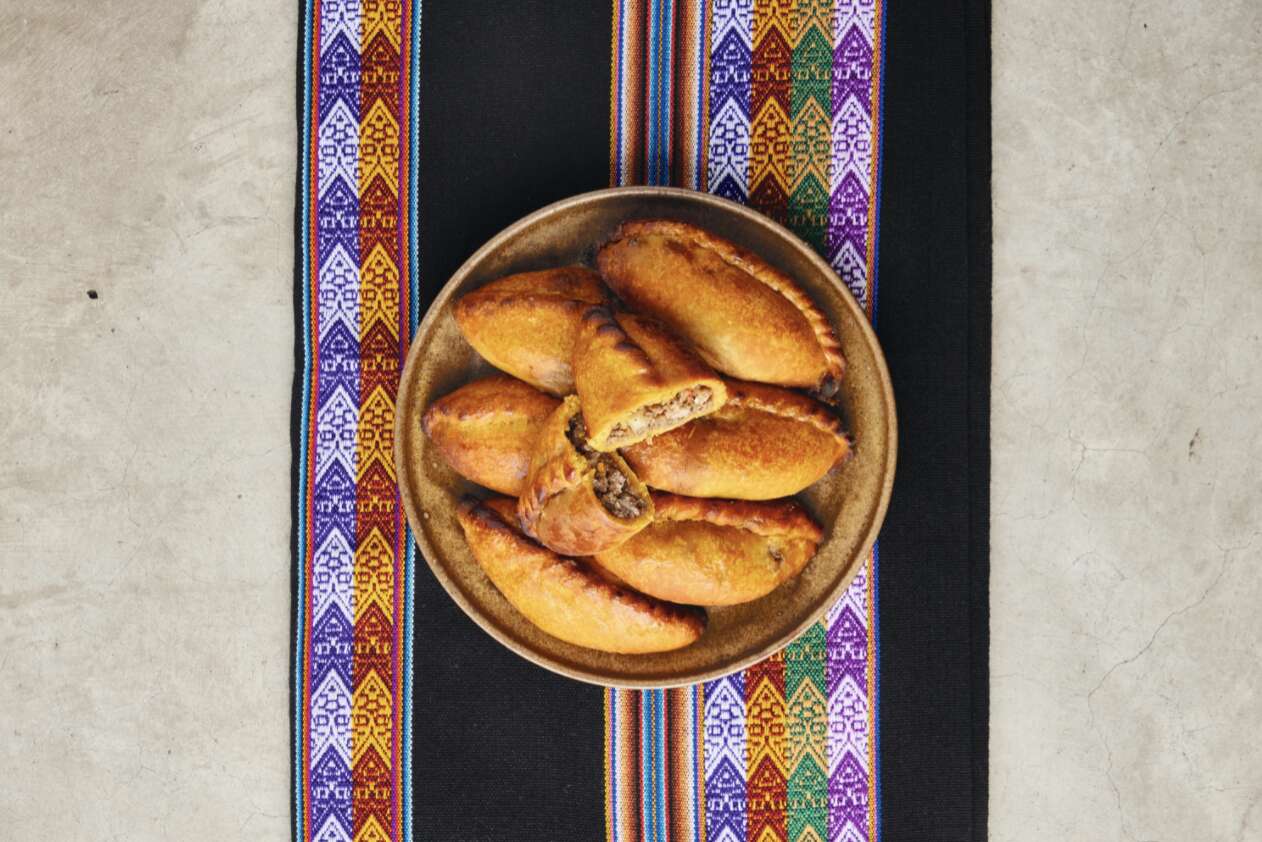 Bolivian-Style Turnovers
Yield: 12
Prep time: 20 minutes
Cooking time: 15 minutes
Ingredients:
For the dough
5 cups all-purpose (plain) flour, plus extra for dusting
2 tablespoons sugar
1 cup melted butter
2 egg yolks
½ cup warm water with 1/2 tablespoon
salt added
1 whole egg, beaten, to glaze
For the filling
½ cup melted lard
2 white onions, chopped
1 fresh ají amarillo, chopped
1 pound ground (minced) beef (or use shredded chicken)
5 cups beef stock
1 gelatin leaf, soaked in ice-cold water
3 tablespoons parsley, chopped
6 peeled and boiled potatoes, cut in small cubes
1 cup cooked peas
1 tablespoon ají amarillo paste
salt and ground pepper
Directions:
1. Heat the lard for the filling in a large frying pan until very hot. Sauté the onions and fresh chile for 8 minutes or until soft and brown.
2. Add the beef, cook for 4 minutes then pour in the stock with the squeezed-out gelatin and let it simmer for about 35 minutes.
3. Add the parsley and season with salt and pepper, then remove from the heat.
4. Add the potatoes and peas and place in the refrigerator until needed.
5. For the dough, mix the flour and sugar in a bowl. Add the melted butter and mix with a wooden spoon until the dough is broken. Add the egg yolks and slowly stir in the warm, salted water.
6. Knead into a soft and uniform dough with your hands, then place on a floured surface and roll it out with a rolling pin to a thin sheet, about ⅛-inch thick.
7. Preheat the oven to 350°F. Using a 4½ -inch round cutter, stamp out discs from the dough and place on a lined baking sheet.
8. Place a full tablespoon of the filling in the middle of each disc. Using your finger, wet the edges of the disc with water, and fold the empanadas in half to seal.
9. Brush with beaten egg and bake for 15 minutes or until golden brown.
Adapted/reprinted from The Latin American Cookbook by Virgilio Martínez © 2021 Phaidon Press