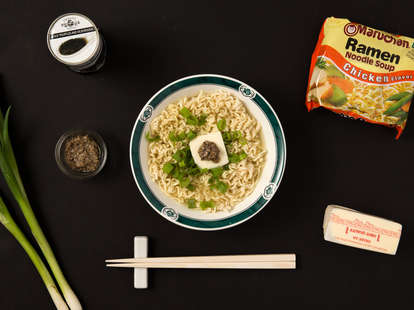 Cole Saladino/Thrillist
Cole Saladino/Thrillist
When untrained cooks are in a hurry they usually settle for a rock-bottom meal like a handful of tortilla chips chased with a spoon of peanut butter. But culinary professionals know how to turn 10 minutes into a plate worth Instagramming.
To learn how the pros eat when they don't have time at their disposal, we asked chefs around the country to tell us their favorite quick meals. Some meals are as simple as cheese on bread, others -- like curry in a hurry -- are admittedly more ambitious, but each one should take fewer than 600 seconds and keep you satiated for thousands more.
Italian-style tuna melt
"Whenever I'm in a time crunch, I love to throw together an Italian-style tuna melt, made with olive oil, cucumber, and red onion with melted fontina. I'll warm it all up in the toaster, and then top with tomato if it's in season." -- Jimmy Bradley, chef/owner at The Red Cat (New York, NY)

Deli roll-up
"I always have deli meats on hand, usually a good fancy turkey breast slice, so I'll make a big old white-trash sandwich. Take turkey, sliced cheese, and mustard, roll it up, and I'm out the door. You don't even need bread." -- Kevin Meehan, Kali Dining (Los Angeles, CA)

Fish on bread
"I always have a few tins of preserved fish in my pantry, like smoked oysters or sardines in piquillo peppers. I'll crack a tin of sardines, or something similar, heat it on low temp, then add harissa and a squeeze of lemon juice. Park it next to a wedge of sourdough and dinner is made." -- Robert Stauning, Gran Electrica (Brooklyn, NY)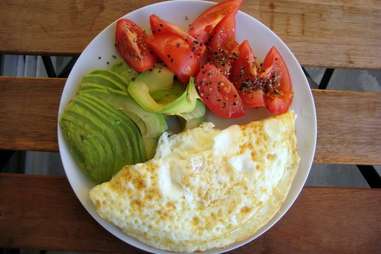 Omelets
"I like to make omelets when I'm in a hurry because you can easily throw in whatever ingredients you have on hand and still have a delicious meal. My favorite 10-minute omelets usually include burrata, arugula, fresh lemon, and smoked paprika. -- Jesse Schenker, The Gander and Recette (New York , NY)

Mushrooms and eggs
"I sauté mushrooms (I prefer trumpet royal) and sauté them with garlic, chili peppers, parsley, and olive oil, then crack a couple of eggs over them once the mushrooms are tender, then cover and steam." -- Tony Mantuano, Spiaggia (Chicago, IL)

Deluxe avocado
"If I only have 10 minutes, which is a lot of the time, I scoop an entire avocado into a bowl with fresh pineapple, cilantro, lemon juice, coconut oil, honey, and ancho-roasted pumpkin seeds, which I always keep a stash of for myself." -- Bethany DiBaggio, chef de cuisine at The Peached Tortilla (Austin, TX)
Truffle ramen
"When I only have 10 minutes, I make truffle spaghetti with mushroom chicken-flavored instant ramen noodles, Parmesan, butter, and canned truffles." -- Chris Jaeckle, Uma Temakeria at Gotham West Market (New York, NY)

Cheese and bread
"When I am pressed for time and need a quick meal that's a no-brainer, I go for cheese and bread! I always have at least seven different kinds of cheese in my fridge at all times, so I'll grab the best bread I have on hand and butter up one side before throwing it onto a hot cast-iron skillet. Then I choose a couple different kinds of cheese and place them on top of the bread with a dash of hot sauce and put the whole thing under a broiler to melt it all together (feel free to throw some sliced turkey or meat on there too if you have it). The result is a melty, toasty, open-faced sandwich that I can easily eat on the go... or while holding my newborn in one arm." -- Ted Hopson, executive chef at The Bellwether (Studio City, CA)
Cacio e pepe
"It's the best lazy dish and everyone always freaks out when they have it for the first time. It's so easy, but you have to nail it!" -- Robert Andreozzi, Pizzeria Locale Boulder (Boulder, CO)

Breakfast risotto
"One of my favorite quick meals is something I call breakfast risotto. I use quick-cooking steel-cut oatmeal and stir in greens, like kale, chard, or spinach, and a smashed clove of garlic. I stir until the oatmeal is cooked. While that cooks, I poach (or fry) two eggs and place that on top of the savory oatmeal, then top it with sliced green onions and hot sauce." -- Adam Gertler, würstmacher/sausage-maker at Dog Haus (multiple locations in CA, CO, AZ, UT, and NV)

Waffle House breakfast
"I keep the ingredients on hand to make a basic Waffle House-esque breakfast at home on the fly. Scrambled eggs, American cheese slice, shredded hash brown potatoes, a second American cheese slice, pickled jalapeños, chunked ham, questionable generic restaurant-style jar of salsa, and Tabasco. I can pull out a nonstick pan and my cast-iron and throw that meal together in 10 minutes flat. Down it in two minutes and all is good in the world." -- Jonathan Searle, Lockbox at 21c Museum Hotel Lexington (Lexington, KY)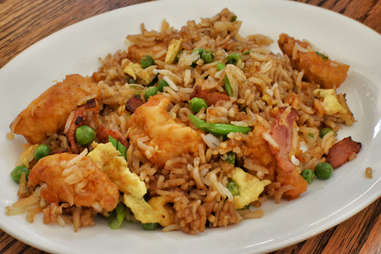 Fried rice
"Typically I'll have leftover rice, and then I'll make different types of fried rice at home. I always use eggs (scrambled separately), leftover onions or green onions, garlic, bacon, and then mushrooms, shrimp, or corn. I flavor the fried rice with oyster sauce and a little bit of shrimp paste." -- Eric Silverstein, owner at The Peached Tortilla (Austin, TX)

Quick Thai curry
"I always have Thai curry paste and miso in my house. I add those ingredients to frozen veggies to make a quick Thai curry along with chicken stock and coconut milk, and boom! Miso paste is always a go-to for an instant soup whether it's a chicken noodle soup or miso with soy and ginger. -- Timon Balloo, executive chef/partner at SUGARCANE raw bar grill (Miami, FL)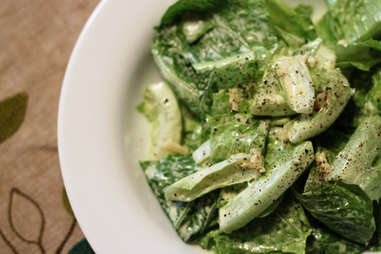 White fish Caesar
"Smash up those anchovies, lemon, garlic, and capers into a paste with olive oil, rub over fish, and broil until crispy. Serve with fresh-squeezed lemon and some lettuce." -- Jedd Adair, executive chef at McGuire Moorman Hospitality (Austin, TX)

BLT hot dogs and nachos
"When I'm in a time crunch and super hungry, I love to make my sons' favorite: BLT hot dogs. It's a Fry family tradition. I'll wrap hot dogs in a strip of bacon, grill them, and then serve in a toasted bun spread with mayo, and top with diced tomato and shredded lettuce. Another favorite is nachos! I like using thick tortilla chips, leftover refried beans, cheese, good smoky bacon, and jalapeño-pickled carrots." -- Ford Fry, The Optimist and many more (Atlanta, GA and Houston, TX)
Sign up here for our daily Thrillist email, and get your fix of the best in food/drink/fun.
Dan Gentile is a staff writer at Thrillist. When he only has 10 minutes, he eats a granola bar. Follow him to getting his life together at @Dannosphere.