Chefs Tell Us Their Favorite 5-Ingredient Recipes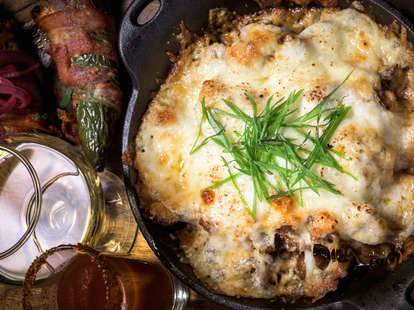 Juanmonino/E+/Getty Images
Juanmonino/E+/Getty Images
One of the great things about cooking is that every dish has infinite possibilities, but that doesn't mean it takes a pantry the size of a Trader Joe's to prepare something delicious. Especially for the home cook, simple is usually the best route.
We asked a group of chefs to give us their favorite recipes that only use a handful of ingredients (literally, five ingredients). Read on to learn crazy-easy approaches to impressive dishes like enfrijoladas and pad krapow.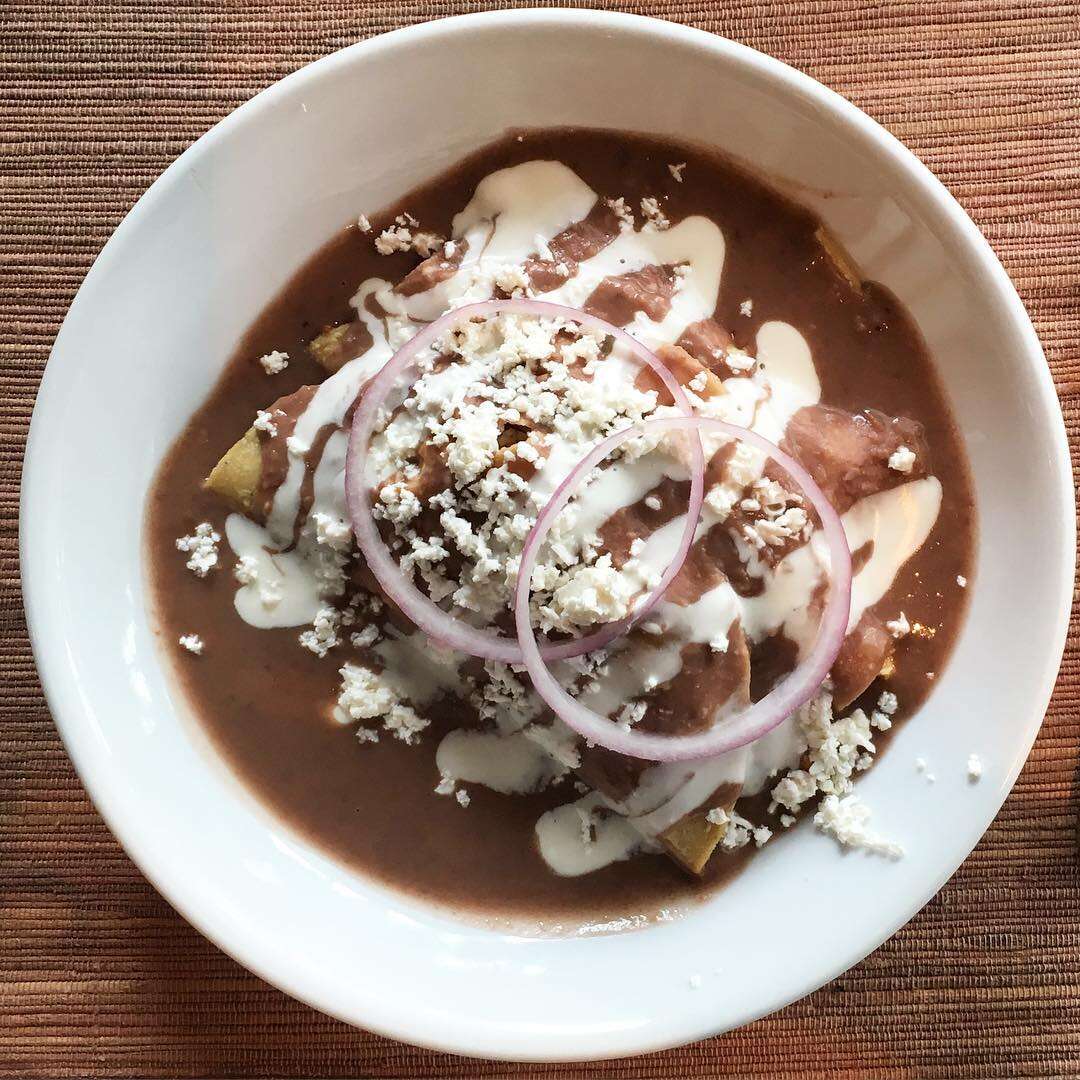 Enfrijoladas
Small tub of ricotta
Black bean mole
Yellow corn tortillas
Diced avocado
Picked cilantro leaves

"The black bean mole I usually make is made up of black beans, chiles, grilled tomatoes, and onions. It's a pretty involved recipe, but using prepared refried beans or store-bought mole also works for those making this recipe at home. I lightly fry the yellow corn tortillas to make them pliable, then fill with ricotta and some salt. Fold the tortillas over to make little quesadillas and grill them in a pan to make them crispy. Heat up the mole in a small pan and spoon it onto the center of the plate, then place the quesadillas on top of the mole and garnish with one more spoonful of ricotta and cilantro leaves." -- Rick Lopez, executive chef at La Condesa (Austin, TX)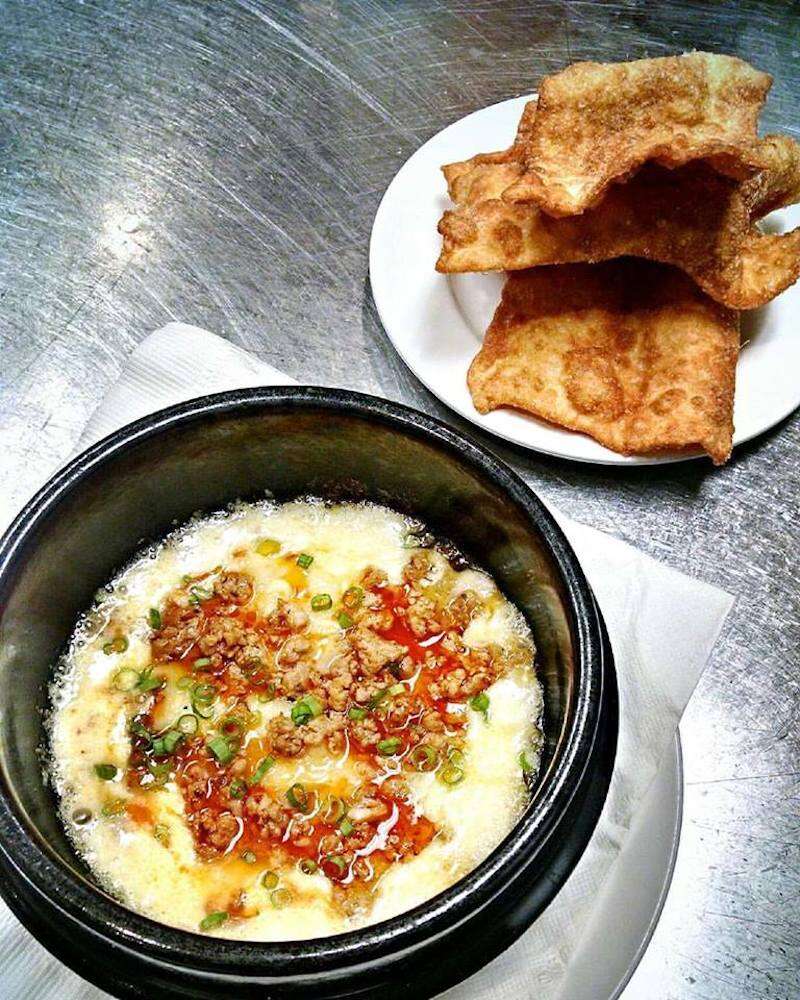 Queso fundido
2 ounces Havarti
2 ounces fontina
1 ounce aged white cheddar
Beer
Chorizo

"One dish that is doing well at The Hightower right now is our queso fundido. We do a mix of 2 ounces fontina, 2 ounces Havarti, and 1 ounce of aged white cheddar. First we heat the bowl in a 350-degree oven for about 10 minutes. Add 1 ounce of beer [the chef recommends Austin Beerworks Fire Eagle] to the preheated bowl, place the cheese mixture in the bowl, and heat for about four minutes until the cheese is melted. We make a sausage in-house that is a fairly mild version of a Spanish chorizo, but any version you pick up at a grocery store will work fine, just add about 1.5 ounces. Serve with tortillas or chips. -- Chad Dolezal, chef/owner at The Hightower (Austin, TX)
Gremolata
One head of celery, heart removed
One bunch parsley leaves, fine chiffonade
2 ounces horseradish on microplane, to taste
1 ounce olive oil
One whole pomegranate, seeded

"Mix above together and hold as relish for garnish or part of the plate. Add salt and pepper to taste. It has a huge impact on flavor and goes well with most roasted vegetables and meats." -- John Brand, chef at Supper at Hotel Emma (San Antonio, TX)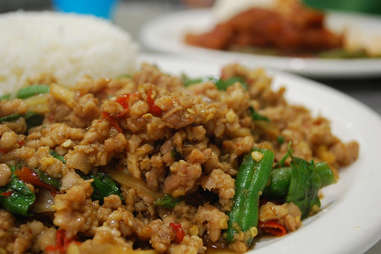 Pad krapow
Thai basil
Garlic
Chiles
Fish sauce
Ground pork

"One of my favorite five-ingredient recipes is pad krapow, which we eat all the time at our house. It's fast and delicious and contains Thai basil, garlic, chiles, fish sauce, and ground pork. A simple stir-fry served with jasmine rice. Easy peasy." -- Damien Brockway, executive chef at Counter 3. FIVE. VII (Austin, TX)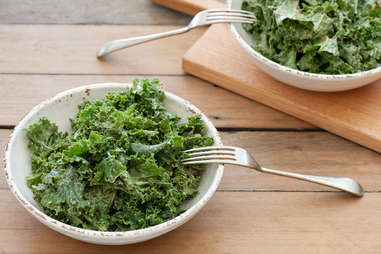 Simple kale salad
Shredded kale
Salt
Olive oil
Lemon juice
Toasted nuts

"My go-to five-ingredient recipe is a simple kale salad. It involves 4 cups shredded kale seasoned with ½ teaspoon salt, and dressed with a vinaigrette made with equal parts olive oil and lemon juice. I finish it with toasted nuts for texture, I prefer almonds or pine nuts." -- Chandra Gilbert, executive chef at Gracias Madre (Los Angeles, CA)
Salsa
Tomatoes
Serranos
Garlic
Lime juice
Salt

"One of my go-to five-ingredient recipes has to be salsa. All you need are fresh tomatoes, serrano chilies, garlic, lime juice, and salt. I boil the chilies and tomato for five minutes in water and then throw everything else in the blender with the chilies and tomato and pulse. Finish off with fresh lime juice and salt. Grab a bag of tortilla chips and you're set. -- Scott Kaplan, executive chef at CANTINE Italian Café & Bar (Austin, TX)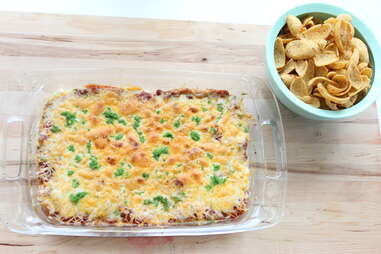 Datil pepper bean dip
Hot sauce
Fritos
Cream cheese
Shredded cheddar cheese
Refried beans
Prepared chili

"Spread cream cheese evenly on the bottom of the pan, layer beans on top, then drizzle on hot sauce, pour on chiles, cover with shredded cheese, and bake uncovered at 350 for 20 minutes or until bubbly. What makes my version different from typical bean dips is using datil pepper sauce. It's a relatively unknown pepper similar to a habanero but with a spicy-sweet kick and unmatched flavor, first introduced to Florida from the Caribbean by Spanish explorers almost 500 years ago. Today, this pepper is still grown by St. Augustine farmers and Firehouse Subs is the world's largest user of datil peppers." -- ​Captain Sorensen, Firehouse Subs (Jacksonville, FL)
Sign up here for our daily Thrillist email, and get your fix of the best in food/drink/fun.
Dan Gentile is a staff writer at Thrillist. His favorite five-ingredient recipe requires a telephone, a pizza delivery man, red pepper, Parmesan, and pizza. Follow him to slices on slices at @Dannosphere.