22 Chefs Tell Us What They'd Eat Every Day if They Could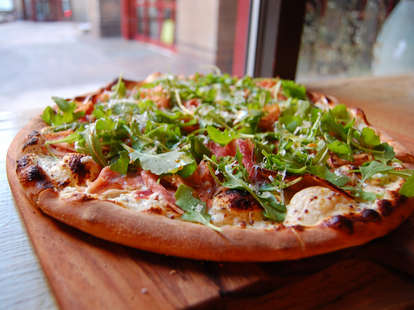 Courtesy of The Salty Pig, Boston
Take a quick break from playing "Would You Rather...", "F***, Marry, Kill", and "F***, Marry, Kill: Coworkers Edition", and ask yourself a more fulfilling question: If you could have one meal every single day for the rest of your life, where would it be from, and what would it be? We popped that very question to 22 chefs from across America (and Tijuana). Feast on their favorites, then add yours to the comments.
Dish: The nduja from Cypress, Charleston, SC
Boden, whose own restaurant has been widely hailed as one of the best new restaurants in the South, tells us that Cypress's Craig Deihl "makes the best f***ing charcuterie in the U.S. by far. If I could sit at the bar and eat anything that they make I would. My favorite though is the nduja. I've eaten my fair share of it and I can never seem to get enough."
Chef Wylie Dufresne, Alder, NYC
Dish: Fried Chicken Hash at The Hummingbird, Fairfax, CA
The guy who as much as anyone made molecular gastronomy a thing keeps things simple when he's way out west, with this filling off-menu day-starter. "You have to eat breakfast everyday so why not have it be two eggs with fried chicken hash?! The perfect meal."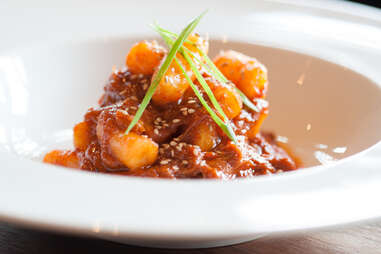 Dish: Korean Braised Goat & Dumplings from Underbelly, Houston
Lee, a three-time James Beard finalist who once said "I never met a bourbon I didn't like" (cheers!), is also a die-hard fan of chef Chris Shepherd's menu, which draws from Houston's many unexpected (to people who aren't from Houston) culinary subcultures. With his braised goat, Lee says Shepherd "transforms a traditional Korean dish into a one-of-a-kind portrait of comfort food with a Southern soul. It speaks to my heart, to my mind and to the part of me that loves the torrent of spice that builds with every bite."
Dish: Shrimp & Grits from The City Grocery, Oxford, MS
"The dish reminds me of great times at college," says the Texas-born, London-trained Robertson. "It's simple yet hits all flavors just right -- sweet, spicy, sour, buttery. It also goes great with a ice cold beer!!" (Editor's Note: everything in Oxford goes great with cold beer, but Shrimp & Grits goes greatest.)
Dish: A Zep from Lou's or Eve's in Norristown, PA
Chef Macrina got his CIA degree the same year America celebrated her Bicentennial, and of all the culinary delights he's experienced since then, this sandwich remains his ultimate meal: a large loaf of crusty Italian bread, with cooked salami, provolone, hand-cut onions & tomato slices, and oregano oil, brought to Norristown straight from Sicily. Lou's is in the old Italian neighborhood, while Eve's is on Johnson Highway, but since you're in Norristown anyway, why not attempt to eat both and then go down like a lead zeppelin.
Dish: Polipo from Marea, NYC
To get Mali hooked for all eternity, all Michael White needed to do to his octopus was add lemon, chili, and parsley. Oh, and prepare those four ingredients better than anyone else in the known universe. "The octopus is cooked perfectly to where there is texture, but it's tender. The combination of ingredients is so simple, but so well done."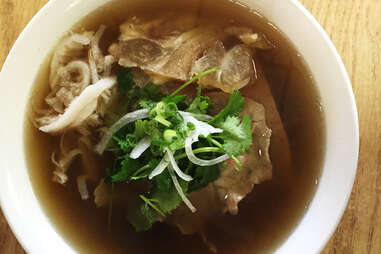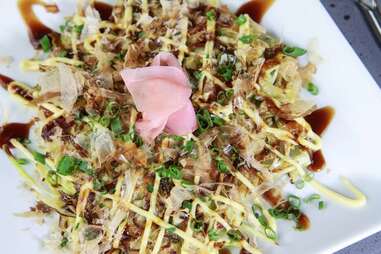 Dish: Okonomiyaki from Posh, Scottsdale, AZ
A savory vegetable pancake made of shrimp & bacon topped with BBQ sauce, kewpie mayo and bonito flakes, this item's only available during Posh's "Tuesday Ramen Night" -- at least in the real world, but we're not living in the real world right now. Says Archibald: "It's the ultimate in comfort, texture and flavor explosion." Spoken like a true native Phoenician! (That's what they call people from Phoenix -- who knew?)

Executive Chef Brian Zenner, Oak, Dallas
Dish: Ramen w/ Pork Belly from Tei-An, Dallas
"I could eat Tei-An's ramen with pork belly for lunch every day," raves the rising Big D star Zenner. "Noodles, pork, egg, chili, and the best tonkotsu broth ever… everything a growing boy needs. I dream of it!" Dear everyone trying to get past having weird dreams about your mother: go eat at Tei-An.

Dish: Tom Yum Soup from Saffron, San Diego
Several years into his mission to revitalize Tijuana's dining scene, Plascensia here throws some love to the city where he received his culinary education. "I never get tired of the spicy Tom Yum. It satisfies my soul! Soup gets me charged for whatever I'm doing. It's what I always crave when tired, sick, hungover or just very hungry."
Executive Pastry Chef Brian Mercury, Harvest, Cambridge, MA
Dish: Spicy Coconut Curried Goat Stew from Highland Kitchen, Somerville, MA
"This is one of those things you dream about," says Harvest's dessert maestro, seconding the psyche-infiltrating power of really good food. "It's very spicy, flavorful, and addicting. Once you get numb from the spice you just can't put down your spoon."
Dish: Canestri with Neck Bone Gravy from Formento's, Chicago
"If I were allowed to eat one thing each day for the remainder of my life it would have to be Chef Tony Quartaro's Sunday Gravy," says Pandel, who refined his palate under heavyweight mentors Rick Tramonto and Andrew Carmellini, and who is absolutely not precluded from nominating this dish just because it's traditionally only served on the Lord's Day. "The rich meat laced tomato sauce, a dab of ricotta cheese, and a side of Italian sausage and braised pork is one of the most satisfying dishes in existence."

Dish: Secreto de Iberico from Jaleo, Las Vegas
If given powers more magical than the ones he already possesses, the Chopped star would feast daily on this acorn-fed pork shoulder steak cooked over a wood-fire and served with pan con tomate, another one of his favorite things. "This pork steak is unlike any piece of pork you've ever tried. It's crisp on the outside, juicy and tender in the middle, and every succulent bite has this incredible hint of bacon flavor that is simply out of this world."
Dish: Tavern Meatloaf from 1770 House, The Hamptons, NY
"I would eat The Tavern Meatloaf at 1770 House in East Hampton on a daily basis if I were only so lucky," says Chef Dacey, whose Revenge fan status is unknown. "So many years working in restaurants, and at the end of the day this dish fits exactly what I'm always looking for: simplicity, substance, and most importantly, flavor."
Dish: Cheddar Jalapeño Bread from Grateful Bread, Golden, CO
"I could snack on that every day till I die," says Redzikowski, who trained everywhere from Healdsburg, CA to New York City's Jean-Georges and Le Cirque. Grateful Bread uses only aged Tillamook Extra Sharp cheddar even though it's not available commercially and therefore totally impractical (many bakeries use inexpensive cheese mixed with powder), so they mainly roll out this bread for special occasions and holidays -- any time they do, it's worth the long, strange trip to Golden.
Dish: Venison Ceviche from Dai Due, Austin
A nominee for Food & Wine's "People's Best New Chef: Southwest," Wiseheart's heart aches for this stunning example of Hill Country fusion "because it rocks my world. Raw venison, treated like ceviche, cured in citrus. Perfection."

Dish: Roasted Pork Shoulder from Lers Ros Thai, San Francisco
Hung was actually credited as a menu chef on Ratatouille, but this dish sounds even more fantastical than a talking, gourmet rodent: "They take the top half of the shoulder, which is fatty and has a lot of connective tissue, marinate it in some mysteriously delicious aromatics, and then slow roast it. It is served sliced with a vinaigrette of fish sauce, chili peppers, and crushed rice powder. The acidity, porkiness, smoke, and funk all meld together in so complex and delicious a way that I'd hoard the last few pieces from my mother."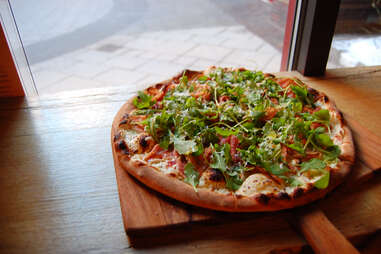 Dish: The Salty Pig Pizza from The Salty Pig, Boston, MA
"It's genius what they do with that pizza," says Williams, whose inaugural 2014 Doughnut Throwdown might also qualify him as a genius (seriously, do that again). "The charcuterie at the Pig alone is worth going for. Then they take the scrap parts and random parts and put it on an amazing pizza. They figured out a way to make the scraps a star."

Dish: Uni with quail egg and wasabi from Isakaya Seki, Washington DC
Leeds was once sent by Danny Meyer to train in someplace called "Grenade Sur L'Adour," but for her pick she's staying right in DC, at the Izakaya where co-owner Hiroshi Seki states his position as "Owner-Chef and Man Behind the Counter." Of that Uni, she says, "I never tire of the taste of earthy ocean flavor. Creamy and sexy in the mouth, the pop of heat from the wasabi gives it another element."

Dish: Any kind of boudin from Billy's Boudin and Cracklin, Scott, LA
After Jazz Fest, the "Brisket King of NYC" heads to the Atchafalaya Bayou to "trap crawfish, shoot gators, book our mythical band The Easy Keys for gigs in the most no-name dive bars you could ever imagine", and feast in Billy's parking lot (they have no tables). If he could, he'd Bubba Blue all their boudin every day -- "smoked boudin, blood boudin, boudin balls, even some boudin egg rolls & Cracklin if you have nothing to lose" -- but he wouldn't eat the casing, because nobody eats the casing.

Dish: Kalbi Ribs from Soyo, Las Vegas
"The sweet and salty kalbi marinade has an in-your-face garlicky flavor that will leave you with garlic breath and burps long after you eat it," says the man in charge of pre-shenanigans fine dining at the Cosmopolitan. Sometimes what happens in Vegas is still detectable to your aisle-mates on the airplane leaving Vegas.