Chefs' Favorite Go-To Pasta Recipes to Cook at Home
It doesn't matter if you're a top chef or a Top Chef viewer -- there's nothing more satisfying than a steaming-hot bowl of pasta at the end of a long day. And while there's a lot that separates us regular, cud-chewing plebes from the elite realm of executive chefs, at least we can steal their super-easy pasta recipes (and their favorite five-ingredient recipes... and their favorite 10-minute meals!) and pretend, for just a moment, that Padma Lakshmi is sipping white wine in the next room, eager to sample our latest culinary creation.
And take note: if any of these recipes look a little complicated, soldier on -- they're really not all that complex! And hey, if a cartoon rat can run a successful restaurant, you can whip up some linguini with clams.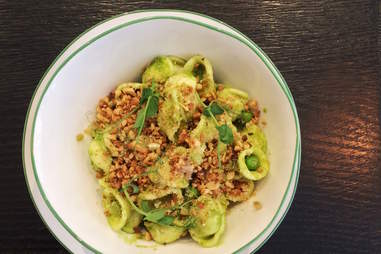 Courtesy of Chef Rachael Polhill
Orecchiette with fresh pesto
"At the moment, in spring I would say pasta with green pesto is my go-to. In early spring it was orecchiette with ramps when they were in the height of season, now it's kale pesto, peas, and hazelnuts. I love utilizing seasonal ingredients in my pasta dishes and this is perfect for this time of year because it's full of flavor, vibrant, and light; not too heavy." -- Rachel Polhill, head chef at Dante, New York, NY
Total Time: 30 minutes
Yield: 4 servings
INGREDIENTS:
1 box dried orecchiette
¾ cup baby kale
⅓ cup hazelnuts
⅓ cup Parmesan cheese, grated
Juice of 2 lemons
¾ cup olive oil
1 clove garlic
Chopped hazelnuts (for serving)
Toasted breadcrumbs (for serving)
DIRECTIONS:
1. Put all ingredients in the blender on high speed until smooth.
2. Cook the pasta; throw in some peas a minute before it's done and drain.
3. Add some of the pesto to the pasta and mix it through.
4. Finish with chopped hazelnuts, toasted breadcrumbs, and more Parmesan cheese.
Baked spaghetti with ground beef and sweet tomato-garlic sauce
"My mom has influenced me so much as a cook and a chef and the thing that sticks out to me the most is her spaghetti. Growing up, my sister and I would play 'restaurant' and cook dinner for our parents, and the entrée would always be spaghetti! Now, I like making spaghetti on my days off because it's simple -- no thinking, just good eating. The last thing most chefs want to do on their seldom days off is cook a four-course meal." -- Cedric Harden, executive chef at III Forks Prime Steakhouse, Chicago, IL
Total Time: 1 hour
Yield: 8-10 servings
INGREDIENTS:
1 pound dried spaghetti
1 pound ground beef
1 onion, diced
¼ cup dried herbes de Provence
1 jar fire-roasted tomato and garlic sauce (store-bought)
2 tablespoons chili powder
2 tablespoons garlic powder
1 cup BBQ sauce (store-bought)
¼ cup brown sugar
Vegetable oil as needed
3 tablespoons salt
2 tablespoons pepper
DIRECTIONS:

1. In a 6-quart pot, bring water to a boil. Season with salt.
2. Drop pasta in and cook for 7-8 mins or until al dente; strain and reserve.
3. In a large sauté pan, heat a finger of oil to med-high flame.
4. When oil is hot, add ground beef, chili powder, garlic powder, onions, salt, and pepper.
5. Cook until the beef is cooked through.
6. Add the tomato sauce, BBQ sauce, brown sugar, and herbes de Provence to the ground beef and bring to a simmer.
7. While waiting for the sauce, add the pasta back into the 6-quart pot.
8. Once the sauce is hot, add to pasta and mix well.
9. Preheat oven to 350 degrees.
10. Transfer spaghetti to a 9x13 pan, cover with foil, and bake for 30 mins.
11. Cool slightly and serve.
Fresh pasta with cherry tomatoes and Parmesan
"This easy-to-prepare pasta dish was on the opening menu of my restaurant and consists of three simple ingredients -- cherry tomatoes, Parmesan cheese, and pasta. It's one of my favorite dishes to make at home because all I need to do is bring home a portion of fresh pasta, pick a handful of cherry tomatoes from the tomato plant in my home garden, and I can have everything ready in five minutes." -- Stephen Hasson, executive chef/owner at Ugo's, Chicago, IL
Total Time: 15-20 minutes
Yield: 1-2 servings
INGREDIENTS:
12-18 cherry tomatoes
3-4 ounces fresh pasta
¼ cup Parmesan
Extra-virgin olive oil
½ tablespoon butter
Salt and pepper to taste
Fresh basil (optional)
DIRECTIONS:
1. Blend ¾ of the cherry tomatoes in a blender or food processor; strain and discard the pulp, reserving the remaining tomato water.
2. Season the tomato water with salt and pepper and set aside.
3. Add a drizzle of olive oil and the remaining ¼ of cherry tomatoes to a hot pan and char.
4. Cook pasta for 2 minutes or until al dente; drain and add to the pan with charred tomatoes and olive oil.
5. Remove the pan from heat. Toss the pasta with the reserved tomato water, then add the butter and toss to coat. 
6. Garnish with shaved Parmesan and optional fresh basil. Eat. Enjoy with a glass of white wine.
Spaghetti alla carbonara
"I seriously love this dish and it's so easy to make -- it only requires seven basic ingredients that most people already have in their kitchen. You can use store-bought spaghetti and the 'good' part of the Parmesan, and I promise you will not be disappointed!" -- Fabio Viviani, celebrity chef & partner, Dine|Amic Group
Total Time: 30-40 minutes
Yield: 4 servings
INGREDIENTS:
1 tablespoon butter, softened
⅔ pound bacon or pancetta, diced
8 egg yolks
¼ cup heavy cream
Plenty of freshly cracked black pepper
1 pound spaghetti
1 cup grated Parmesan cheese
DIRECTIONS:
1. Put the butter and the bacon or pancetta in a large, heavy skillet over medium
heat and cook until crisp and browned (about 10 minutes).
2. Transfer the meat to a plate, wipe out the pan, and place it back on the burner.
3. In a bowl big enough to hold all the pasta, whisk together the egg yolks, cream, and black pepper.
4. Cook the spaghetti in a large pot of unsalted boiling water over high heat until just cooked (about 10 minutes). Reserve 1 cup of the pasta water, then drain the spaghetti.
5. Transfer the spaghetti to the skillet over medium heat, add the pancetta, and cook for 2 to 3 minutes.
6. Add the hot pasta to the egg yolk mixture and toss until thoroughly coated.
7. Add the Parmesan to the pasta and toss to coat, stirring in some of the reserved cooking water to loosen the sauce and make everything creamy. Serve immediately.
Yellowfin tuna spaghetti
"This is easily one of my favorite summer pasta dishes. It's easy, cool, and light and perfect for any time of day, and it also allows me to take advantage of the ultra-fresh fish Key West enjoys year-round." -- Andrew Nguyen, chef/owner at Tempt at The Saint Hotel, Key West, FL
Total Time: 20-30 minutes
Yield: 4 servings
INGREDIENTS:
1 pound dried spaghetti
6 cloves of garlic, shaved thin
12 pieces of white anchovies
3 ounces capers
1 cup fresh basil
12 ounces sushi-grade fresh yellowfin tuna, diced into ½-inch pieces
2 teaspoons crushed chili flakes
1 cup extra-virgin olive oil
Juice of 3 lemons
DIRECTIONS:
1. In large saucepan, bring water to a boil and add a pinch of salt.
2. Add pasta and cook until al dente (about 7 minutes). Strain and set aside.
3. In same saucepan, add ½ cup of EVOO and sauté shaved garlic, anchovies, capers, and chili flakes for 3-4 minutes.
4. Return cooked pasta to the sauce pan and mix gently.
5. Add raw tuna and fresh lemon juice, season with salt and pepper, and serve immediately.
Angel hair and seafood arrabbiata
"On my day off, I want something simple, fast, and flavorful and my angel hair and crab arrabiata is what I go for every time. The freshness of the seafood and basil with the chili flakes and extra-virgin olive oil really make this a go-to dish for a flavor-packed lunch or light dinner." -- Brad Miller, executive chef & partner at Ox & Son, Santa Monica, CA
Total Time: 20-30 minutes
Yield: 4 servings
INGREDIENTS:
1 pound dried angel hair
1 cup fresh basil, torn
2 tablespoons shallots, minced
2 tablespoons garlic, minced
1 cup cherry tomatoes, halved
½ cup extra-virgin olive oil
2 teaspoons red chili flakes (adjust to your heat level)
1 cup crabmeat (or sub for shrimp, mussels, clams, or scallops)
2 tablespoons Parmesan cheese
Sea salt & fresh-cracked pepper to taste
DIRECTIONS:
1. Bring a pot of salted water to a boil, then add the pasta. Cook until it's al dente (about 7 minutes).
2. While the pasta is cooking, heat ¼ cup extra-virgin olive oil in a medium saucepan.
3. Toss in the cherry tomatoes and cook until wilted.
4. Add the chili flakes, shallot, and garlic and stir until well mixed.
5. Add the pasta along with a little bit of the pasta water to prevent sticking.
6. Add the remaining ingredients, including the olive oil, and stir on the heat for 1 min.
7. Serve warm and enjoy!
Linguini with clams
"I steam fresh local clams in white wine, add garlic and shallots, and when the clams release their juice, that becomes the sauce for the pasta. I think clams and pork go hand-in-hand and I love the fat of guanciale, a bacon that's made from the jowls of the pig. To really guild the lily, finish the dish by drizzling some high-quality lemon-infused olive oil over the pasta. The real key? Keep it ingredient-driven -- with pasta there's nothing to hide behind so everything has to be good." -- James Avery, celebrity chef & partner at The Bonney Read, Asbury Park, NJ
Total Time: 35-45 minutes
Yield: 2-3 servings
INGREDIENTS:
10 ounces dried linguini
10 littleneck clams (in shells), cleaned and scrubbed
2 cups chopped clams
1 cup diced guanciale (or bacon)
2 tablespoons garlic, chopped
2 tablespoons shallots, minced
1 teaspoon chile flakes
1 cup clam juice
½ cup white wine
2 tablespoons Pernod liqueur
2 tablespoons good-quality butter
2 tablespoons parsley, chopped
2 tablespoons toasted breadcrumbs
1 tablespoon olive oil
DIRECTIONS:
1. Boil salted water in a large pot and cook pasta for 8 minutes or until al dente; strain and hold in colander.
2. Heat the oil and guanciale (or bacon) in a pan until crisp; remove meat from the pan and set aside.  
3. Add littlenecks, garlic, shallots, and chopped clams to the same pan and cook until garlic is soft (be careful not to get any color on the garlic).  
4. Add wine, Pernod, and clam juice to the pan and cook until the liquid is half reduced and the clamshells are open; remove pan from heat. 
5. Add pasta, butter, herbs, and breadcrumbs to the pan and toss. Serve with plenty of crusty bread to soak up all the delicious broth.
Sign up here for our daily Thrillist email, and get your fix of the best in food/drink/fun.
Meredith Heil
is a staff writer for Thrillist. She orders that alfredo pasta, then eats in the kitchen like she's in the mafia. More at @mereditto.