How Chef Tim Raue Went From Gangbanger to Michelin Star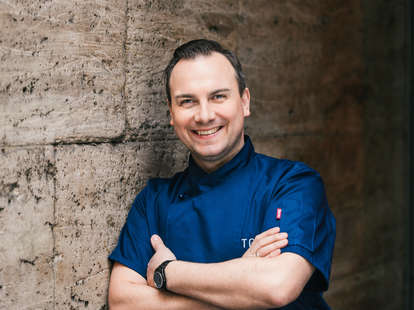 Nils Hasenau
Nils Hasenau
If you've binged your way through the newest season of Netflix's Chef's Table, you've met Tim Raue, the lauded German chef who went from gang life to fine dining. After leaving the streets, he defied all odds with explosive creativity, but also the knack for running several lucrative restaurants. For a high school dropout once told he could only be a house painter, gardener, or cook, it's a culinary story that does seem to be written in the Michelin stars.
But by no means is Raue's rags-to-riches existence a fairytale. He's the biggest badass Chef's Table has welcomed yet, and if you watched Season 3, you might recall him being painted as... difficult. The episode tees him up as being deeply unlikable -- showing him trying on a new suit, calling himself "egocentric," barking orders at staff using colorful expletives, and being described as an "arrogant bastard" by a food writer, all before the opening credits.
Walking into Raue's eponymous restaurant in Berlin, it's much more laid-back than you might expect from his fiery reputation. Walls are covered in contemporary art and a sleek open kitchen is accented next to a splash of wine-colored paint. Raue is wearing the same dark blue uniform as the others chefs, along with a pair of red Nikes (he's a serious collector of sneakers), and the only thing that really sets him apart are the piercing blue eyes darting around the kitchen and the dining tables, scanning for anomalies the way only a self-professed restaurant dictator could.
Raue's no stranger to TV -- he's appeared on several German cooking shows -- but, as he explained in an interview with Thrillist, he was more reticent when Chef's Table came calling, considering the docuseries' far reach.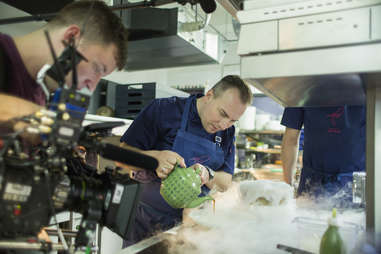 "[Chef's Table producers] contacted me and of course you don't say no," says Raue in perfect English, a vestige of years working for international luxury hotel chains. "But to be honest, they came at one of the toughest times of my life. I separate my private life from business life, and I had to show them everything. But these episodes bring tens of thousands of American customers to restaurants. What we're doing here at the end of the day is business, after all."
Putting Raue's success solely in the context of his accolades and operations -- two Michelin stars, a total 47 points on the French restaurant guide Gault Millau (including a near-perfect 19 out of 20 at his flagship), and four restaurants, to be exact -- is to water down his tale. It all starts with a little boy who was neglected by his mother and abused by his father growing up in Kreuzberg. Today the neighborhood is Berlin's hipster heart, but back then it was one of the shadiest parts along a great dividing wall.
Later as a teenager, Raue sought belonging the only way he knew how: on the playground, fighting in a vicious initiation to join a Turkish street gang. He became the only German in the 36 Boys, a crew of around 100 young guys who were tangled up in robberies, drug dealing, arson, and vandalism. The future chef didn't want to be a victim anymore, but instead came to be defined by the violence he despised of his abusive father.
"These gang guys really were like dogs pushed in a corner," he explains. "These [people] get very aggressive, and I was one of them because my father abused me. That's still the story of the power I have, because it was fucking hard but I transformed it into something nice. The dishes I create are the real me. I can showcase my feminine, fine side… but still on a roller coaster ride."
Chef's Table came knocking shortly after Raue had already decided to stop talking about his past publicly. Before filming, his grandfather died (Raue was extremely close to him, and credits both his grandparents with rescuing him from gang life) and the chef split from his wife of 20 years, who also happens to be his business partner. Understandably, the camera rolled on a lot we didn't see.
In the episode, he roams Kreuzberg in fine threads, wolfs down a doner kebab, and describes his meteoric rise from unhireable street kid to restaurant mogul. He admits being a "pain in the ass" to colleagues, snaking up the ladder. In present-day power, his orders sharply slice up the kitchen staff: "Don't think. Just do what you're told." "Move your fucking ass and bring me the palette knife."
It's the kind of conduct that would make an HR officer cringe, but Raue is quick to point out he's improved over the years. His 2011 German-language autobiography, I Know What Hunger Is: From Street Gang to Star Chef, is chock-full of fisticuffs and shouting matches not just on the streets, but in restaurants when Raue first struggled with the specters of intense stress and his need for perfectionism. He doesn't necessarily agree with his portrayal on Chef's Table but understands an anti-hero makes for good storytelling. He also hasn't dismissed it -- after watching the episode a year ago, Raue said he's trying to relax and calm down even more.
"Chef's Table tried to really see the bad-boy image, but that's gone," he says. "I'm not rude anymore, I'm not yelling in the kitchen, I don't throw plates or stuff like that. [The episode] is not the picture I have of myself, but it's pretty interesting how they see it. I'm happy with it."
What you see isn't always what you get, he claims. His kitchen is a "dictatorship, where I 100% create the dishes and do it the way I want," but such militant leadership spawns strong, astute chefs who go on to successful careers of their own.
"It's like, 90% of people won't get it, but that's why Tim Raue is Tim Raue," says Mirco Keller, a former chef of his that is now chef de cuisine at Bangkok's prestigious modern French bistro Water Library Chamchuri. "He wouldn't be where he is today if he wouldn't have gone this way [with his work]." Keller started working for Raue when he was 15 and followed him around kitchens for over a decade. He said he wouldn't be thriving in the industry if it wasn't for the chef's tutelage and friendship.
"If something is wrong he gives you shit, but he's also the kind of person to come and show you how he wants it the next time," agrees Christian Singer, head chef at Raue's Dubai restaurant Dragonfly, which also carries out signature pan-Asian menus. "He's fair and straight. Sometimes in a very rude way, but there is never any miscommunication."
Raue still struggles to find his chill -- "I have good days, I have bad days" -- and even though the kitchen of Restaurant Tim Raue is the restaurant equivalent of boot camp, it has relatively low turnover. Most chefs stay around two to five years, a rarity in the Michelin realm. As it happens, bonds made over the high pressures of fine dining are surprisingly not unlike those made in the brotherhood of a gang.
"If you step into my world, I'm taking care of you," Raue says. "If you work with me, I will lead you all the time. I try to make you better each day, look where your strengths are and push your boundaries."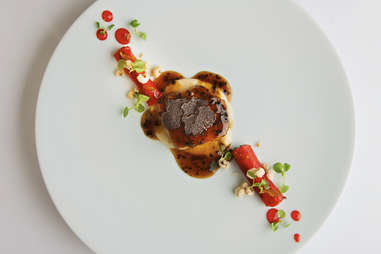 According to Raue, the discipline he engrains in his staff is also what set him on top. He was always gifted at organizing and structuring services. Raue confesses he was never a whiz at techniques like cutting and flavoring, but worked hard where he had to, and it made all the difference.
"Even now if I'm cutting a celery leaf into the perfect shape, I need double the time," he says. "But if I'm filleting a fish, I do three in the time the other fuckers do one. I went to Tokyo and for three days just stood and watched how the guys were doing it in the fish market. Then I invented my own Japanese-Prussian mix of being very precise and fast."
It's a huge leap from the Michelin-star chef's first kitchen gig, when he was fresh from thug life and lacked discipline. Raue's job was cutting bread. He remembers being ecstatic to finish four baguettes, only to realize there were six more massive boxes.
Years later, after primo jobs as executive chef at luxury hotels such as Berlin's Swissôtel and the glam Adlon Kempinski, Raue opened his own restaurant in 2010. His self-professed "Asian bastard" fine dining -- blending Thai, Chinese, et al with fresh regional products -- was unlike anything German gourmands had ever tasted.
Restaurant Tim Raue's menu is a journey across the chef's favorite Asian influences. Wasabi langoustine, featured in the episode, is the fattest, juiciest prawn you'll ever slice into, topped with crunchy green rice flakes, creamy wasabi sauce, and a spicy Thai vinaigrette. Another is a bright-green Granny Smith apple ice cream dessert adorned with dark chocolate and coriander, tasting like a great high and a smooth come-down all at once.
"It hugs you like a grandpa, but then you have some tiny nephews that are small and crazy," he says with a mischievous grin.
By this point Raue is leaning back in a chair in the dining room and starting to loosen up. His laughs are genuine and he cracks off-color jokes about stereotypical Germans. He refers to a stint in the solitary confinement of a youth jail as a "single-room apartment with a view" compared to what it could've been. Tim Raue is a funny dude.
It's as if the authoritarian leader from Chef's Table has been tucked inside his uniform pocket. He talks about meditation, yoga, and the serenity of a holiday home in Sicily, and it becomes clear that Tim Raue has a bounty of layers. A 50-minute episode isn't enough to peel back the complexity that he plunges with force into his food.
So it's easy to understand why Raue wants less limelight now, and has closed another chapter with Chef's Table. He's a tough nut to crack and his past always follows. There will always be a criminal record. Before Raue cooked dinner for former first family Barack and Michelle Obama on an official Berlin visit, the federal police had to come and ask, "Chef Tim, we don't have anything to worry about with you, do we?" They were serious, says Raue. German law states criminal records must be expunged after a certain number of years for most crimes, so it was surprising.
"It's been 26 years now since I really became a nice part of society," says Raue, now 42 years old. "But 300 days a year I wake up and I still don't know what happened. I'm still thinking about being hungry and cold."
As fate would have it, a few of the star chef's former ex-gang members have also been focal points of the public eye. One was world-champion kickboxer Muzaffer Tosun. Another, filmmaker Neco Celik, is known as the German Spike Lee.
The 36 Boys even made international headlines with German rapper Deso Dogg, who became a recruiter for the Islamic State. The Pentagon first reported him dead in an airstrike in 2015, but just a few months ago it was revealed he likely survived. So while many of the gang's survivors are making good, scrutiny and notoriety seems destined to follow.
Raue says he hasn't really kept in touch with anyone from back then. He's too busy for socializing, and instead has sights trained on opening more restaurants. A third Michelin star isn't on the radar. "Michelin is looking for harmony in food," he states. "Not me."
At the series' premiere at this year's Berlinale Film Festival, he prepared a meal in honor of fellow Chef's Table subject Jeong Kwan, a Buddhist monk whose episode focuses on her Zen approach to cooking -- a style that completely contrasts with Raue's portrayal. Critics praised his ability to mute his penchant for provocation. They were surprised by his beauteous interpretation of her modest temple food.
"I'm not such a bad guy," he told the audience. "I'm really nice."
One of history's most famous dictators, Joseph Stalin, once said of his wife: "This creature softened my heart of stone." Tim Raue may run his kitchen with an iron fist, but there's no denying what softens his heart is everything he puts on a plate. He's no Stalin to be sure, and if anyone is capable of meaningful self-improvement, it's this guy. Who knows? Maybe in a few years he'll introspect and act a little closer to the nun Kwan after all.
Sign up here for our daily Thrillist email, and get your fix of the best in food/drink/fun.