Unless you were the child of a dentist or just hated having fun, you probably chewed a lot of gum as a kid. Odds are, you dabbled in a few different brands in order to "find yourself," but eventually most laissez-faire lip-smackers settled into a monogamous relationship with one brand. And much like your cocktail of choice or Starbucks order, your favorite gum says a lot about you. Learn why Big League Chewers might have infertility problems, Fruit Stripe gum fans now make crazy tips, and Big Red kids never showered.
Recommended Video
Embrace the Elements With Fire & Smoke Burgers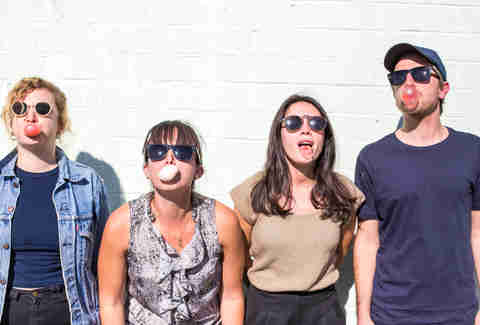 Juicy Fruit
You owned one of those tiny skateboards and by the age of 12 had been both water skiing and regular skiing. Your lifestyle didn't include video games or reading, but you probably made out with a girl on the beach by the age of 14. You were admired by chewers of Dentyne Ice.
 
Blow Pops
For an entire summer you wore one of those pinwheel hats, until George Tagler ripped it off of your stupid head and smashed it in the mud during recess, exposing your adorable cowlick, which was what earned you the nickname "Stupid Head" in the first place. That teasing made you retreat inside yourself, giving you plenty of time to lick your way to that liquidy gum waiting in the center of a Blow Pop, which you always swallowed. You never told a soul.
Big Red
Cleanliness was not your strong suit. Not to say there was a Pigpen cloud of flies hovering around your disheveled mop, but let's just say that gum was a primary source of long-lasting freshness, and that you didn't want to chew the equivalent of a cold shower (mint) or bubble bath (... bubble gum).
 
Fruit Stripe
There was a two-year period where you wanted to be a veterinarian. But then on a Thanksgiving trip to Aunt Edna's your Dad hit a deer with the station wagon and there were 10 messy minutes of parental cursing and animal blood and you ended up studying sociology and now work as a well-paid waitress at a fine-dining restaurant.
 
Pop Rocks Bubble Gum
Other children gathered around you when you unveiled these on the large concrete lot that passed for a playground at your private Catholic elementary school. And you shared! Until the day when C.J. Taylor shoved you and these spilled out of the package and mixed with loose gravel, thus nullifying the five-second rule. You are now a big fan of Michael Bay films.
Bubble gum cigarettes
What were your parents thinking?
 
Hubba Bubba
You saved your allowance in a plastic bank vault with a little wheel combination that in hindsight was really easy to crack because the secret numbers were in a different color than all the other numbers. The practical nature of Hubba Bubba's promise of never sticking to your skin was very appealing. You now carry hand sanitizer with you wherever you go.
Bubble gum cigars
Your parents were thinking that you look adorable.
 
Big League Chew
You once got hit in the nuts with a baseball. For a year you were afraid to go to bat but your Dad was the assistant coach so you hung in there. You later went on to be an excellent rec league short stop, but never made the jump to the high school team. You look back fondly on your youth sports career and wonder if sperm can suffer from PTSD.
 
Bubblicious
In third grade you blew a bubble so big that when it popped your Mom had to lather your hair with peanut butter to get it out, and when that didn't work, she got frustrated and tried to get it out by pouring herself a glass of wine and leaving you alone for a while. You were also a fan of candy rings.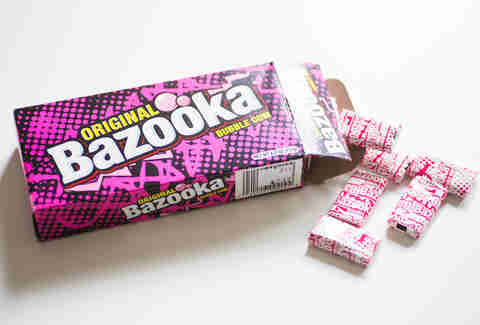 Bazooka
You're probably too old to understand the term OG, but Bazooka Joe was the original original gangsta. He actually had a gang, just like you! But not the type that uses guns, the type that goes on adventures and stuff. You later went on to collect comic books, but Mom threw away the only ones that were worth anything. Thanks for nothing, Mom.
 
Dentyne Ice
You were the first of your friends to lean against a locker in a really cool way, and thus you touched a bra strap back before graduating elementary school. The bra strap was mostly for show, but still. With that level of maturity, bubbles just weren't your thing. You soon graduated to Binaca and were the first of your friends to contract mono.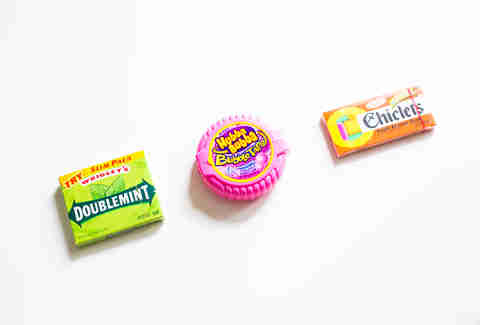 Doublemint
One time you and your twin traded places in elementary school for a day and caused all sorts of mischief. Unfortunately, you got caught and it stayed on your permanent record, which kept you from getting a nice government job/achieving happiness as an adult.
 
Bubble Tape
Your favorite foods were pasta- and rice-based. You admired gerbils' ability to stuff their cheeks with absurd amounts of food. You have uttered the phrase "no ceilings" sometime in the last month. You may or may not be a writer for a men's lifestyle publication that rhymes with "chillest."
 
Chiclets
You were the type of kid who had an oversized magnifying glass that you'd take everywhere to look at dirt and try to kill bugs, but it never seemed to work. It gave you an appreciation for things that are smaller than normal. Like Chiclets. Or, you grew up in a country other than the United States.
Bubble Yum
You didn't realize that Bubble Yum was a pun until just now and it totally blew your mind.
 
Baseball card gum
The Sandlot was one of your favorite movies, even though you weren't able to identify with one character in particular. In terms of batting average, you were way better than the kids who ate Big League Chew, but much less fun to hang out with.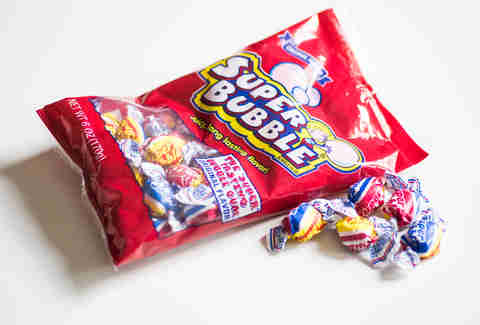 Super Bubble
Sports or conversation were not realms in which you excelled, but the world of imagination was yours! You prayed for a window seat in class for daydreaming purposes and drew incessantly in the margins of your notebooks, mastering the contours of the yin-yang, and that weird S thing that nobody knows the origin of. Also, most of your candy was held in reserve from trick-or-treating. You had cheap neighbors.
 
Freedent
One of your parents worked in the dental hygiene industry. Nowadays you never, ever floss.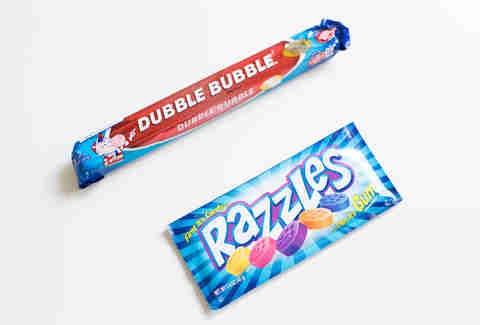 Razzles
First it's candy, then it's gum, then it's a big ol' dental bill for your parents, who lacked the backbone to stand up to your incessant demands for treats that serve dual purpose. But you made good for that brattiness by getting into an Ivy League school, double majoring, and making the Dean's List. Then you went ahead and proved your parents right by choosing not one, but two liberal arts degrees. You can no longer afford your own dental care.
 
Dubble Bubble
Did anyone actually like this? If so, please explain yourself in the comments.
Dan Gentile is a staff writer on Thrillist's National Food and Drink team. His childhood gum of choice was Bubble Tape. Follow him to "Can he still eat all of that at once holy crap he can" at @Dannosphere.