Chick-fil-A is testing its new breakfast menu in a place where people love them some chicken & waffles -- inside a Waffle House. Just kidding, it's in Philadelphia. We sent a local writer out there to see how it tasted. Here's her report:
 
What we expected
Just so you have a frame of reference, this is what we were expecting -- a piece of chicken equivalent in size to the waffle and some gooey syrup to drizzle on top. Oh, those sneaky food photographers!
Full disclosure: the food photos you're about to see are 100% not sneaky.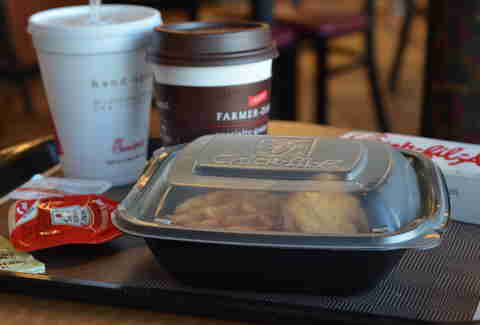 The proper way to order it
You have two options when you get to the counter. Plain chicken and waffles for $4.45 (plus tax), or the meal deal for $6.75 (plus tax). Naturally, bigger is better, so we got the meal. It came with their fancy new coffee. If you're going on the weekend keep in mind you're gonna have to get up a bit early: it's only available between 6:30-10:30am.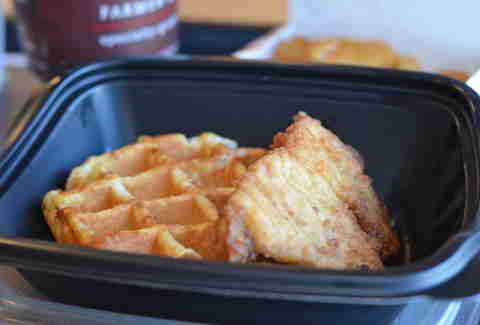 How the chicken and waffles taste
The chicken breast covered about half of the waffle. We're trying to "eat mor chikin", but you're making it tough, Chick-fil-A. When the cashier brought it over, I couldn't find the syrup. "Oh, it's cooked into it," the cashier offered. I guess that would explain the honey packet and buffalo sauce on the tray (ketchup was requested).
Nearby, a group of stoner kids were really enjoying theirs. And while we were completely sober, we still found the chicken to be moist and slightly sweet. The waffle's syrup glaze had a sugary crunch to it, and was dense, thick, and filling. However, eating the chicken and waffles together made no sense as there was nothing to truly unite them. You know, like syrup.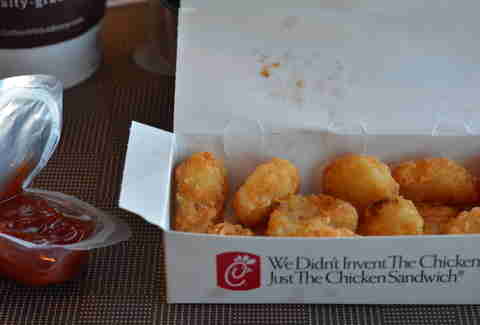 The rest of breakfast
After that, it was on to the hash browns and coffee. Little circles of crunchy, greasy potatoes were happily dipped into ketchup. They went down easy. The coffee was decent, but strangely it didn't jibe with the meal overall. We suggest adding a soda for breakfast if you get the meal deal.
 
Conclusion
Overall, it wasn't bad. It also wasn't very filling. (Editor's note: Cassie is also a model. If it didn't satisfy her hunger, we bet it won't satisfy yours.) We're already looking forward to lunch.
Cassie Hepler writes for Thrillist when she's not eating and drinking her way through Philadelphia. Follow her at @girlspy on Twitter and @cassiehepler on Instagram for more adventures in gluttony.